Goat-headed Satanic statue sparks protests in Detroit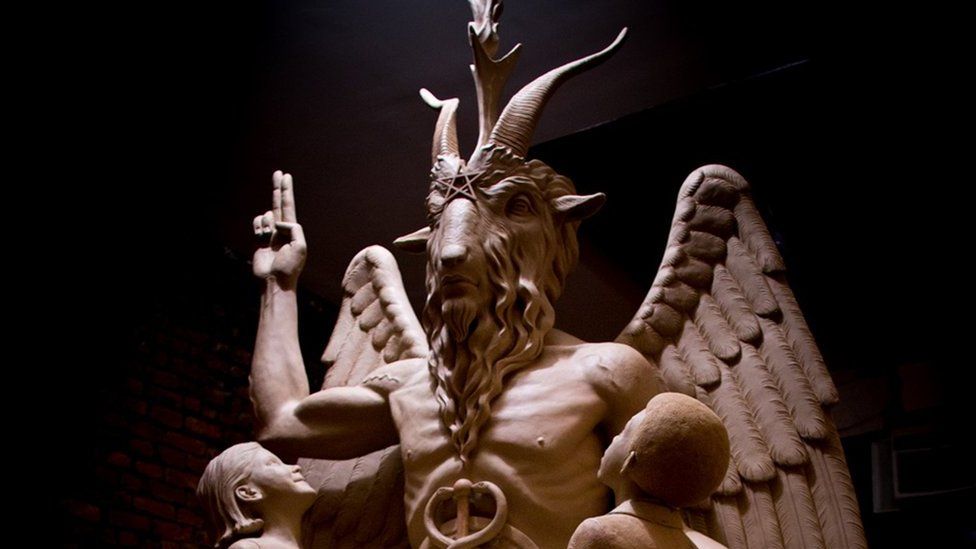 A nine-foot goat-headed satanic statue has provoked a mixed reaction in Detroit, Michigan.
The bronze sculpture was unveiled by the Satanic Temple at a private event just before midnight on Saturday.
Because of planned demonstrations, the organisation kept the location secret, emailing the information to ticket holders at the last minute.
Earlier in the day groups of Christians held protests in the city.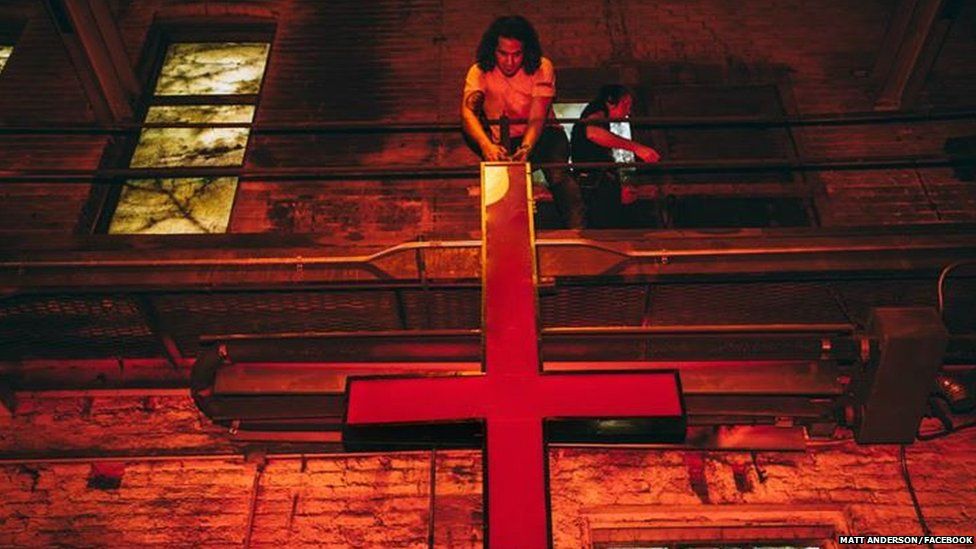 Photos posted by the Satanic Temple of Detroit on Facebook show what happened at the event in an industrial building near the Detroit River.
The organisation had invited people to join them for "a night of chaos, noise, and debauchery at The Unveiling, a hedonistic celebration introducing the controversial Baphomet monument accompanied by provocative performances and installations".
It says the statue is "not only an unparalleled artistic triumph, but stands as a testament to plurality and the power of collective action."
"Come dance with the Devil and experience history in the making," it adds.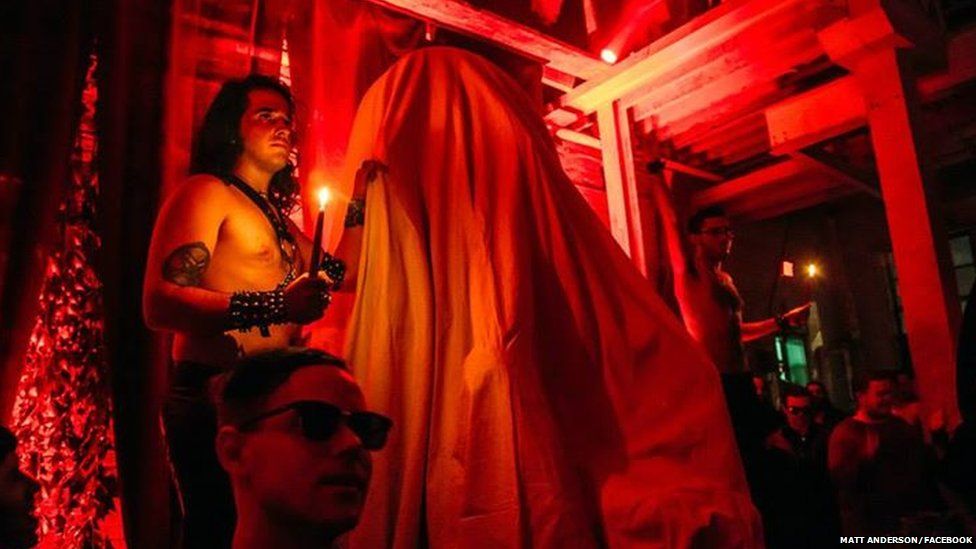 The hundreds of supporters cheered, "Hail Satan" as the statue of a winged Baphomet, with a human body and a goat's head, was unveiled by two men who then kissed passionately in front of it.
Baphonmet is often used as a symbol of the modern Satanist movement.
The monument is flanked by statues of a boy and a girl gazing in adoration.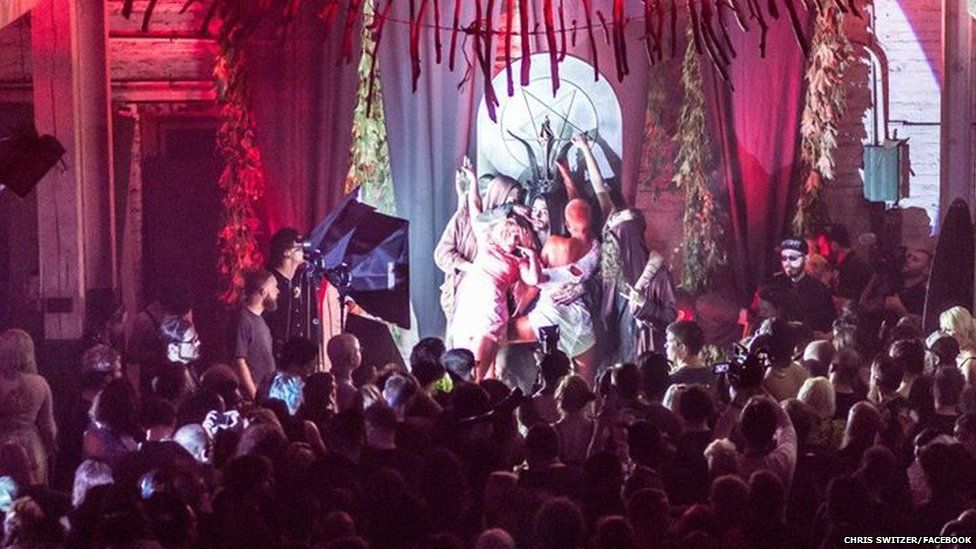 But not everyone is looking on adoringly.
On Saturday around 200 people are reported to have attended mass at St. Joseph Church in the city as a protest against the event.
About 50 people prayed for the city outside a business where the Satanic Temple previously tried to display the statue.
Reverend Dave Bullock, a pastor from Michigan said: "The last thing we need in Detroit is having a welcome home party for evil."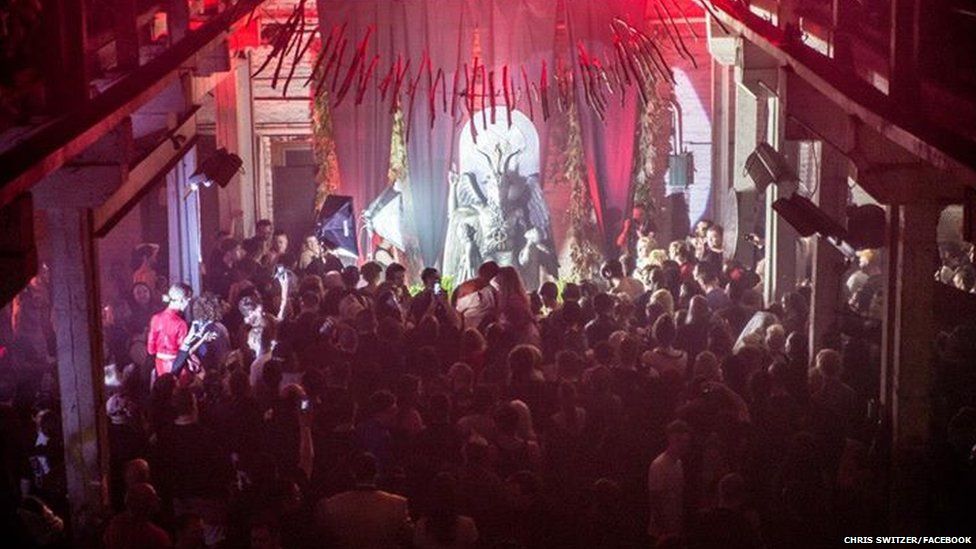 The Satanic Temple had wanted the statue installed outside the main government buildings in Oklahoma.
The organisation wanted to put the monument there because a statue of the Ten Commandments had been erected and the group opposes bible-themed displays on government land.
But Oklahoma's Supreme Court banned all religious displays on State Capitol grounds - a decision currently being appealed by the state.
The Temple now wants to transport the statue to Arkansas where a Ten Commandments monument is also planned outside the statehouse.
What is the Satanic Temple?
According to its website, the Satanic Temple "holds to the basic premise that undue suffering is bad, and that which reduces suffering is good" and doesn't "believe in symbolic evil".
It says: "We embrace blasphemy as a legitimate expression of personal independence from counter-productive traditional norms.
"It is the position of The Satanic Temple that religion can, and should, be divorced from superstition. As such, we do not promote a belief in a personal Satan.
"To embrace the name Satan is to embrace rational inquiry removed from supernaturalism and archaic tradition-based superstitions."
Follow @BBCNewsbeat on Twitter, BBCNewsbeat on Instagram, Radio1Newsbeat on YouTube and you can now follow BBC_Newsbeat on Snapchat