McDonald's denies Minions toy given out in Happy Meals are swearing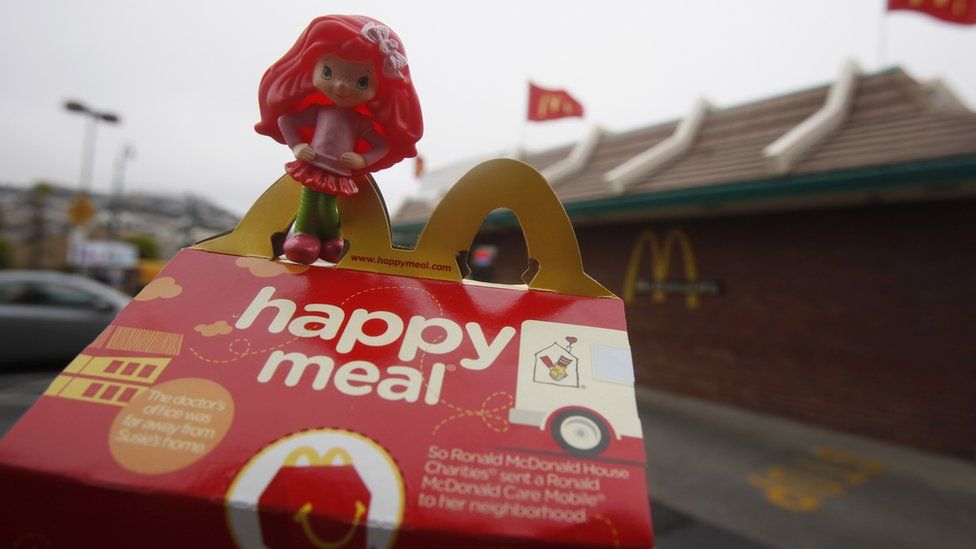 McDonald's says there are no plans to take a talking Happy Meal toy out of circulation, even though some customers say it sounds like it uses swear words.
The chain introduced the toys, inspired by the film Minions, earlier this month.
The company issued a statement saying the sounds the figures make are nonsense and nothing offensive.
It says that the Minion Caveman toy makes three sounds - "para la bukay", "hahaha" and "eh eh".
A toy acquired by the Associated Press news agency made a sound that could be interpreted as an obscene phrase.
"I heard what it said and I'm like, 'whoa, hang on here,'" Taylor King told news TV station Fox 28, who bought a Happy Meal for his three-year-old son on Monday in South Columbus, Ohio.
"It clearly says what it says."
He thinks it says "WTF" - but not abbreviated.
McDonald's says "a very small number of customers" have been in touch with the company about the toy.
The firm said the promotion was supposed to run through to the end of July.
"Our goal at McDonald's is to serve up food and fun for our valued customers, and we're glad to have the Minions on board," the company said.
A spokeswoman for McDonald's, Lisa McComb, says there are no plans to take the toys out of distribution.
Minions, a prequel of the Despicable Me films, premiered in cinemas last month.
Follow @BBCNewsbeat on Twitter, BBCNewsbeat on Instagram, Radio1Newsbeat on YouTube and you can now follow BBC_Newsbeat on Snapchat