Tsunami survivor helped by Cristiano Ronaldo signs with Sporting Lisbon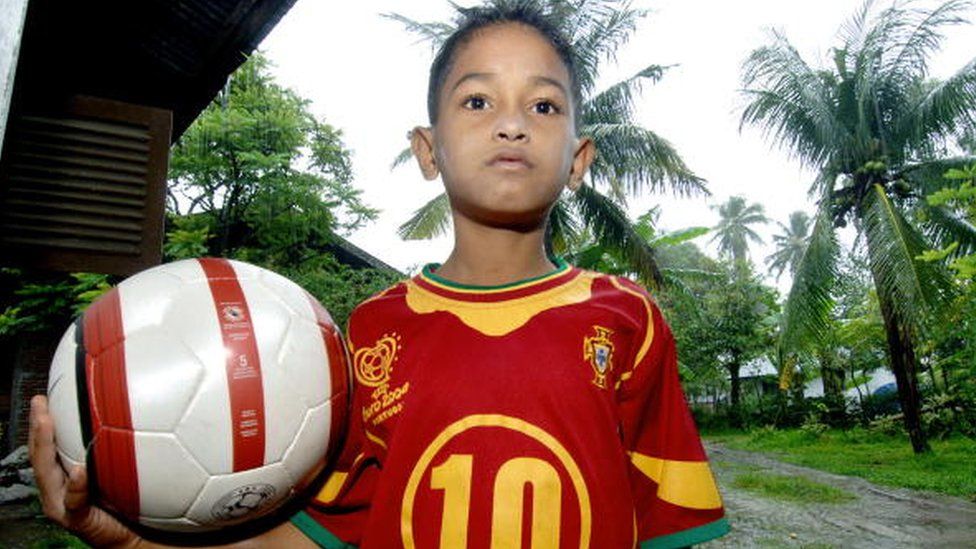 A teenager who survived the 2004 tsunami and calls himself Ronaldo's 'adopted son' has signed for Sporting Lisbon academy.
Martunis was playing football when the waves hit the beaches of Banda Aceh in Indonesia.
He survived on dried noodles and puddle water after being separated from his family.
A picture of him (above) wearing the Portugal shirt led to Cristiano Ronaldo flying out to meet him.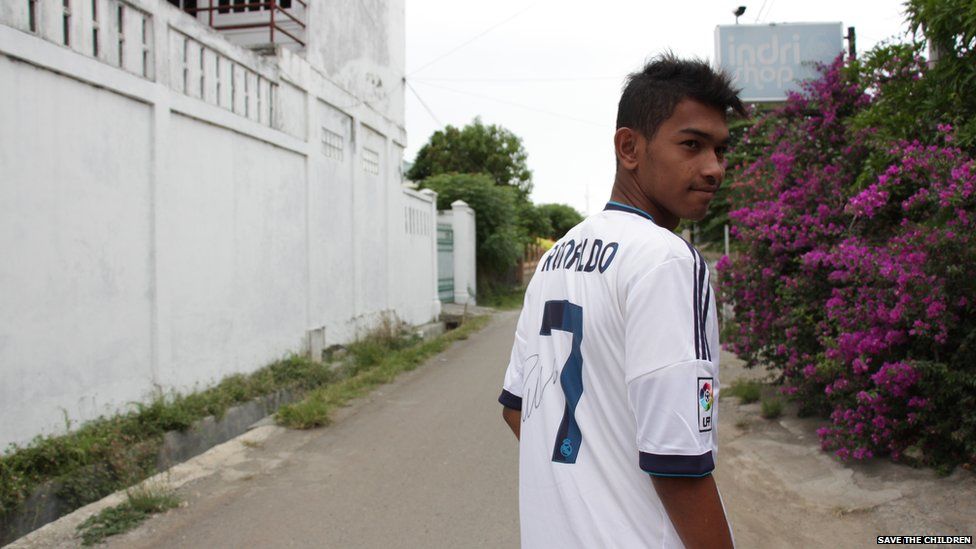 Ronaldo, who began his career with Sporting, reportedly paid for Martunis' education and the Portugal team gave money to help rebuild his family's home.
The 17-year-old also appears to have taken the forward's surname and on his twitter profile says he is the adopted child of Ronaldo.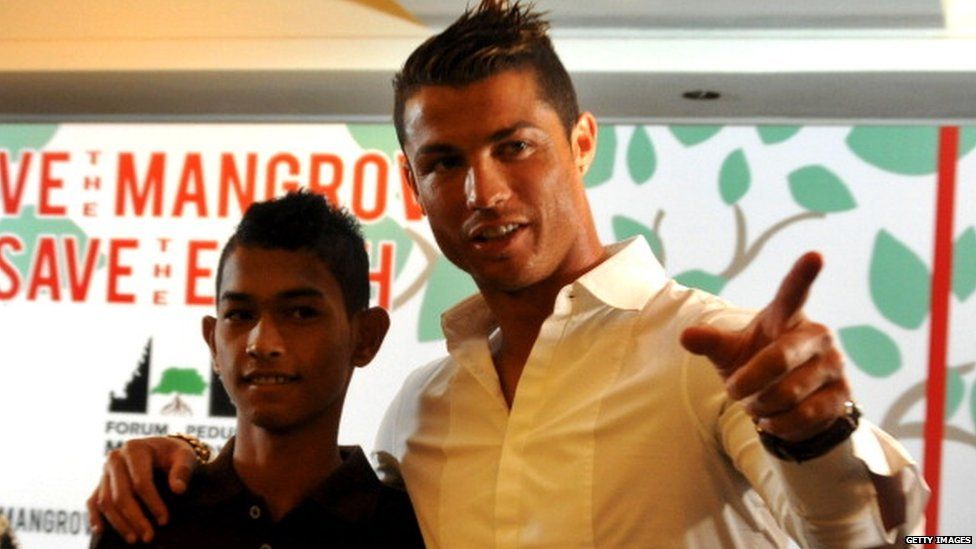 In 2005, Martunis was flown over to meet the Portugal team before a match against Slovakia.
He says his aim is to "become professional footballer and play in Portugal and for the Portuguese national team".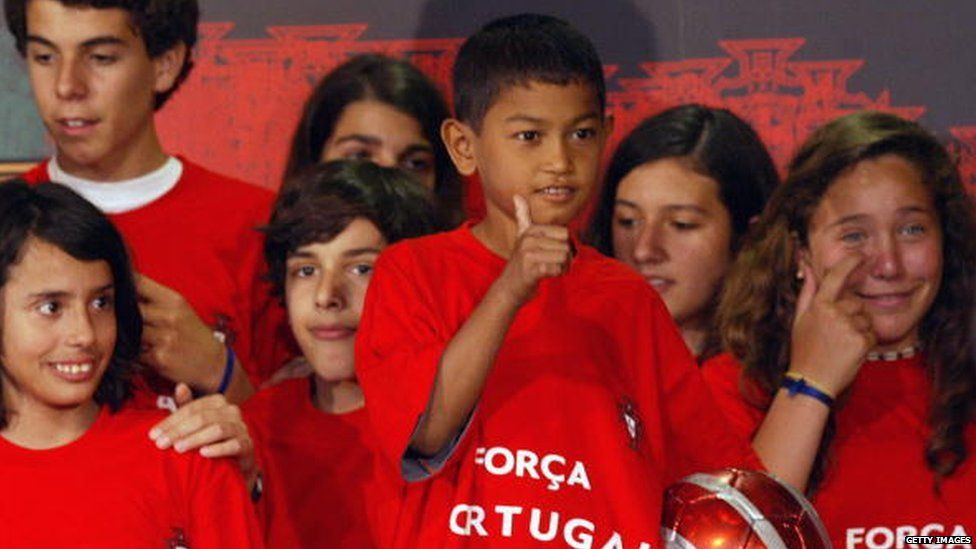 At the club's gala, Martunis said: "I am really happy to be at sporting.
"It is my dream and I really thank you for the opportunity."
The club tweeted a picture of the teenager with the caption:
"Surviving the tsunami in Indonesia. @MartunisCR8 will live and grow in @Sporting_CP Academy. #MartunisSporting"
President Bruno de Carvalho said: "Martunis will be at the Academy working with us.
"Helping people to achieve their dreams and giving people dignity in their lives is Sporting's role in society."
More than 230,000 people were killed in 11 countries by huge waves caused by a massive underwater earthquake on 26th December 2004.
It was one of the deadliest natural disasters in recorded history.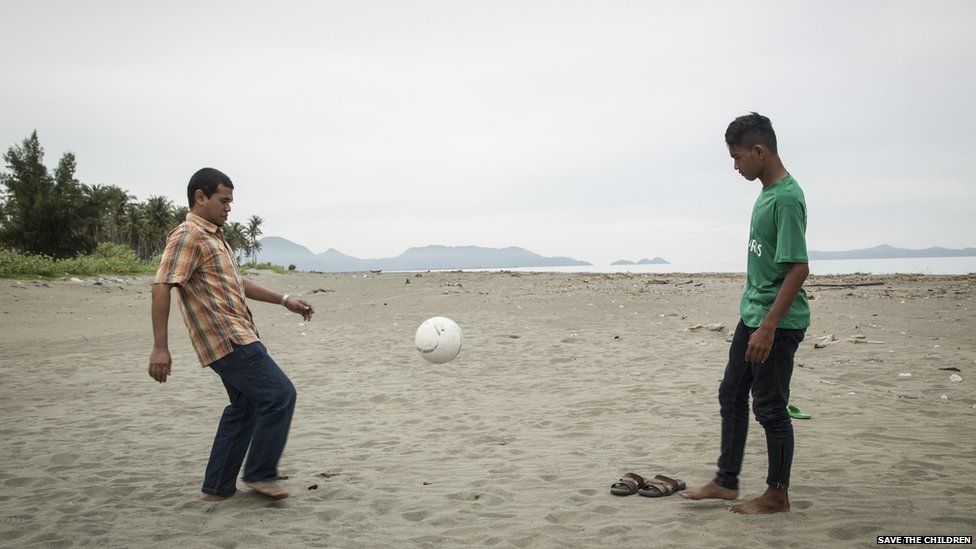 Martunis was eight years old when the tsunami struck.
"At first I stood on a school chair, but when that started to sink, I got up onto a mattress.
"When that started sinking as well I clung to a big tree that was floating on the water. The tree brought me to the seafront."
After losing his family he survived for three weeks on his own before being reunited with his father.
His mother and his siblings all died.
Follow @BBCNewsbeat on Twitter, BBCNewsbeat on Instagram and Radio1Newsbeat on YouTube