Partick Thistle's Kingsley 'will bring shame on the good name of mascots'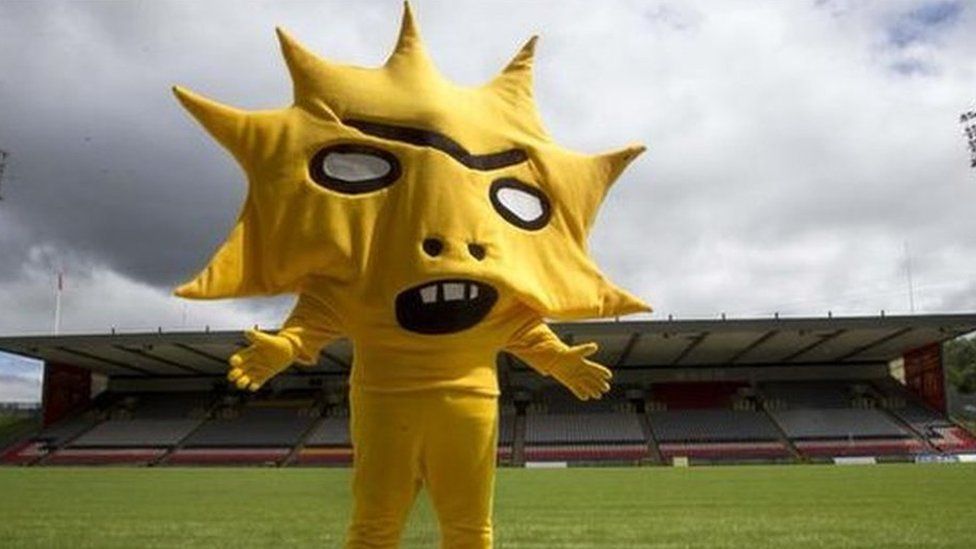 Partick Thistle have unveiled a new mascot - and it's going viral for all the wrong reasons.
The new creation - called Kingsley - has been compared to a badly drawn Lisa Simpson and a demonic sun.
He was designed by the artist David Shrigley to celebrate a new sponsorship deal for the club.
However his crazy shape and mono-brow are all people want to talk about, and the comparisons are less than flattering.
Shrigley is a Turner Prize-winning artist who had designed branding for the American investment firm Kingsford Capital.
The illustrator is also a Partick fan and introduced the club to the company, leading to the sponsorship deal.
However the launch has not gone that smoothly and the internet is full of people laughing at Kingsley.
He's alone though, lots of mascots have annoyed football fans in the past.
French football came in for criticism for its Euro 2016 mascot - a weird-looking boy called Super Victor.
In November, Newsbeat decided to get a man who once made a living dressed as a monkey to review it.
Stuart Drummond was the Hartlepool mascot, H'Angus the Monkey, and once even the town's mayor.
So we got back in touch with him so that he could cast his critical eye over Kingsley. So what did our go-to expert think?
"Oh dear! What were they thinking? It looks like Lisa Simpson on drugs."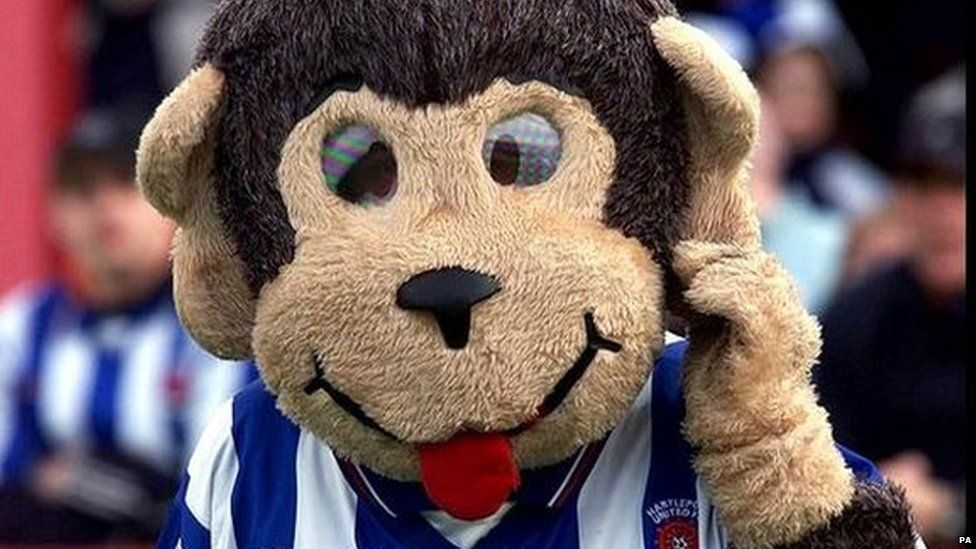 Stuart was also pretty worried about the effect that Kingsley may have on young fans.
"Rule number one for mascots is to give children plenty of hugs. This thing looks like it is going to eat them."
The mascot community is said to be a tight-knit group, but it seems Kingsley may be set for the cold shoulder.
"I very much doubt Kingsley will be welcomed warmly into the mascot clan for fear of bringing shame on the good name of mascots."
Kingsley has told Newsbeat that he thinks H'Angus is being a bit mean.
He told us that "everyone is welcome to their opinion but I'm sure if H'Angus got to know me he would realise that I'm just as cuddly as all the other mascots.
"I was out in Glasgow today and gave out loads of hugs so I'm sure none of the Junior Jags will be too scared at the start of the season."
Kingsley thinks that people just need time to warm to him.
"I'm just new to this game but hopefully all the other mascots will realise that it isn't what's on the outside that counts and we can all be friends.
"When it comes to passion I certainly won't be leaving anything in the dressing room and look forward to getting all the Thistle fans up for every game here at Firhill."
However Kingsley may have his work cut out for him because, it's not just Stuart who dislikes him.
And some people added to the image to 'improve it.'
If the reaction online is anything to go by Kingsley needs a lot of work and Stuart agrees.
"I think they need to go back to the drawing board with this one."
Follow @BBCNewsbeat on Twitter, BBCNewsbeat on Instagram, Radio1Newsbeat on YouTube and you can now follow BBC_Newsbeat on Snapchat