Britain's Got Talent champion shocked by 'double dog' tightrope reaction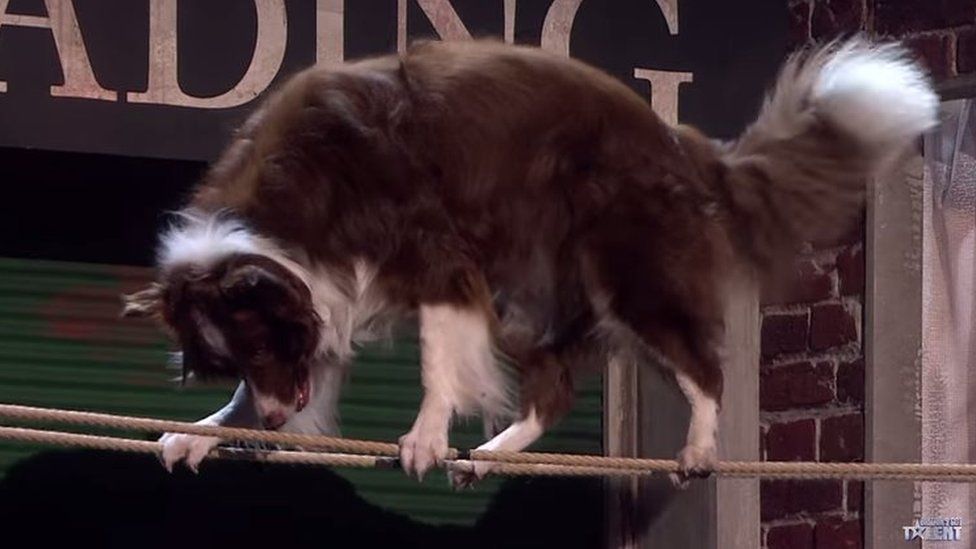 Britain's Got Talent champion Jules O'Dwyer says she's "shocked and surprised" by the public's reaction after it became clear a stunt double dog featured in her winning sketch.
The guide dog trainer used another border collie, Chase, who walked the parallel ropes in their act because Matisse doesn't like heights.
They beat choir Cor Glanaethwy and magician Jamie Raven.
The winning sketch involved a tightrope and stolen sausages.
A spokesman for the producers of the show said: "We are sorry if this was not made clearer to the judges and viewers at home during their final performance."
Some fans vented on Twitter saying that another dog had performed the trick which won them the show.
O'Dwyer told ITV's Lorraine show: "I was surprised, I was shocked because I'm thinking 'Why?'.
"I spent so much time creating this lovely story - I wanted to make it exciting for the people watching.
"I wanted that 'wow' nail-biting element [where they're at] the edge of their seat, I wanted people to laugh so I wanted the comedy and the humour and then I wanted that 'awww'.
"I was disappointed when people said I allegedly hid Chase and I was trying to make it like Chase was Matisse. That's not so.
"I introduced Chase in the semi-final, and I said Chase is Matisse's best mate.
"Chase does the trick very well, Matisse prefers it lower but he's never been at that height.
"I have a choice: I have a dog that can do it at that height, or I have a dog I'd have to push in three days to achieve this.
"Why put the pressure on the dog, when I already have another dog who can perform it on television?"
The sketch, which starred O'Dwyer as a policewoman going after "sausage thief" Matisse, also featured another of her pets, three-legged Skippy.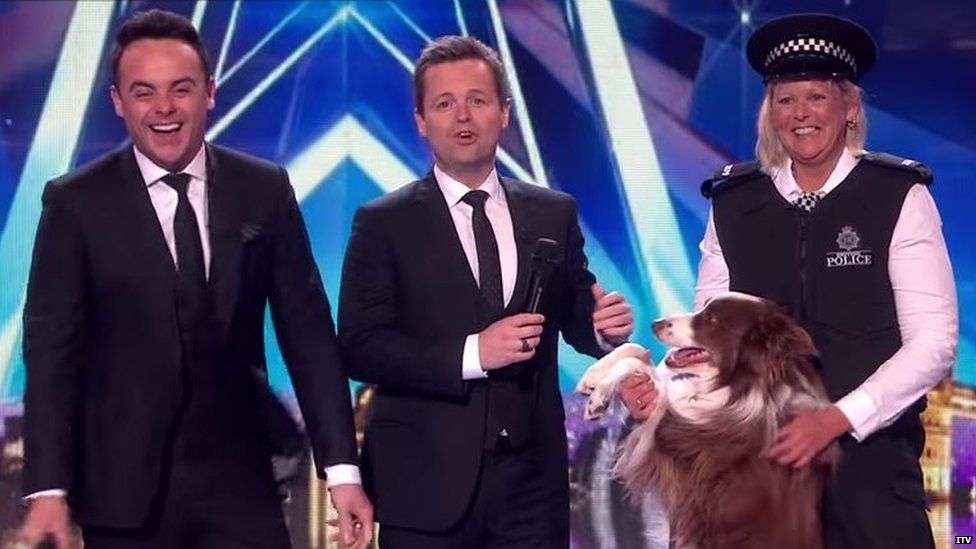 "I know my dogs, and I know what they are comfortable with. I'm not hiding anything.
"Skippy was a secret - I wanted to keep him a secret because that was the emotional factor and we hadn't introduced him before.
Why put the pressure on the dog, when I already have another dog who can perform it on television?
"Matisse is a little bit afraid of heights so, although he could physically do it, Chase is the dog who says, 'I'm the action dog'. He plays the double for him."
The dog trainer is originally from Blackpool but now lives in Belgium.
There was no sign of Chase, who'd previously appeared in the semi-final, as O'Dwyer and Matisse took the stage to be congratulated on their win by the judges and hosts Ant and Dec.
Their prize includes a spot at this year's Royal Variety Performance and £250,000 prize money.
More than 13 million viewers watched O'Dwyer and Matisse become the second dog act to win Britain's Got Talent, following Ashleigh Butler and Pudsey in 2012, in the highest rating final since that year.
ITV has released voting figures which showed O'Dwyer and Matisse won by just 2% - getting 22.6% of votes, compared to 20.4% for magician Raven.
But some viewers claimed to have been "misled" over Matisse on the tightrope stunt.
Others thought it was a storm in a teacup.
A spokesman for the producers of Britain's Got Talent said: "The audience had previously seen from Jules's semi-final routine that she works with a second dog Chase alongside Matisse.
"For the final performance, as Jules has said publicly herself, Chase completed the tight-rope walking section of the act.
"During the competition viewers have seen that Jules's act involves a team of dogs, including Chase and Skippy, alongside starring dog Matisse, to perform her unique mixture of dog agility and story-telling."
An Ofcom spokesman said it had received 206 complaints, which will be assessed before a decision is taken on whether to investigate.
Follow @BBCNewsbeat on Twitter, BBCNewsbeat on Instagram, Radio1Newsbeat on YouTube and you can now follow BBC_Newsbeat on Snapchat