Meet the SNP's Mhairi Black, the youngest MP elected since 1667
New MP Mhairi Black is now the youngest elected politician in Britain.
If the 20-year-old wants to get advice from the last holder of the record, it may be tricky as he died 300 years ago.
Christopher Monck, 2nd Duke of Albemarle, was 13 when he was elected as an MP in Devon in 1667.
Speaking after her victory Ms Black said: "Whatever your views are on Scotland's future, I will seek to represent you to the best of my ability."
She has unseated one of Labour's big names, the former shadow foreign secretary Douglas Alexander, bringing an end to 70 years of Labour rule in the area.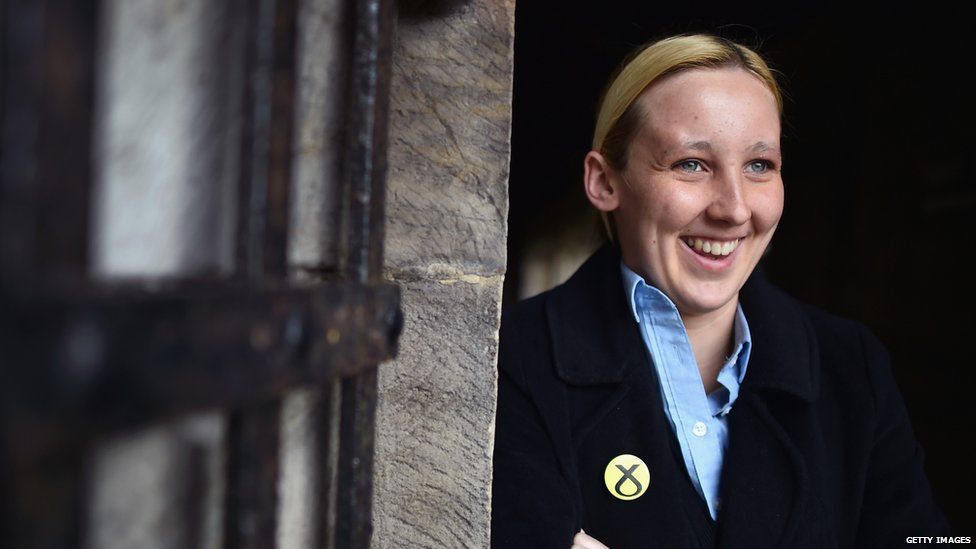 Newsbeat met Mhairi Black in Paisley before her election victory.
There have been a lot of words used to describe her in the last few weeks: fresh-faced, impressive, articulate and a firebrand.
She certainly seems to be all those things but she's also a keen musician.
A die-hard supporter of Partick Thistle, she can play the guitar and piano and when we asked her to name her favourite song, she grinned.
"Bob Dylan's The Times They Are A-Changing! I think that sums it up for me at the moment," she said.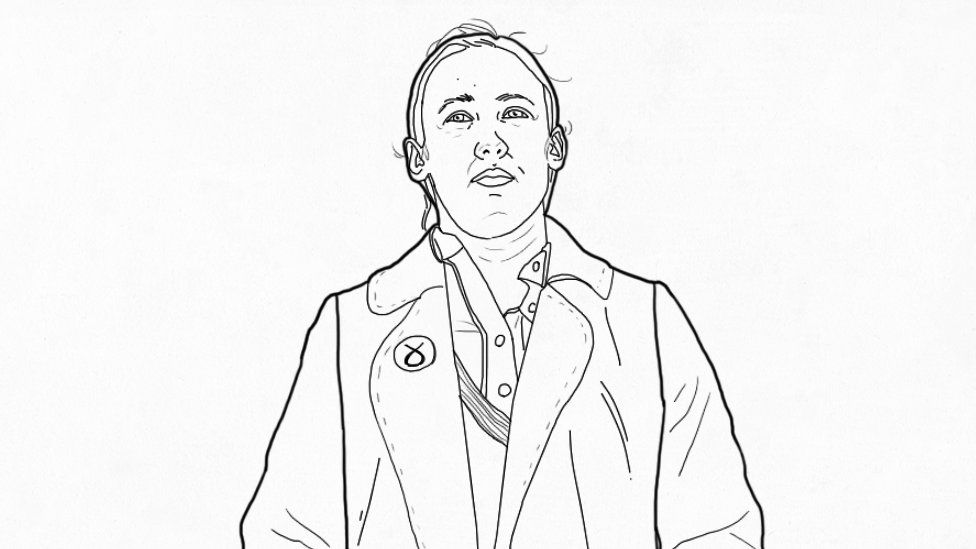 One of those big changes are her clothes. Gone are the jeans and instead she's got used to the smart trousers, shirts and jumpers that go with the role.
"Running for MP is the longest job interview of my life and you wouldn't wear jeans to a job interview," she says.
Her office in Paisley is modest and ordinary; one of the doors is missing a handle and several posters of her hang on the plain walls.
Her dad Alan, who is also her election campaign manager, sits on one of the chairs and smiles as Ms Black tells us how life seems to have changed in the last few months.
"The New York Times did a piece on me. It's so mad," she says.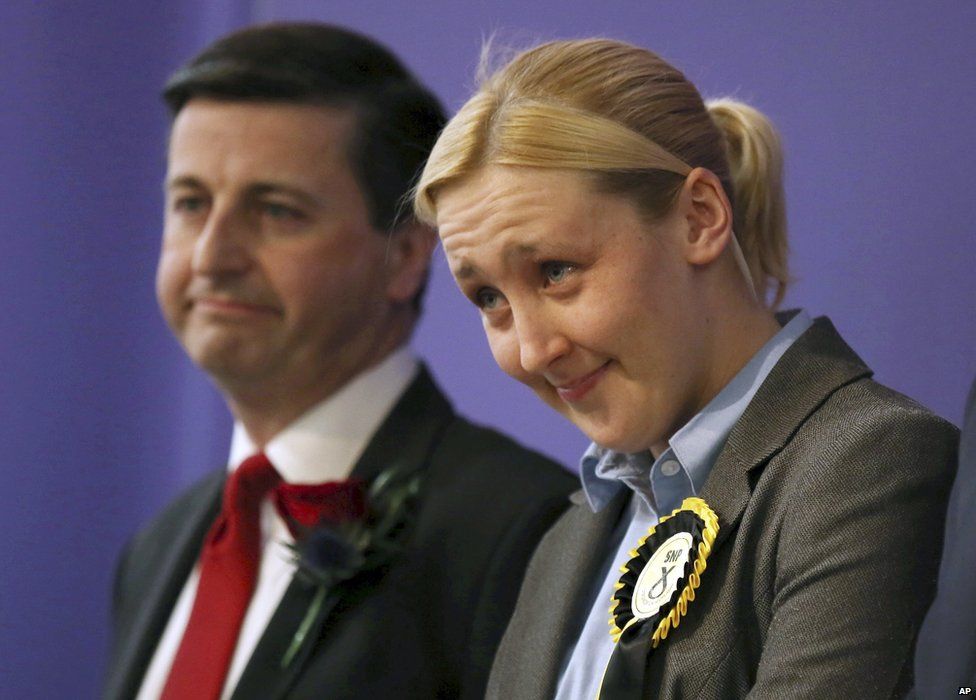 "There have been some people going '20, that's a bit unusual' but once you start talking to them, they realise it's more about the quality of your argument and the quality of what you're saying.
"They can see past political spin, aesthetic, ages, gender - I can't help what I am. They see it more as a breath of fresh air."
Ms Black is also being seen as part of the political hurricane that seems to have swept through Scotland in the last few years.
"The Scottish referendum changed everything for me. Once it came about, we thought this is a real chance to kind of change things," she said.
Ms Black was born in 1994 - the year that Oasis released What's the Story (Morning Glory).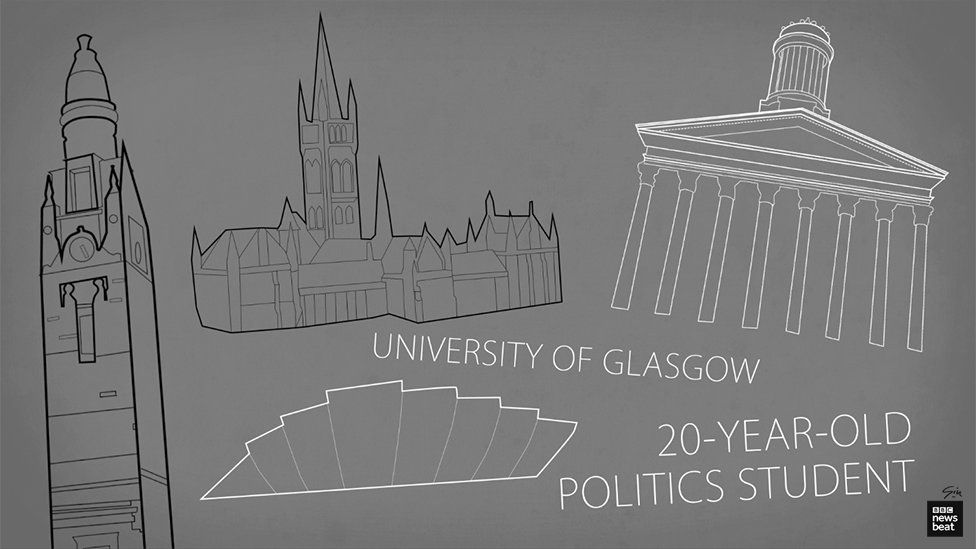 By that time, former MP Douglas Alexander had already spent time working for former Labour PM Gordon Brown.
She was three years old when he entered the House of Commons.
Ms Black has seen him in the area a few times, she is a child of the Labour years, but like many in her area, she says she felt abandoned by the party.
"You've got ordinary people being told to tighten their belts and all the while MPs are considering giving themselves a wage rise
"Look at bankers - some of them getting paid more than they were before the crash."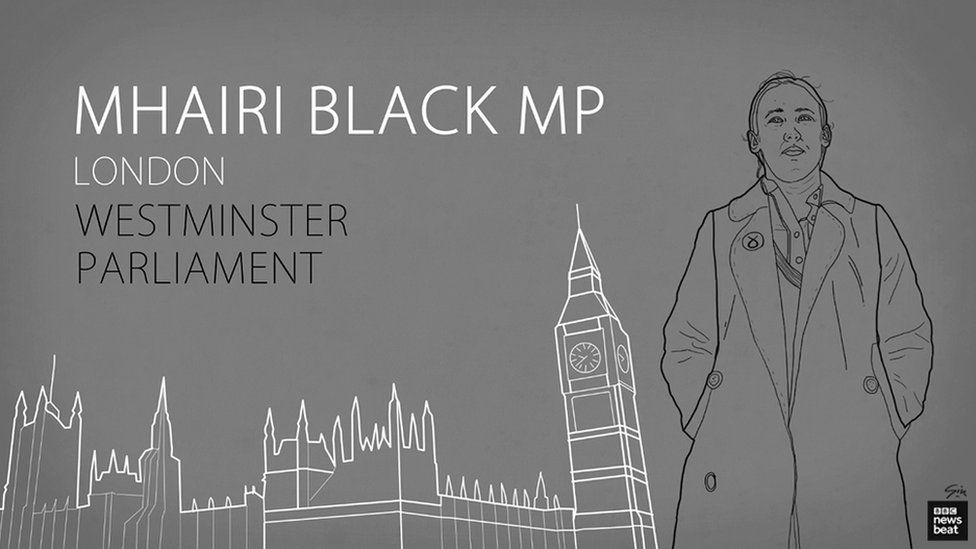 Ms Black thinks more and more people in the area have been looking for change.
"Westminster should be ashamed of the policies it's forced on so many people here. The way the axe is falling, it's very unequal.
"After I did the Newsbeat debate in Leeds, people came up to me, people from England, who were interested in me and the SNP. I think this desire for change is right across the country."
We return to her age again. She turns 21 later this year and has yet to finish her exams.
"I may be young but I'm running for everyone. The thing is, issues that affect young people, actually they're the same issues affecting everyone across the board.
How do her friends react to her new success and fame?
She laughs: "My mates think what I'm doing is a bit mental but they think it's great.
"They're excited about the prospect of change, it's just an added bonus their friend may be a part of it."
Follow @BBCNewsbeat on Twitter, BBCNewsbeat on Instagram, Radio1Newsbeat on YouTube and you can now follow BBC_Newsbeat on Snapchat