'We invited Hillary to our wedding' say gay couple in Clinton campaign video
"I'm getting married this summer to someone I really care about."
Jared Milrad and his fiancé Nathan Johnson appear for just a few seconds in Hillary Clinton's presidential campaign launch video, but it's made quite an impact.
"We've been really thrilled to see such a positive response and so many words of support from Twitter and Facebook," Jared told Newsbeat.
The Chicago-based couple are getting wed in July and have invited Hillary.
"We haven't heard anything back from Hilary - we did hear from her campaign team. They're profusely grateful that we invited Hillary to our wedding.
"We understand she's pretty busy... she's from Chicago, so maybe she can make the trip."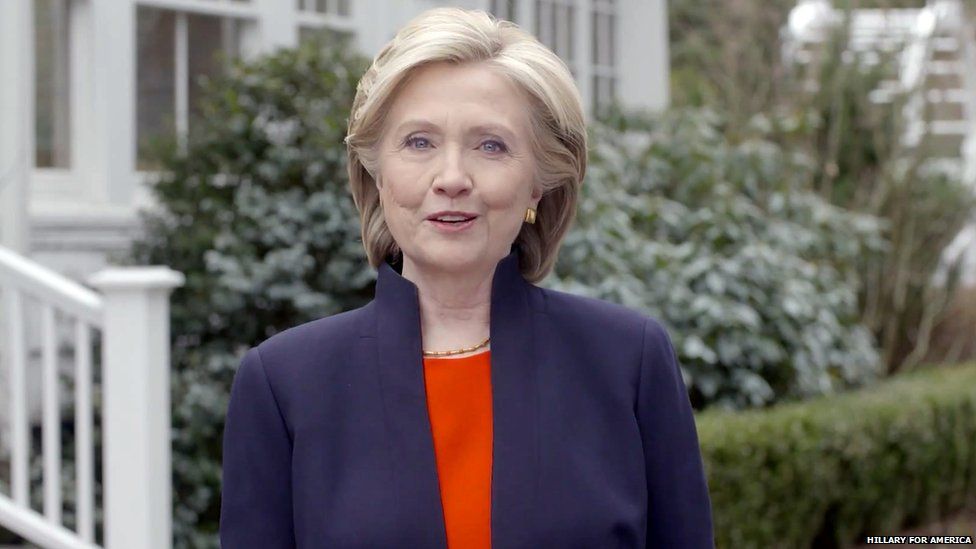 Jared, 31, is a lawyer and social entrepreneur, while 30-year-old Nathan is a health consultant.
They say their appearance in the video came about through a friend who's involved with the Democratic Party.
"She mentioned that a friend of hers was shooting a video about people who were undergoing big life changes," Jared explained. "She had known that we were getting married this summer here in Chicago.
"We did the interview about three weeks ago. We didn't know it'd be for the launch announcement but we knew it'd be supporting Hillary.
"We heard about the video the way most people did. Friends and family messaged us on Facebook and Twitter."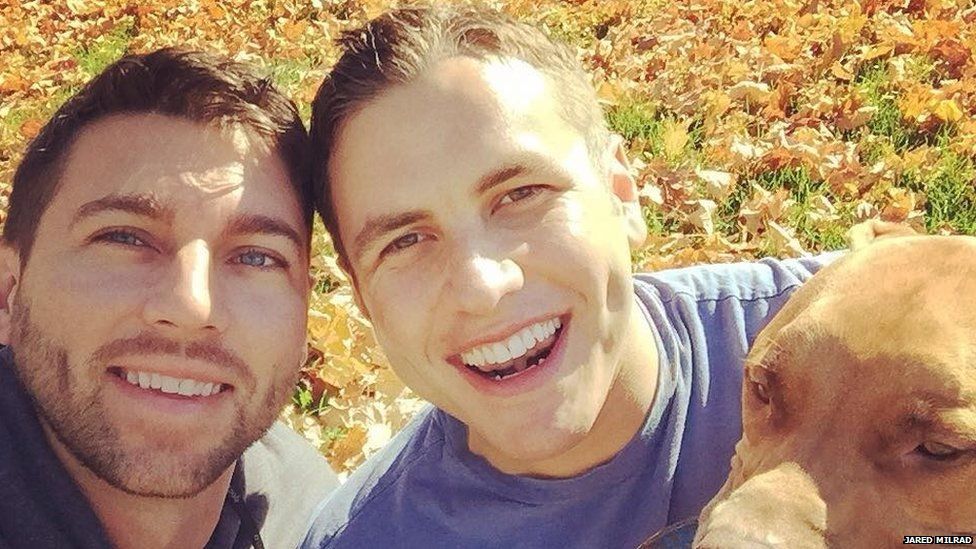 But the reaction hasn't been entirely positive.
"We are a little bit disappointed that a Russian TV station decided to add a disclaimer that the video couldn't be shown to anyone under 18 years old."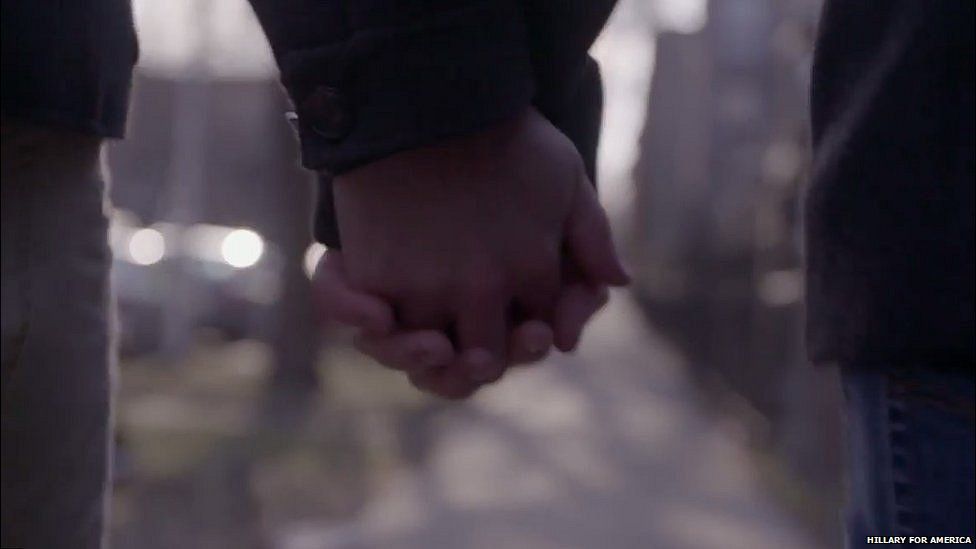 Unsurprisingly, both Jared and Nathan are supporting Hillary Clinton to be president, although Jared backed Barack Obama in 2008.
Jared explained: "I think she's the right candidate for the right time right now. I think the country needs a leader like her who has served on the world stage and has a compelling vision to level the playing field for the middle class in the United States."
Nathan added: "She's a big supporter of women's rights issues, internationally and domestically. For me that's a very important aspect of her campaign."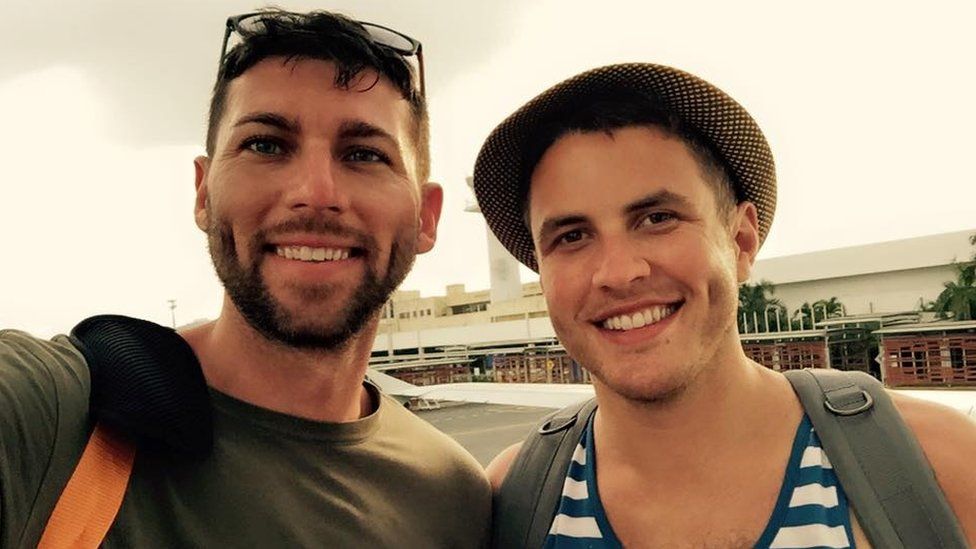 The couple met in 2008, three days after President Barack Obama was elected, through Nathan's roommate in Boston, where they were studying.
Jared proposed to Nathan on New Year's Eve 2012 in New York at the Stonewall Inn - the scene of riots in 1969 that kick-started the gay liberation movement.
But Jared commented: "Unfortunately, we still have a distance to travel when it comes to LGBT equality and the freedom to marry."
Currently, 36 of 50 American states have marriage equality, but the Supreme Court will rule later this year on whether same-sex couples have the right to marry across all states.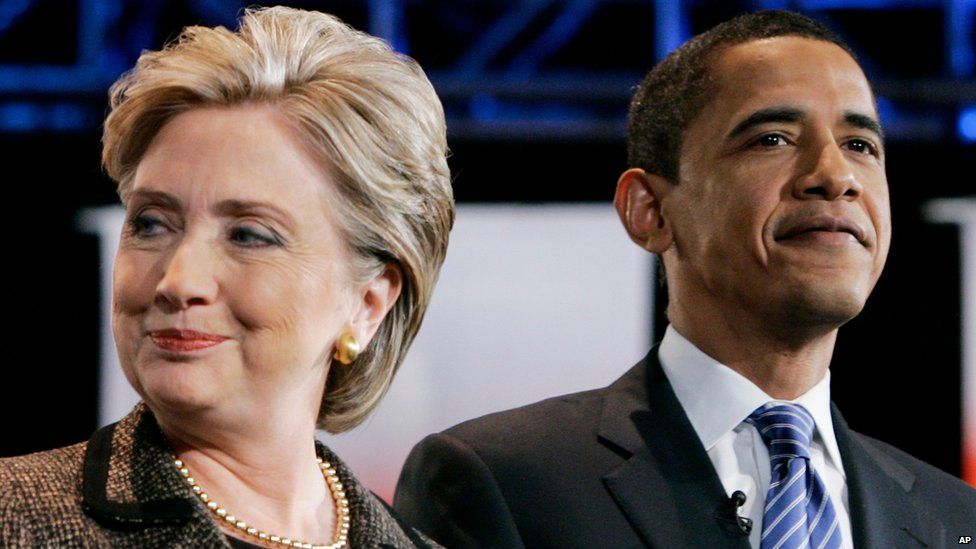 In 2008, Hillary Clinton did not support same-sex marriage, but publicly announced her support for it in 2013.
Jared and Nathan insist that she's not changed her views to win votes.
"We both disagree that she is pandering to voters.
"One thing that we really liked about being part of this campaign is the way she's spoken out for gay rights on a world stage.
"Even going so far as recently to say that the bill in Indiana - the so-called religious freedom act - was discriminatory against LGBT communities.
"That was a sign of her continuing commitment to LGBT equality and rights."
Follow @BBCNewsbeat on Twitter, BBCNewsbeat on Instagram and Radio1Newsbeat on YouTube