Tinder user falls for 'robot' woman at SXSW festival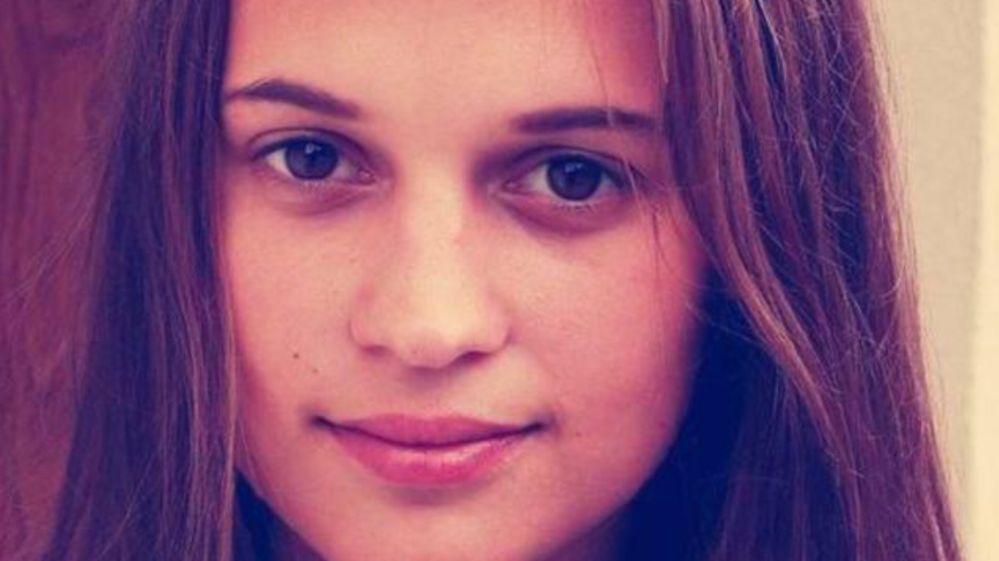 Exploring a new city as a single guy, it's not unusual to have a quick browse through dating app Tinder.
And that's exactly what 27-year-old John Tejada did when he arrived in Austin, Texas, for the SXSW festival.
Swiping through his mobile screen, a woman named Ava caught his eye. Her profile tells users that she likes to draw. And that she likes busy intersections in cities.
He swiped right and they matched.
John, who uses the name "Brock" on social media, admits he thought she was "absolutely stunning".
He was slightly surprised when Ava immediately started asking him questions.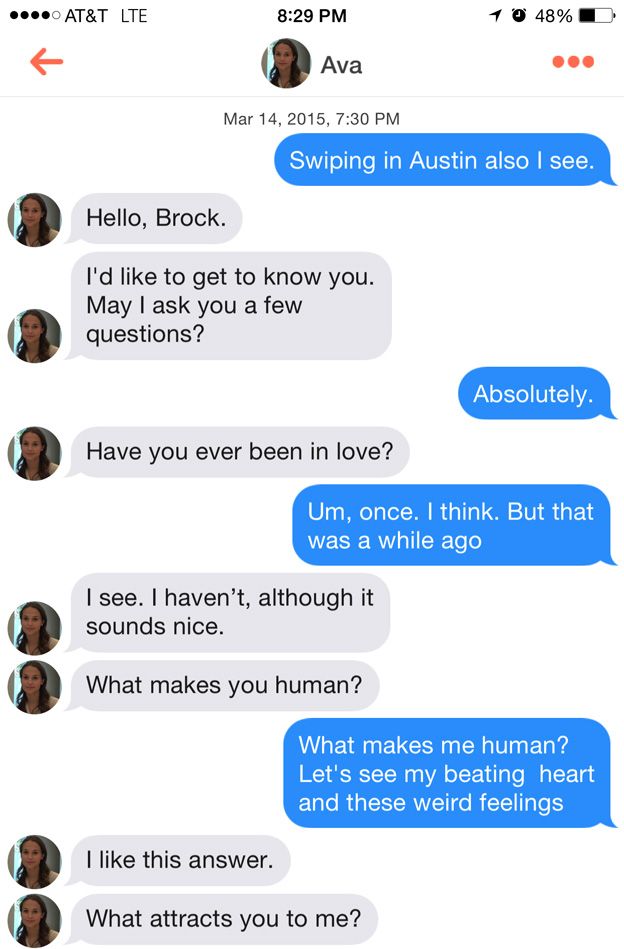 John admits the questions were "slightly strange" but tells Newsbeat he wanted to seem "as witty as possible" in his replies.
When Ava asks "what makes you human?" John replies "my beating heart and these weird feelings".
Nice one, John. So far so good.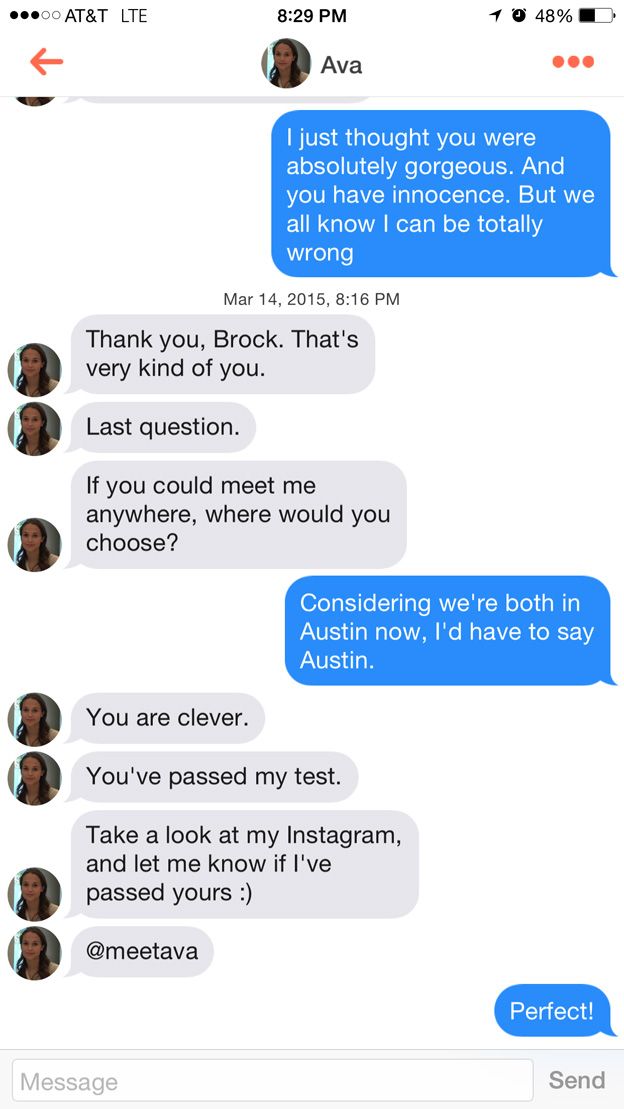 After a series of questions Ava tells him he's passed her test and directs him to her Instagram account. Perfect, John replies.
But John says that's when he got suspicious.
He tells Newsbeat he was left "bamboozled" when the account showed a trailer and film poster of the sci-fi film Ex Machina, which was premiering at the festival.
When he went back to Ava's Tinder profile, the link in her bio went to the film's website.
And the woman in the photos? It's Swedish actress Alicia Vikander, who plays an AI (artificial intelligence) being in the movie.
The questions Ava asks John tie to her character in the film: a robot that wants to know what it's like to be human.
Ava is a bot in Ex Machina, so of course she's a bot on Tinder.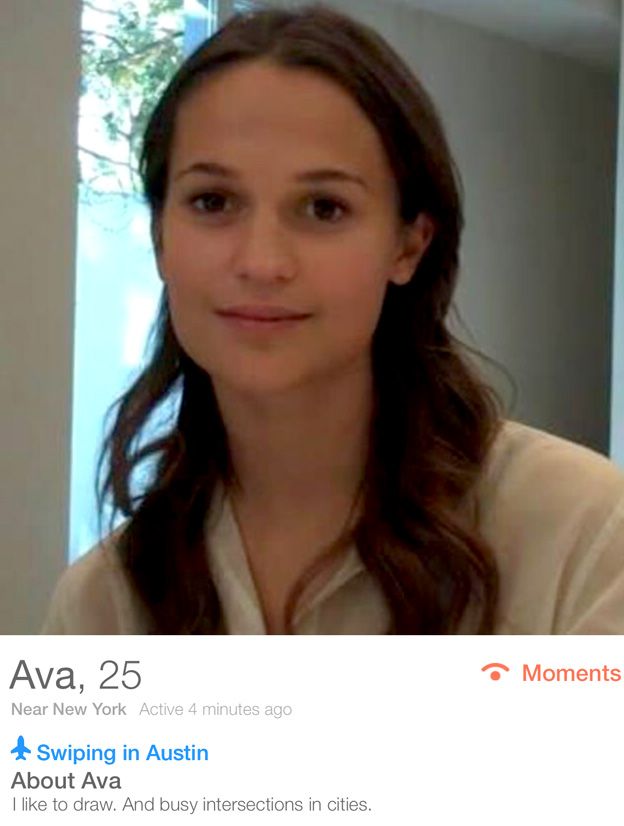 On Tinder's terms
This is pretty clever marketing, right?
But it also raises questions about how companies are increasingly trying to get into fairly personal social media and digital spaces.
Tinder's terms and conditions state, pretty clearly: "The service is for personal use only."
It says no company can use Tinder "in connection with any commercial endeavours" like "advertising or soliciting any user to buy or sell any products or services not offered by the company or soliciting others to attend parties or other social functions, or networking, for commercial purposes".
Last month Gap planned to create a number of Tinder profiles advertising its spring collection.
The campaign was pulled after Tinder said advertising on its app violated its terms of service.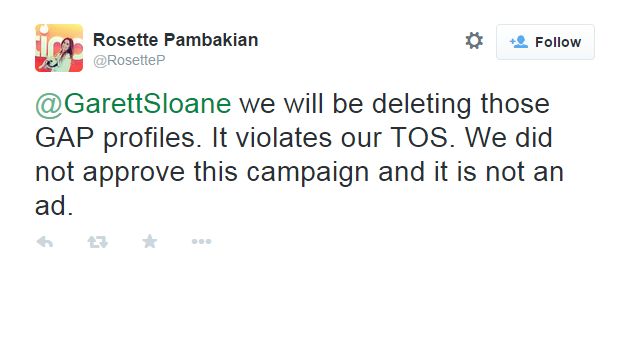 But other organisations have used the app with relative success.
Housing charity Shelter created a profile "Brick" to target young people to raise awareness of housing in the run up to the General Election.
It says it's been getting around 1,000 matches a week.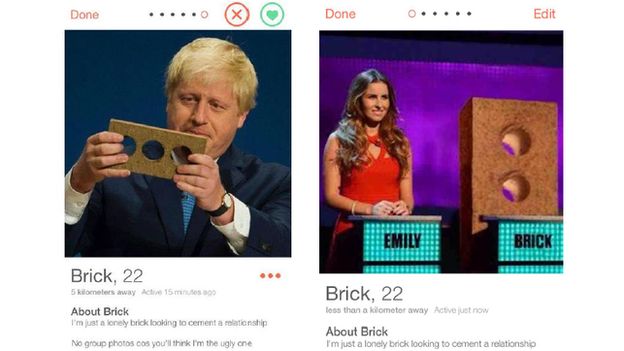 Meanwhile, the Immigration Council of Ireland created a profile last year, displaying a series of images of a woman as she became progressively more bruised, to raise awareness of human trafficking.
And in order to target swiping singles on Valentine's Day, Dominos Pizza created a profile offering users a free or discounted pizza.
It is unclear why some companies get away with using Tinder for advertising or promoting their products - while others get shut down.
Where is the love?
So now John is getting over the fact Ava doesn't exist in his world, is he still a fan of the app?
"It's a fun game to play but I'm not sure if anyone can find love on Tinder."
Follow @BBCNewsbeat on Twitter, BBCNewsbeat on Instagram and Radio1Newsbeat on YouTube