Justin Bieber says sorry for tabloid headlines after Comedy Central Roast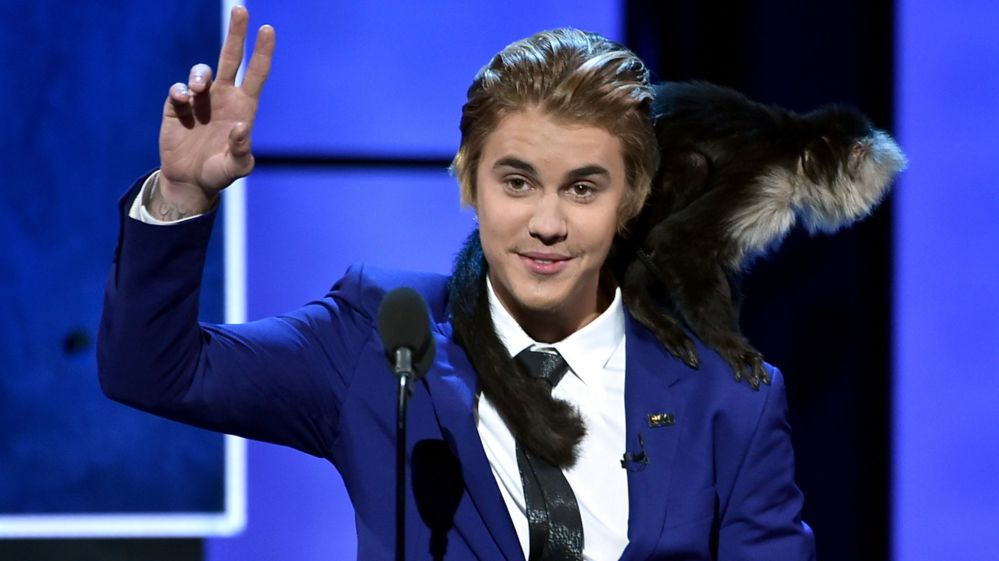 Justin Bieber has said sorry, again, for making the wrong sort of headlines.
Speaking at the end of his Comedy Central Roast, a show which makes jokes at the guest's expense, the 21-year-old said he was turning his life around.
"I've turned a lot of people off in the last few years," he said. "But I know I can still put out good music and turn everything all around.
"There was really no preparing me for this life. I was thrown into this at 12 years old."
Bieber first apologised for his behaviour in a video released shortly after his appearance on the Ellen DeGeneres show in January.
Since the middle of 2013 the Canadian has been making headlines for all the wrong reasons.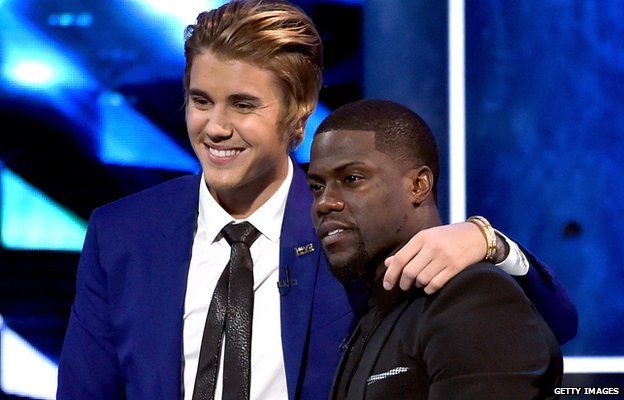 In June last year he issued an apology after footage of him leaked using the n-word while telling a joke about the Ku Klux Klan.
He was charged with assault and dangerous driving after crashing his quad bike into a minivan near his hometown of Stratford, Ontario.
And he's also serving two years probation for throwing eggs at his neighbour's house in LA.
"I didn't know what I was getting myself into," he said about being discovered by Usher at the age of 14.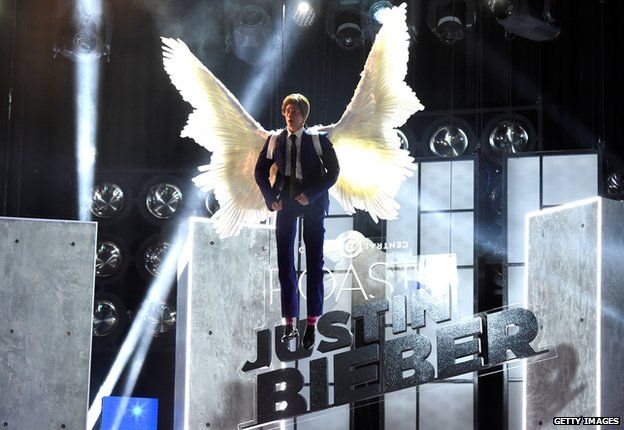 "There were moments I am proud of. And there are moments I am disappointed with myself for. But the things I have done, don't define who I am.
"I am kind-hearted person who loves people. And through it all, I have lost some of my best qualities. For that, I'm sorry.
"I am looking forward to being someone you can all be proud of.
"Someone close to me once said, 'It's how you rise from a fall that truly defines you as a man.' I'm excited for that challenge. And I want to say thank you for taking this journey with me."
Comedy Roast highlights - hosted by Kevin Hart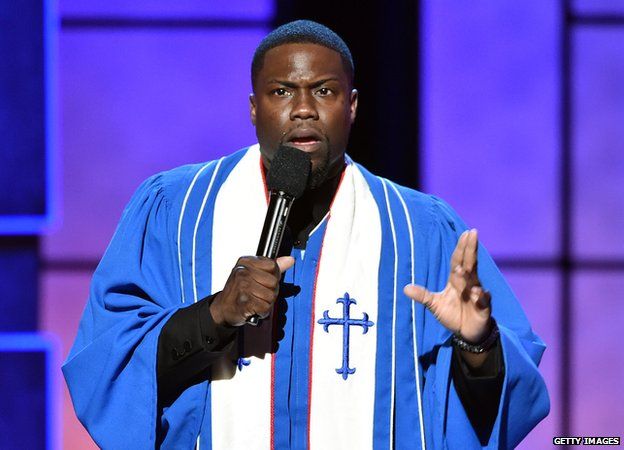 The comedy roast was hosted by Kevin Hart, who started by mentioning his run-ins with the police over the last few years.
"Tonight we're going to give what his parents and the legal system should have done years ago, we're going to give this boy an ass-whoopin'," he said.
"Orlando Bloom took a swing at you, you have a perfume called Girlfriend, you threw eggs at a house - not gangsta.
"The man proves we're protecting the wrong border."
Hart also ripped into his fans.
"Bieber has 10 million fans - most are in middle schools, or standing at least 500 feet away from one."
But Bieber had a comeback of his own in store for Hart.
"Kevin Hart is so short, he calls Lil Wayne, Wayne." Ouch.
Snoop Dogg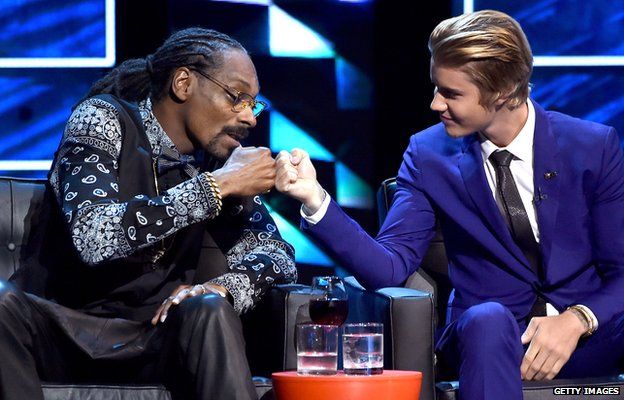 Rapper Snoop Dogg said he got in the mood for the night by drinking wine and smoking.
His best line also referred to his frequent run-ins with the law.
"Justin, you're so pretty, when inmates see your mug shot, they swipe right," he said.
He also said his next album should be called "Straight Outta Talent".
Ludacris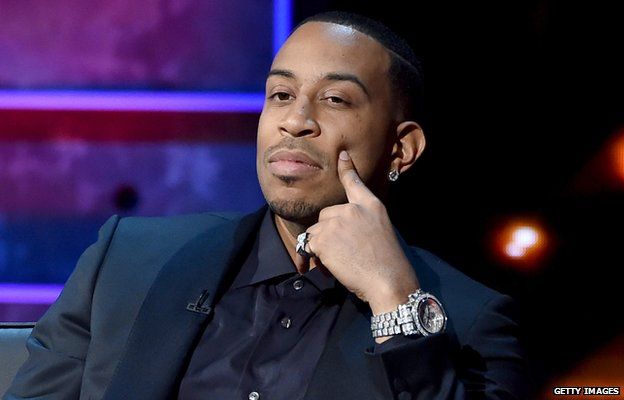 Rapper Ludacris went for a joke about his age.
"He may have turned 21, but Justin will always be a baby to me, since babies [urinate] everywhere and never know when to shut up," he said.
He also had a pop at both Bieber and Kevin Hart.
"Justin Bieber wants to be black so bad, he's actually seen Kevin Hart's movies in theatres."
Will Ferrell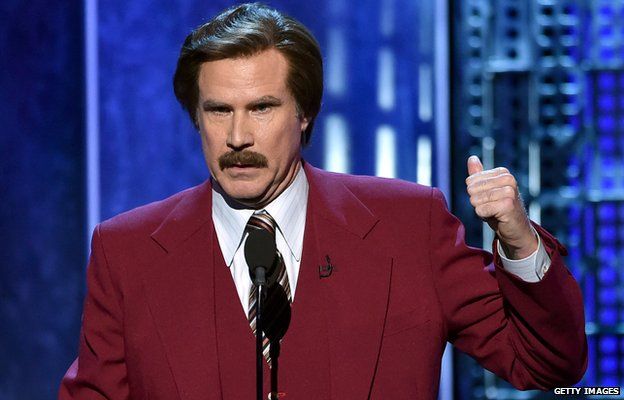 Will Ferrell was the surprise "roaster" of the night and came in character as Ron Burgundy.
Kendall Jenner and Kourtney Kardashian were in the crowd watching, so of course he had a pop at them, while sticking up for Justin Bieber.
"You people don't know what the hell you're talking about," he said.
"As far as I'm concerned, this guy is doing it right… I always encourage people to stay classy. And what's more classy than hanging out with Floyd Mayweather?
"Justin Bieber is a full-grown man who works and loves and makes things with his hands. He sings to nine-year-olds and his hair is like a gay figure skater."
Martha Stewart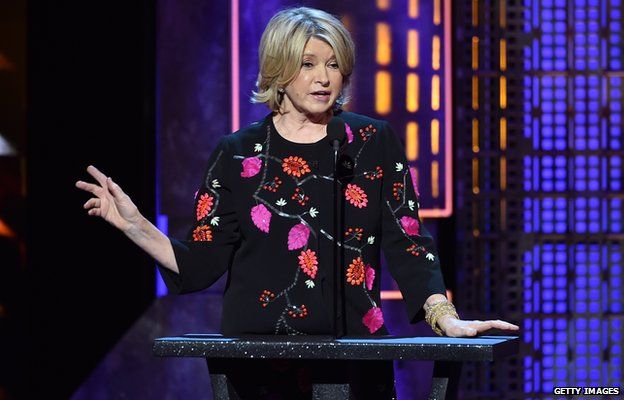 American businesswoman, writer and TV personality Martha Stewart gave Bieber advice if he ever went to prison, which she said was "inevitable."
"Sixty million Twitter followers? The only place people will be following you in jail is into the shower."
Stewart said she'd teach Bieber how to make a shank (prison weapon) and told him to settle down and find a powerful, rich girl who's "a player in the boardroom and a freak in the bedroom".
"So Justin, my final piece of advice is: Call me."
Jeff Ross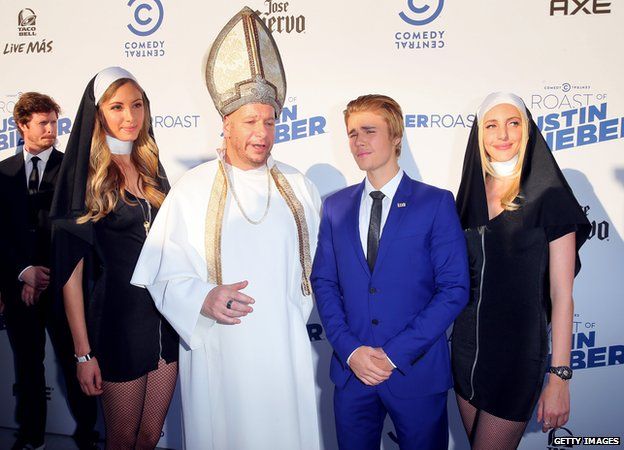 Jeff Ross, sometimes called the "The Roastmaster General" called Bieber the "King Joffrey of Pop" after the Game of Thrones character played by Jack Gleeson.
He also had a pop at his relationship with his famous ex-girlfriend.
"Selena Gomez wanted to be here but she's dating men now.
"Is it true you dumped her because she grew a moustache before you? Selena Gomez had sex with [you]... proving Mexicans will do the disgusting jobs Americans just won't do.
"You have such a huge career... behind you."
Hannibal Buress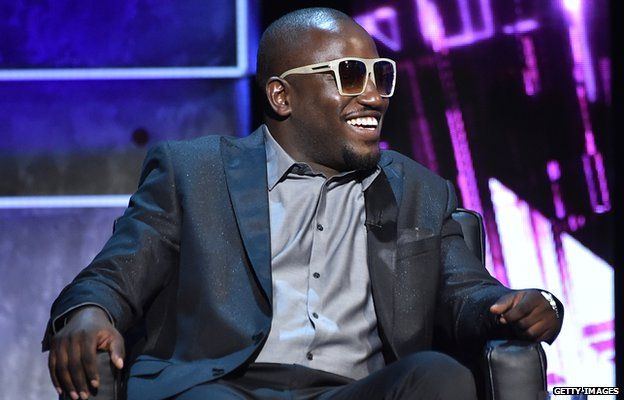 Comedian and Comedy Central actor Hannibal Buress said: "[This is] an extremely transparent attempt to be more likable in the public eye. I hope it doesn't work.
"Justin, I don't like your music. I think it's bad, man. I hate your music. I hate your music more than Bill Cosby hates my comedy."
Shaquille O'Neal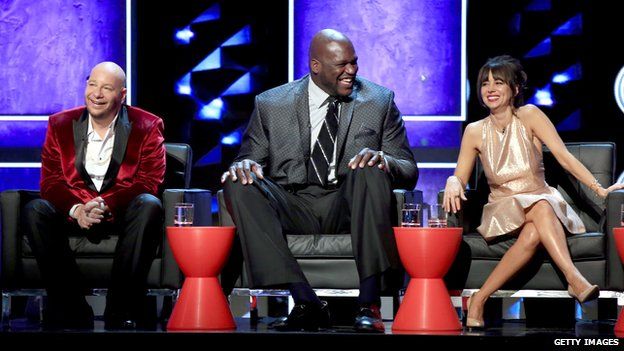 Former basketball star Shaquille O'Neal was there too.
He said: "Justin as a father of six you have to straighten up, son. Last year, you were ranked the fifth most-hated person of all time.
"Kim Jong-un didn't rank that low. And he uses your music to torture people."
Chris D'Elia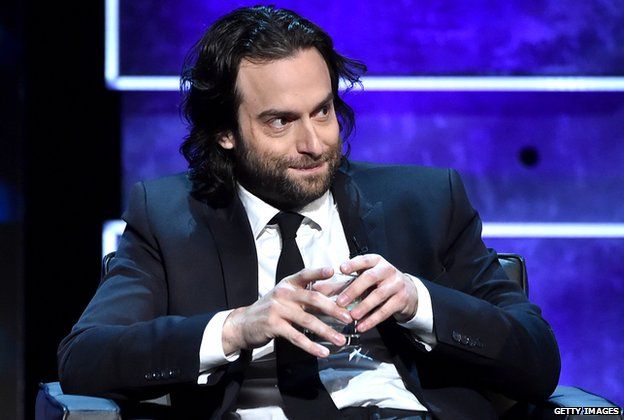 Perhaps the harshest remarks came from comedian Chris D'Elia.
"You have it all, except love, friends, good parents and a Grammy."
Follow @BBCNewsbeat on Twitter, BBCNewsbeat on Instagram and Radio1Newsbeat on YouTube