Frozen Fever: Seven things we learnt from its seven minutes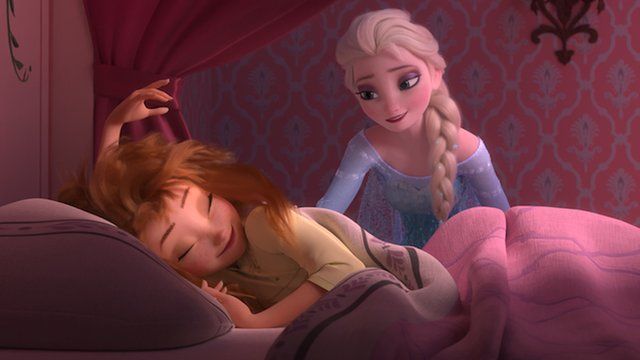 Newsbeat was at Frozen Fever's first UK screening (along with a few hundred kids) so count this as your spoiler warning for what's next for Elsa and Anna.
The film is only seven minutes long, so don't expect too many massive plot twists.
But it does see the return of many of your favourite Frozen characters.
It's being shown at cinema screenings of Disney's new live-action version of Cinderella, out later this month in the UK.
1) Elsa is throwing a lavish birthday surprise for Anna that involves following a red string that's woven around presents, leading her to a party.
The trouble is, Elsa has a cold and each time she sneezes a batch of snow babies is magically unleashed - and it's up to Sven, Kristoff and Olaf to stop them from mischievously ruining the party.
All the Frozen favourites return (voiced by the original cast) - even Oaken, who has a new mobile sauna; and Hans, who gets his comeuppance (again).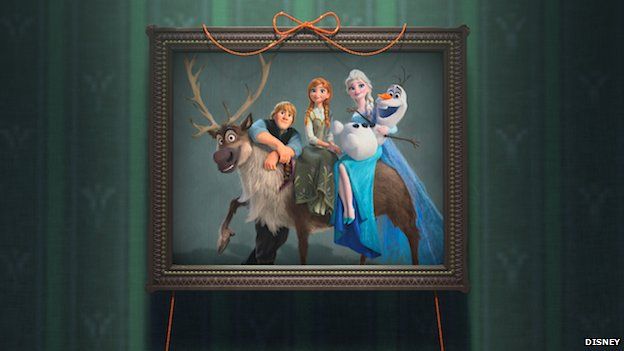 2) There's a new song, Making Today a Perfect Day, brought to you by the same team behind Let it Go.
It's more in the vein of For the First Time in Forever, sung by Anna and Elsa as they wander around collecting presents (Anna) and sneezing (Elsa).
It's catchy and fun but unlikely to go on to match the phenomenal success of Let It Go (but let's face it that was always going to be a hard act to follow).
Cutely, one infamous line from Let it Go is referenced in Frozen Fever.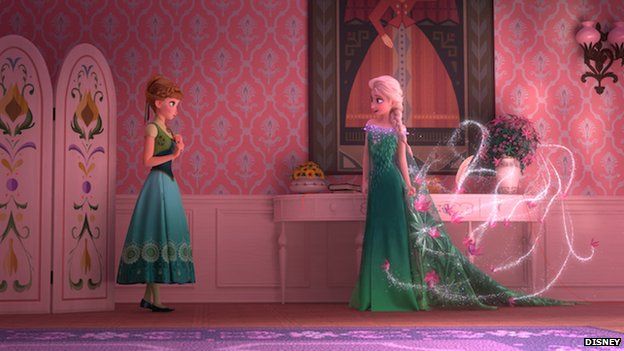 3) Green is the new blue. If you're one of the many who has battled to get an Elsa dress for your daughter, niece, friend, (or yourself), gear up for round two.
Disney has created the perfect opportunity to bring out a new Elsa fashion if it so desires, with a flowing emerald green dress dotted with bright pink flowers.
Anna gets a new green dress as well. Win win.
4) Snow babies are the new bunnies.
The "snow babies" may have an official Disney name - but if they do, we don't know what it is yet.
If buying a cuddly Olaf snowman toy was more up your street than an Elsa dress, we imagine there will be bundles of cute and cuddly snow babies around soon too. Just in time for Easter, when this film is released.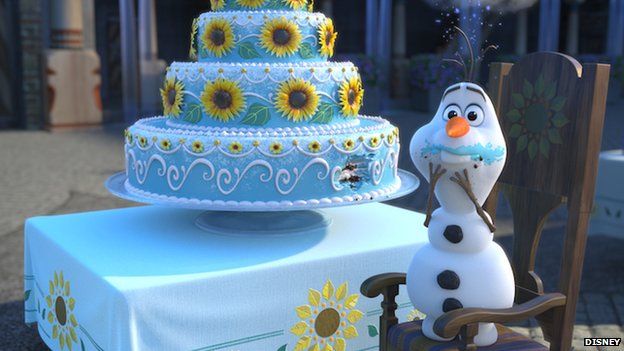 5) Anna and Kristoff are still in love. He even says it. Best. Birthday. Present. Ever.
Or is it?
Actually, much like Frozen, this is all about Anna and Elsa taking care of each other, with sisterly love being the overriding message.
6) Comedy signs. Kristoff has made his own 'Happy Birthday Anna' banner that gets muddled up more than once.
We won't ruin the jokes for you, but have a go at making comedy anagrams out of happy birthday Anna and see if you can match the ones that made the movie.
7) Chances are if you like Anna and Elsa then you're probably a fan of Disney princesses, which is why Frozen Fever is only being screened before the new Cinderella live-action movie.
Turns out Downton Abbey's Lady Rose, actress Lily James, knows how to lose a glass slipper well but it's Cate Blanchett's misunderstood stepmother and Helena Bonham Carter's twinkling Fairy Godmother that bring the magic.
Oh and the transformation bit where the pumpkin becomes a carriage got a big round of applause when we saw it.
Plus Game of Thrones' Robb Stark, actor Richard Madden, is Cinderella's charming prince.
Frozen Fever is in cinemas (with Cinderella) from 27 March.
Follow @BBCNewsbeat on Twitter, BBCNewsbeat on Instagram and Radio1Newsbeat on YouTube