Sharp rise in number of drunk incidents on UK flights
The number of passenger disturbances on UK flights has tripled over the past three years.
The Civil Aviation Authority (CAA) says the "majority" of cases were down to alcohol.
There were 114 incidents in 2014 compared to 39 in 2011.
The CAA said "it is a specific criminal offence to be drunk on board an aircraft, and also to refuse to comply with instructions from the captain".
The number of incidents is only seven fewer than the number in the whole of the US last year. 121 were recorded by the Federal Aviation Administration.
But despite the big rise in recent years, the CAA say the problem is not as bad as it was in the late 1990s when it peaked.
Air Rage 2014
29 January - Passenger became verbally and physically aggressive. All passengers offloaded after cabin became unruly and uncontrollable.
14 February - Passenger physically assaulted a cabin crew member when asked to stop consuming alcohol and trying to light a pipe during cabin secure descent. Passenger restrained by crew and two passengers. Authorities met aircraft on arrival. No further action taken.
4 June - Party poppers used onboard aircraft.
17 July - A male passenger removed all his clothes and tried to open an aircraft door. He refused to put his clothes back on and was had a blanket put around him by other passengers.
23 July - Mayday declared and aircraft diverted due to disruptive passengers fighting
28 August - Passenger attempted to vacate aircraft during flight.
9 December - a passenger consuming his own alcohol became abusive, attempted to light a cigarette and had to be restrained by four crew members using cuffs and straps. He remained loud, offensive and threatening until the plane landed.

The chief executive of the British Air Transport Association, Nathan Stower, said "airlines set tough rules around the consumption of alcohol. Pubs, bars and restaurants in airports in the UK and overseas must play their part".
In November a flight to Cuba from Manchester had to divert to Bermuda after Mohammed Khelya drank a bottle of vodka and threatened to kill everyone onboard.
It was his honeymoon.
The 22-year-old threatened the crew after he was refused permission to see his new wife, who moved seats to get away from him.
He was arrested and his wife continued on to Cuba. He was fined $3,000 (£1,900).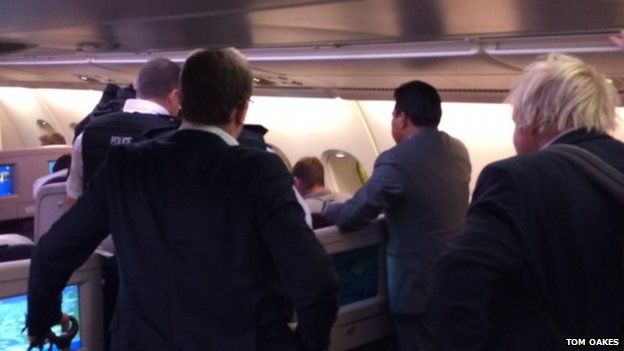 Fiona works as cabin crew for an airline in Nottingham.
She says there is sometimes "shouting and swearing and standing up in the middle of the cabin, dancing and swinging off the chairs".
"If I went and did that in their house, ripping their carpets up and dancing on their sofas I don't think they'd be too happy."
Follow @BBCNewsbeat on Twitter, BBCNewsbeat on Instagram and Radio1Newsbeat on YouTube