Tourist badly gored by bull in Spain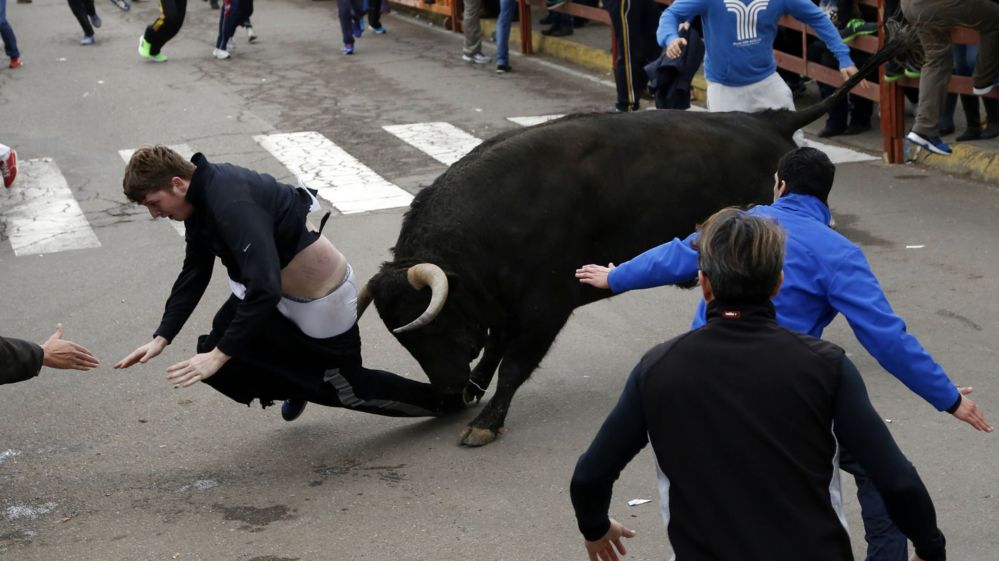 An American man has been badly gored during a Spanish bull-running festival.
Benjamin Miller, from Georgia, was tossed and jabbed by a fighting bull before being rescued by onlookers.
The 20-year-old had a 16in (40cm) gore wound in his thigh, as well as other injuries.
Surgeon Enrique Crespo, who carried out a three-hour operation on Mr Miller, said: "It's not the worst injury I've seen, but it's the biggest goring wound I've ever had to operate on."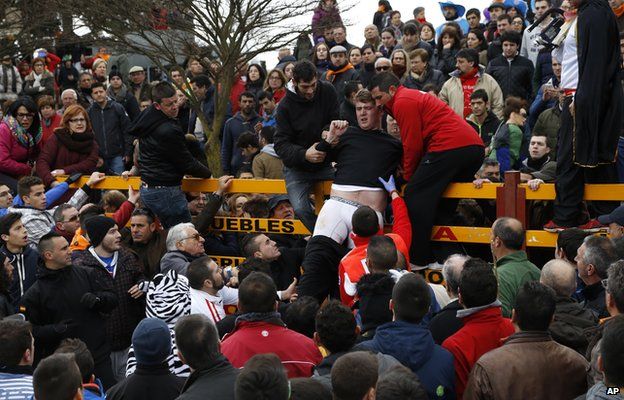 Mr Miller is said to have left intensive care, and will not require any further operations.
Town councillor Pedro Munoz, from Ciudad Rodrigo in Salamanca, said two other men suffered less serious goring wounds on Saturday.
"Angus Ritchie from Scotland and a Spaniard from Salamanca were also injured," said Mr Munoz.
"Doctor Crespo is a world-renowned expert and we have a medically-equipped helicopter on stand-by every day of our annual fiesta."
He said somewhere between 45,000 and 50,000 people had been attracted to this year's four-day fiesta, which includes afternoon bullfights and bull-running events.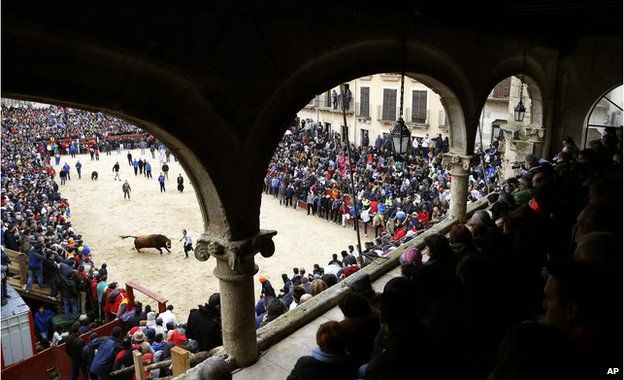 A Spanish encierro, or running of the bulls, usually happens in the morning before a bull fight or other festivities but they also take place in other countries around the world.
The most famous bull running happens during the eight-day festival of Sanfermines in Pamplona which starts at midday on 6 July every year.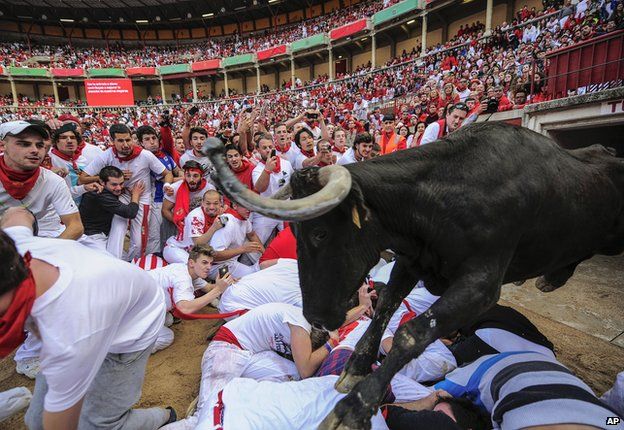 Why is bull running so dangerous?
Alexander Fiske-Harrison has released a guide to staying safe at Pamplona's bull running called Fiesta: How To Survive The Bulls Of Pamplona.
"You are running with very large animals which, although they are of a domestic cattle breed, actually they're really wild.
"They're bred for their aggression, because these are Spanish fighting bulls - the Toros Bravos - and they've never seen people.
"They're ranched in the wild from horseback and live in big herds in wide-ranging pastures.
"Their natural instinct when they see people running alongside them can be to ignore you or they can see you as a predator coming in from the side. Their ancestral predator is the wolf."
Top tips on staying safe during bull running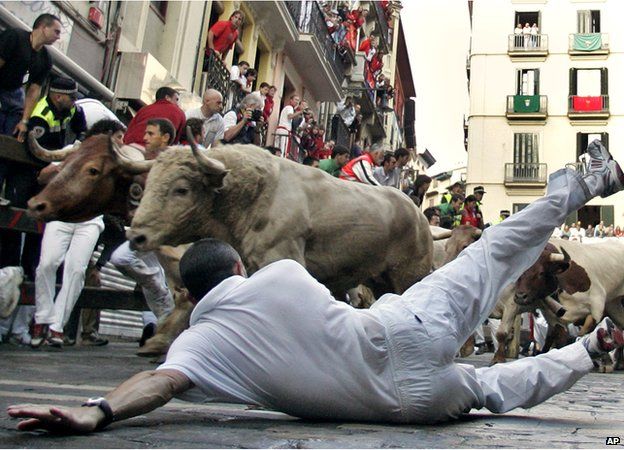 "People do seem to just turn up and think they can wing it and, although you have a relatively high probability of being absolutely fine, you vastly increase your chances of something going wrong.
"If something goes wrong, you can die.
"The big thing is staying sober. These are fiestas, they're meant for anarchy and fun but you've got to know when to cut off.
"You've got to be in good shape.
"And one of the most vital things of all is to stay down. The great fatal error is to try to get up. You re-attract the bull's attention and it's at that point that your central mass with all your vital organs is at horn height.
"That is when most fatalities happen. It is very hard to stay on the ground and lie there and hope the animal goes away but that is what you have to do."
Follow @BBCNewsbeat on Twitter, BBCNewsbeat on Instagram and Radio1Newsbeat on YouTube