What is Saturday Night Live and why's it not a hit here?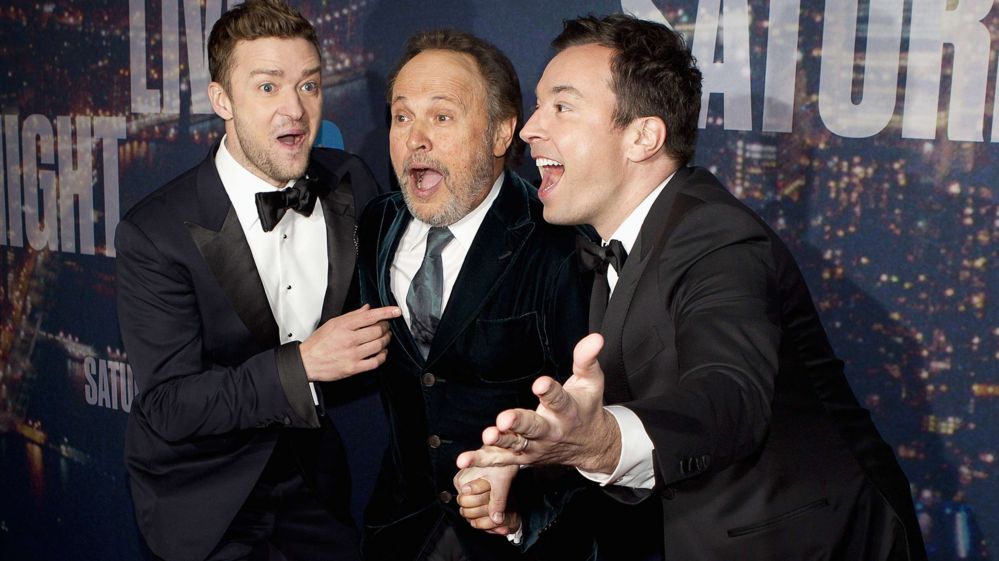 Top stars turned out in force for a special broadcast celebrating Saturday Night Live's 40th anniversary.
The US show launched the careers of comedy legends, including Eddie Murphy and Bill Murray.
Sunday's episode featured classic SNL bits, with the show's veterans reinventing their most-loved sketches.
Hollywood megastars Jack Nicholson, Robert De Niro and Tom Hanks also turned up.
Dozens of cast members from Saturday Night Live's history were at Studio 8H at NBC in New York, including regulars from the first shows in 1975 Chevy Chase, Jane Curtin, Dan Aykroyd, Laraine Newman and Garrett Morris.
Music stars Paul McCartney, Kanye West, Taylor Swift and Miley Cyrus were also there.
There are highlights of the show on Saturday Night Live's YouTube channel.
What is Saturday Night Live?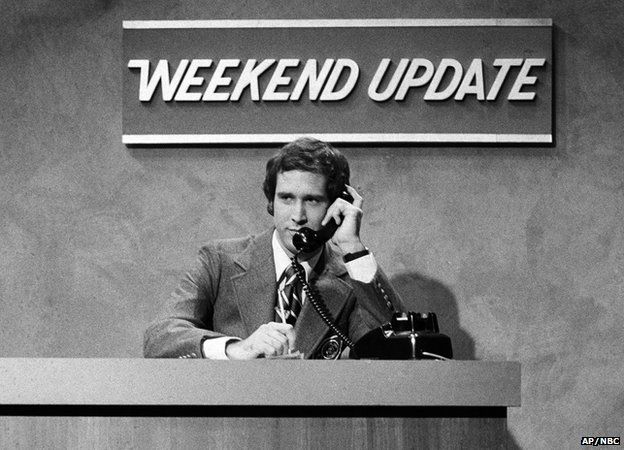 Saturday Night Live is a comedy sketch show.
It was launched as NBC's Saturday Night in 1975.
The show features a series of sketches, which often make fun of things in the news.
A series of performers are led by a different special guest each week and there are also musical slots for bands and artists.
Some sketches on the show have been made into hit films, such as The Blues Brothers in 1980 and Wayne's World in 1992.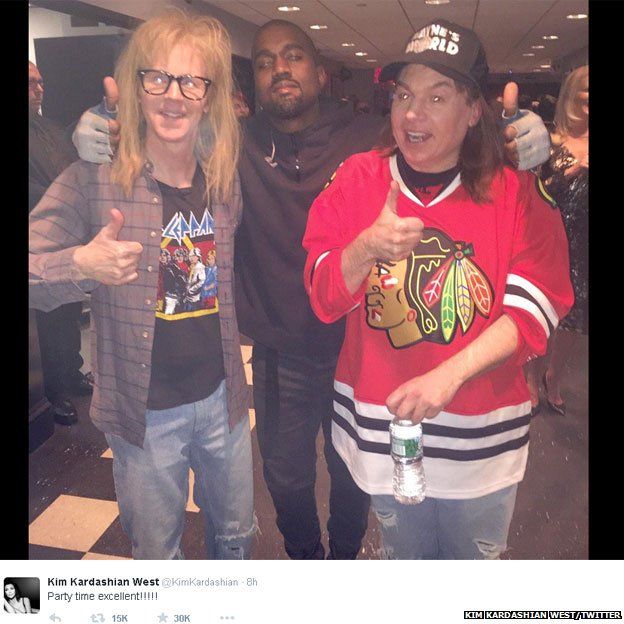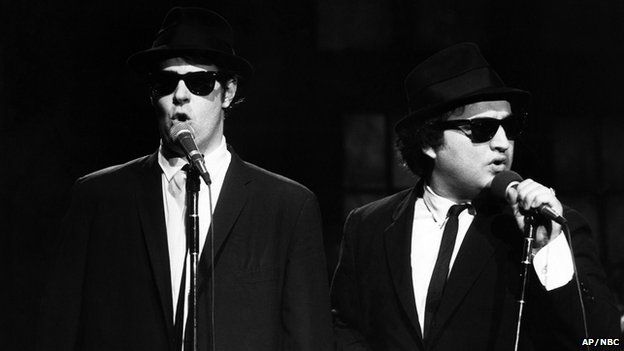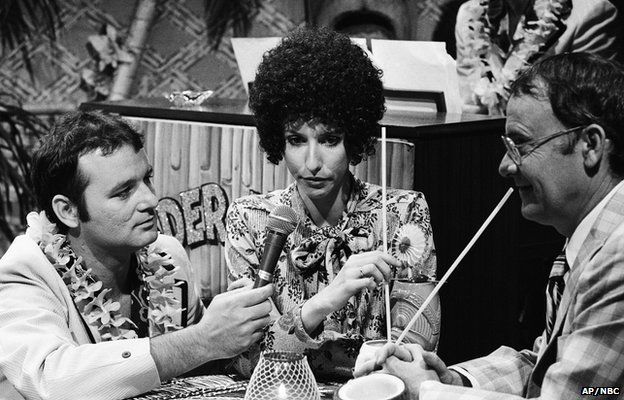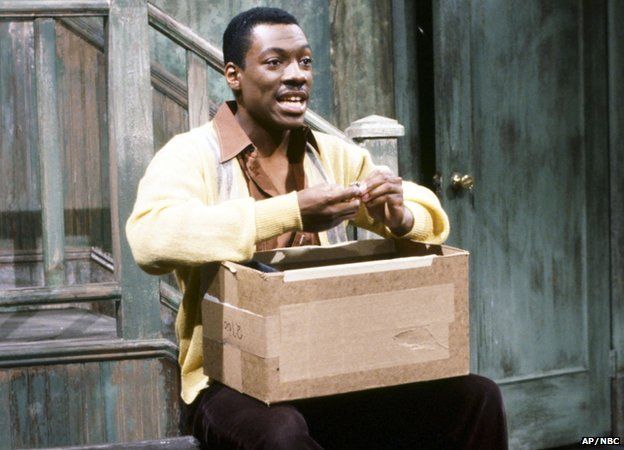 SNL has won 36 Primetime Emmy Awards, but hasn't been without controversy.
Rage Against The Machine were asked to leave the show in 1996 after putting upside-down American flags on their speakers in an episode hosted by billionaire Steve Forbes.
Samuel L Jackson appeared to swear live on air in 2012, later explaining that a fellow cast member was supposed to interrupt him before the full word came out.
Mike Myers from Wayne's World also apologised to the White House after making fun of Chelsea Clinton, the 12-year-old daughter of President Bill Clinton.
Who else has made it big after appearing on SNL?
Long before Anchorman, the producers of SNL spotted Will Ferrell's comedy talents. He joined the show in 1995, when its popularity with audiences was said to be dipping.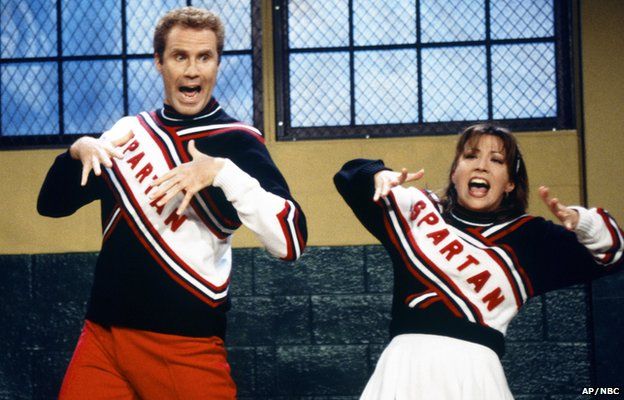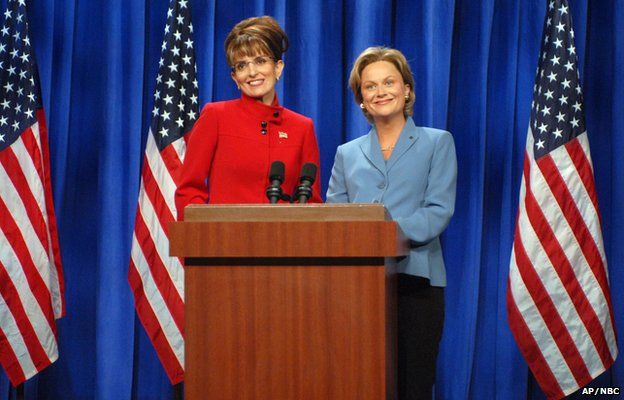 Tina Fey is another famous face who's made a career after appearing on Saturday Night Live.
She appeared on the show between 1996 and 2008 and went on to star in popular US comedy series 30 Rock and films such as Date Night and Anchorman 2.
Her impressions of US vice-presidential candidate Sarah Palin in 2008 were very popular.
One sketch with Tina Fey as Palin and Amy Poehler as Hillary Clinton became NBC's most-watched viral video ever, with nearly six million views in a week.
Saturday Night Live also spawned most of the cast of the new Ghostbusters film with Kristen Wiig, Leslie Jones and Kate McKinnon all appearing on SNL in the past.
Singer Adele appeared on SNL before she was a huge star singing Chasing Pavements and Cold Shoulder in 2008.
Why hasn't it worked outside America?
Although Saturday Night Live is a bit of an institution in the United States, it's never done that well outside North America.
SNL was broadcast in the UK on ITV4 in 2006, but was later dropped from the schedule.
The UK shows were broadcast a few weeks after they'd aired in the US, making some of the topical jokes seem a bit old.
A British version was launched, called Saturday Live, way back in 1985. It became Friday Night Live in 1988, but was dropped after one series.
It helped to launch the careers of actors and comedians including Harry Enfield, Stephen Fry, Craig Charles, Ben Elton and Hugh Laurie.
Other countries have launched their own versions of SNL such as Germany, Spain, Canada, Japan and South Korea, but most haven't done too well in the ratings.
Follow @BBCNewsbeat on Twitter, BBCNewsbeat on Instagram and Radio1Newsbeat on YouTube