The Apprentice joke that almost became a reality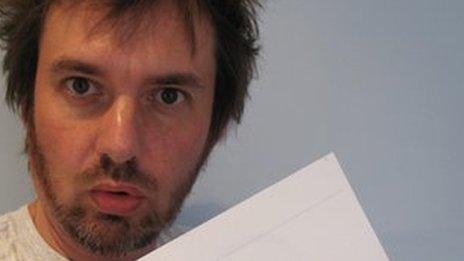 Here's the joke: a comedian applies to be on the 11th series of The Apprentice. The punch-line? Producers take his application seriously.
It happened to Phil Lucas.
He said he applied one evening for a joke when he was bored, posted it off and forgot about it (although he did admit to having thought deeply about his business idea).
Then he received a letter inviting him to take part in stage one of the selection process.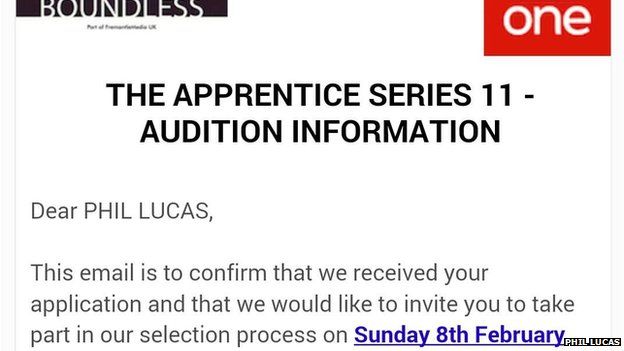 But Phil told Newsbeat he's too busy to go through stage one of the process on Sunday 8 February.
He added, if the show wants him, it has to go with his schedule.
He wrote back to the production team to inform them (of course, with a lot of jest) that he has plans in Bristol that day. He's had a plan to be there for a while and had even booked a hotel, seriously.
The truth? He panicked. He didn't expect a response, let alone an actual invitation to take part in the selection process.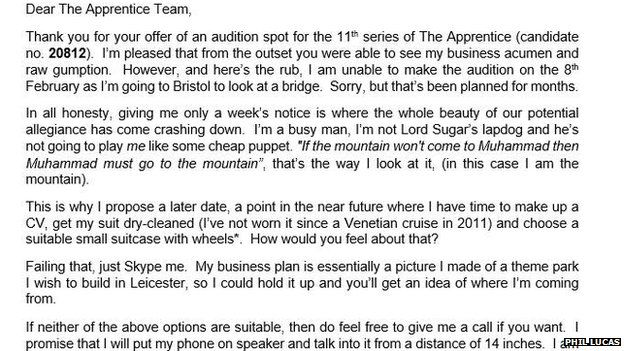 He says he's not giving up though, he's offered producers another date for him to attend, but he's not holding out hope of being taken seriously a second time.
Despite his bravado, Phil said his "bluff has been called".
"I really like the show and I've always thought it would be really good to have someone on there who was completely disinterested in business, had no desire to get up early to run around dressed in a suit.
"Obviously they would never do that, but I just thought it would be good because I pretty much am that person."
Phil was kind enough to reveal his business idea (so please don't nick it).
"It's the Jamiroquai Virtual Insanity Theme Park. Every Jamiroquai single is a ride, of a various description.
"I've made a very big picture of it, where I've stuck all the rides on and drawn them out.
"And Leicester because it's central, I reckon, you know best catchment area for all of the UK."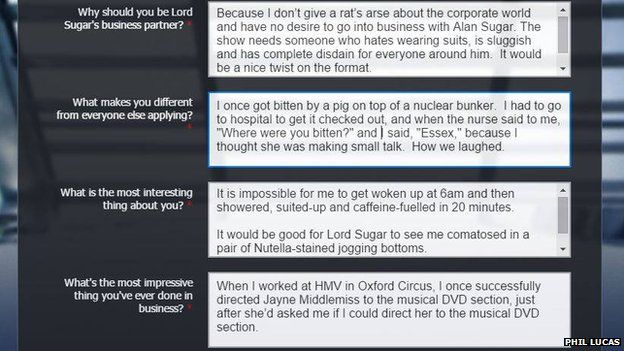 Phil had even practiced some of his business sayings to help him stand out as a candidate, including "two words Lord Sugar: deal with it".
"I would love to do it, but to test myself. I would be absolutely useless. I am not a good business proposition. I'm really not."
Newsbeat approached The Apprentice for comment, we got back "We do not comment on individual applications".
Follow @BBCNewsbeat on Twitter, BBCNewsbeat on Instagram and Radio1Newsbeat on YouTube