Dog-nappers caught out after dying dog's fur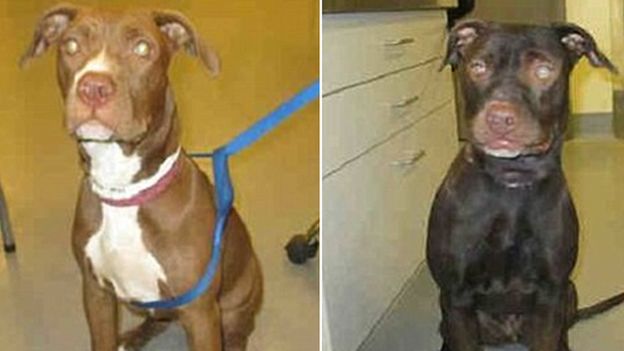 Coco, a brown and white eight month-old pit bull, went missing from her owner's home in California on 27 November, which was Thanksgiving in America.
Having been adopted from San Jacinto Valley Animal Campus a month earlier, it's thought the dog was the victim of theft.
Thankfully for her owners Christopher Ingrassi and Heather Lowry, she turned up on 19 December, but something was different.
Coco was now black.
When Christopher and Heather first took her home, Coco was implanted with a microchip which listed her description and owners' information.
It's thought the dog was the victim of a theft and what Animal Services have described as "a bad dye job".
"When I was called, I didn't believe it," Miss Lowry told Animal Services officials, according to AP.
"I was shocked. I didn't think someone would go as far as to dying a dog's fur to keep them.
"I don't think that person knew that she was microchipped."
Animal Services officials believe Coco escaped from the thief's property when a Ramona Humane Society animal control officer found her near her home.
"We believe it was an act of deception," Riverside County Field & Shelter Deputy Director Frank Corvino said.
"The dye job is not very good. But it would work if someone's looking for their missing, reddish-brown dog."
Animal Services spokesman John Welsh said the dog should be fine and not suffer any long-term consequences from the dye job.
Follow @BBCNewsbeat on Twitter and Radio1Newsbeat on YouTube