'I thank God I didn't abort my baby'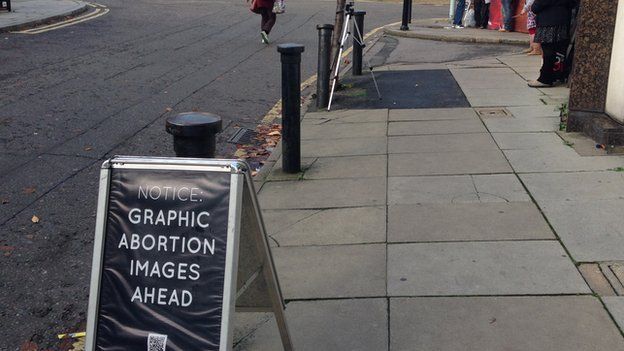 There are calls for new laws to stop anti-abortion protests outside clinics around the country.
The British Pregnancy Advisory service, which provides abortions, says leaflets with graphic photos of dismembered foetuses are distressing to patients.
One 21-year-old woman, who had an abortion but didn't want to be named, told Newsbeat: "It's really upsetting."
"It's quite scary too. They must see the emotion on all the girls' faces that walk in there."
But anti-abortion campaigners say they're trying to help educate people.
Suzan Briggs, who's 27, says she's happy the anti-abortion group Abort67 stopped her terminating her pregnancy. She now has a daughter called Miracle.
Suzan's story:
"Last year I found out I was pregnant. I already had three children and didn't think I could cope with another.
"I decided to go to terminate the baby so I booked an appointment.
"When I got there they gave me information about abortions, but there were campaigners waiting outside the door.
"They had some leaflets about abortions and they started talking to me. They had pictures of a foetus at eight weeks and they had pictures of aborted babies.
"They started preaching the word of God and telling me abortions aren't good.
"I was really scared. I told them I had three kids already and I didn't need this baby but they told me I didn't have to go through with the termination.
"They told me God would help me and give me strength.
"They took me to a coffee shop, they bought me tea and I said I would go home and try to think about it.
"I tried not to listen to them, but they were praying for me and I was crying and shaking.
"The way they talked to me gave me faith and their encouragement made me decide to keep the baby.
"I promised them I'd go to the doctor in a few days. They promised to come with me.
"They kept in touch and came to my home to encourage me. They kept checking I was ok. That kept me going.
"Now I thank God I didn't pass through that process. At eight weeks you can really see the leg is already formed, the head, the face.
"Then when I finally saw my daughter, I thought, 'How could I have wanted to terminate this baby?'
"She has given me joy and peace in my family. She has made me and my partner stronger.
"The campaigners have also helped me by providing clothes for the baby.
"They don't pressure you outside the clinics if you don't want to listen. They're just giving their opinion.
"They should be allowed to do it because some people will change their minds. If I didn't listen to them, I would have regretted it all my life.
"For me, abortion should be banned - everyone should stick to prevention to only have a baby when they're ready.
"I want people to have the happiness and peace that I have.
"My daughter Miracle is now eight months and two weeks old. She's standing, walking around the table on her own. She's really growing fast.
"Everybody says she's so cute. When they say that I thank God I didn't do it."
Follow @BBCNewsbeat on Twitter and Radio1Newsbeat on YouTube