'My friend Julien Blanc is misunderstood'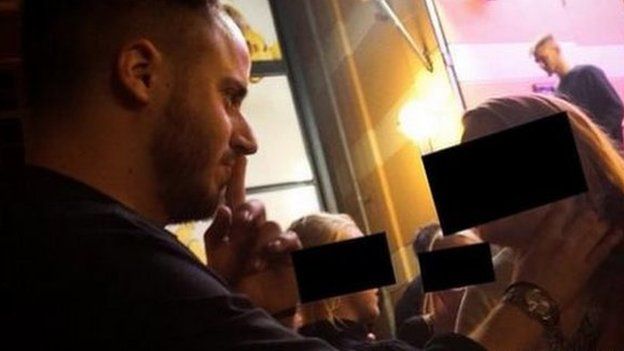 The controversial US dating coach Julien Blanc has been "misrepresented by the media" - that's the view of his friend and personal assistant.
Glenn Goossens told Newsbeat people should watch one of Blanc's full dating tips seminars and not just select the bits that make his boss look bad.
This week Home Secretary Theresa May turned down Blanc's visa application.
It means he will no longer be able to tour Britain in February as planned.
Critics of Blanc's company, Real Social Dynamics, say its work is "wrong on every level" and promotes violence against women.
Newsbeat asked Mr Goossens if it was ever acceptable to thrust a woman's head into a man's crotch without consent - something the dating coach is seen doing in a video from one of his seminars.
Glenn said, repeatedly: "Watch an entire seminar and get the context".
Is there ever a context which could ever justify doing that? Glenn replied: "I have said everything I wanted to say."
Blanc has not only been banned from the UK, he had to cut his Australian tour short because his visa was cancelled following protests there too.
His UK tour was due to start in February 2015.
On its website Real Social Dynamics calls itself "the world's largest dating coaching company".
It promises customers the chance to "witness dating coaches attract beautiful women in live demonstrations".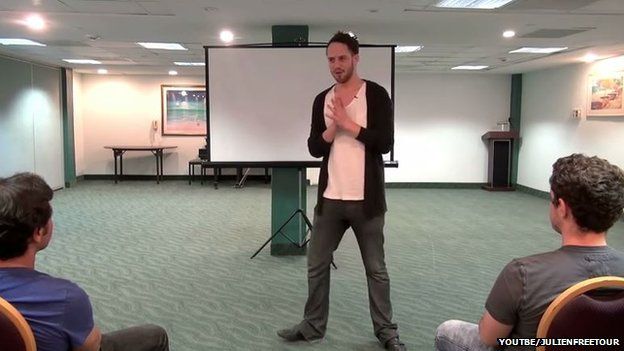 We have asked for an interview with Julien Blanc, but he's not got back to us.
Glenn is the first person connected to Real Social Dynamics to speak to Newsbeat. He told us he believed the company and his friend were being misrepresented.
"I know what Julien really does and what it is really about, so no. I fully support RSD and everything they do," he said.
We asked if he was proud to tell friends and family who he worked for.
He was adamant that he had no reason to be ashamed. "It's about becoming your best self, so why would that be something bad?"
Follow @BBCNewsbeat on Twitter and Radio1Newsbeat on YouTube