AC/DC and Phil Rudd - what you need to know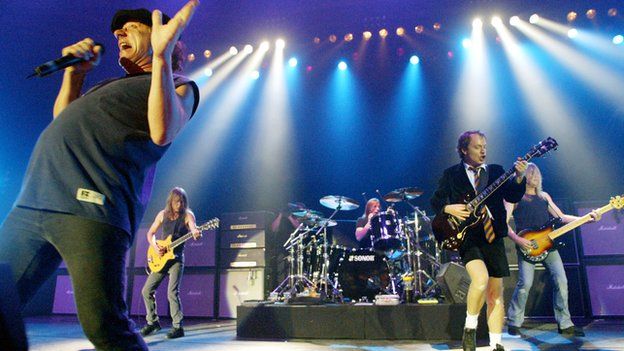 You'll have heard AC/DC's music somewhere over the last few weeks/months/years.
You may even have worn one of their T-shirts.
If you're a fan of The X Factor, you may well have enjoyed Ben Haenow covering the band's track Highway to Hell last weekend during Fright Night.
You may also have read that their drummer, Phil Rudd, appeared in court in New Zealand accused of attempting to arrange a murder.
Those charges have since been dropped according to Mr Rudd's lawyer, but the drummer will still face charges of possessing drugs and of making threats to kill.
But who are they?
Well - only the highest grossing rock band ever and one of the genre's most influential acts.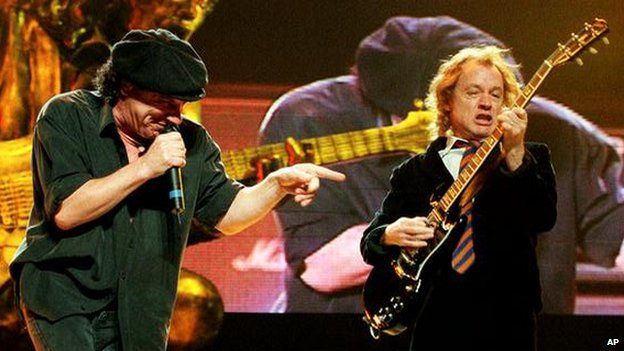 It all started in 1973 when brothers Malcolm and Angus Young, born in Glasgow, put a group together in Australia, called AC/DC (or Acca Dacca as they're known by some fans).
The band have sold more than 200 million albums worldwide.
1980's Back in Black is the fifth highest-selling record of all time behind Michael Jackson's Thriller, Pink Floyd's The Dark Side of the Moon, The Bodyguard soundtrack and Eagles' greatest hits.
They had their own stage at Download Festival in 2010 next to the main stage and sold out Wembley Stadium on the same tour.
Their Black Ice world tour between 2008-10 was the fourth highest-grossing of all time (behind U2, The Rolling Stones and Roger Waters).
Sticking with the electrical theme, which was suggested by their sister Margaret after she saw the name on a vacuum cleaner, their debut album, 1975's High Voltage, was released in Australia.
Their name also features a lightning bolt through the middle.
Early on they gained a reputation for delivering pounding riffs and catchy choruses.
Lead guitarist Angus Young also dressed up as a schoolboy for those gigs in the 1970s and has done ever since, as well as playing his precious Gibson guitar and performing his trademark "duck walk" while doing solos.
But tragedy struck after the release of their album Highway to Hell.
Lead singer Bon Scott was found dead from alcohol poisoning after a night of heavy drinking in London early in 1980.
He was replaced by English singer Brian Johnson and shortly afterwards AC/DC released their most popular album to date and one of the biggest records in rock history, Back in Black.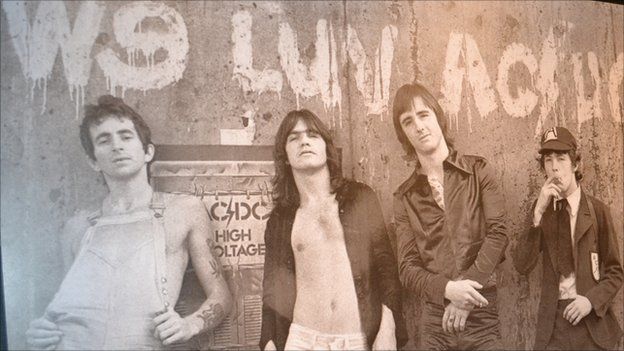 Fast forward 34 years and AC/DC are preparing to return to the stage.
They release their 15th international studio album Rock or Bust on 2 December and start a world tour next year. There are even rumours of a headline appearance at Glastonbury.
But the band will be touring without founding member Malcolm Young.
It was confirmed he was suffering from dementia in October.
His nephew, Stevie Young, replaced him on the band's new album and he'll also tour with the band in 2015.
Before drummer Phil Rudd's appearance in court on Thursday, he was left out of band photographs for Rock or Bust.
He was also reportedly not part of the filming for their new music video, Play Ball, with his future in the band now uncertain.
A spokesperson for the band said: "We've only become aware of Phil's arrest as the news was breaking. We have no further comment.
"Phil's absence will not affect the release of our new album Rock or Bust and upcoming tour next year."
Follow @BBCNewsbeat on Twitter and Radio1Newsbeat on YouTube