Did David Cameron 'refuse' to wear feminist T-shirt?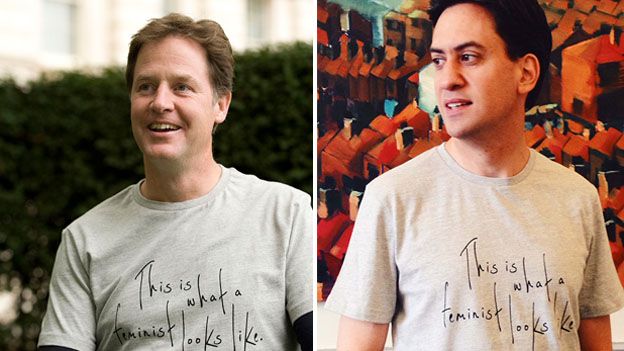 David Cameron's coming in for criticism after apparently refusing to be photographed in a pro-feminism T-shirt, while other party leaders said yes.
It's claimed the prime minister was repeatedly asked to wear the shirt, with the slogan "This is what a feminist looks like", promoted by equal rights campaign group the Fawcett Society.
Elle magazine asked a number of influential men to pose in the shirt for its special feminism issue, to be published this week.
Elle's Editor-in-Chief Lorraine Candy said: "We asked the prime minister five times if he would wear the T-shirt and send us a snapshot. It would only take 10 minutes."
"Five times, he declined. This is a shame on so many levels, especially given he knew Nick Clegg and Ed Miliband had agreed without hesitation, alongside many other influential men who were more than happy to call themselves feminists.
"It seems the prime minister still has an issue with the word 'feminist'."
Daisy Sands, head of policy and campaigns at the Fawcett Society, told Newsbeat: "It would appear that Cameron is not comfortable with identifying himself with the cause of feminism which, given the huge contribution that the feminist movement has made to advancing women's rights, is unfortunate."
Time pressures
"We understand that David Cameron was unable to provide us with a photo due to time pressures, but we would nonetheless be very happy to receive his photo at a later date.
"However, we also understand that making a personal commitment to the cause of feminism is a matter for the individual to decide," she added.
Meanwhile, Lib Dem leader Nick Clegg said of feminism: "I support equality and choice - so yes, I'm a feminist. How on earth in this day and age can you not be?"
Labour leader Ed Miliband said feminism was about "striving for a world where power is something we share equally as men and women, a world where equal pay is a campaign our children learn about in history books and a woman in the top job is no longer a novelty".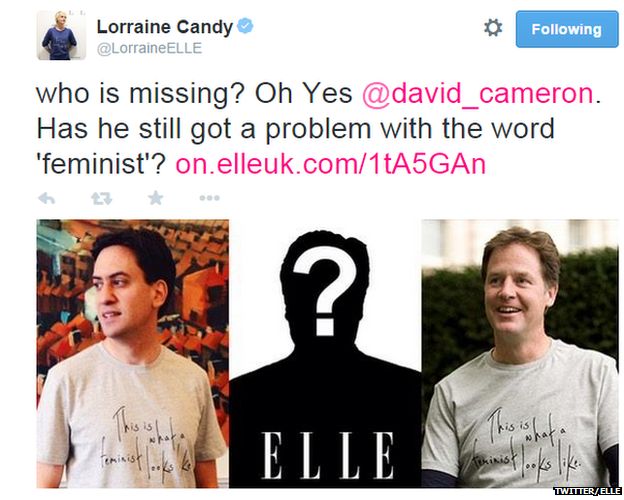 It's not the first time David Cameron has been accused of having a "woman problem."
Before a number of female MPs, including Liz Truss and Nicky Morgan, were promoted to ministerial positions earlier in the year, David Cameron was accused of "failing women across the country" by Ed Miliband.
A picture of the prime minister's all-male front bench at Prime Minister Question's was shared widely to back up this claim.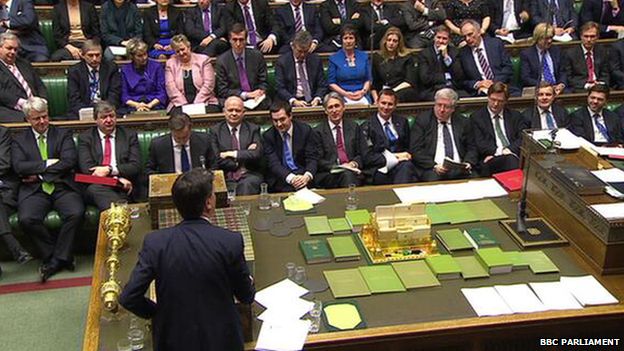 'I don't know what I'd call myself'
In an interview with Red magazine in 2013, Mr Cameron was asked if he would call himself a feminist.
He replied: "I don't know what I'd call myself… it's up to others to attach labels, but I believe men and women should be treated equally".
He later qualified his comments telling Channel 4 News: "When I was asked that question, what I should have said is, if that means equal rights for women, then yes. If that is what you mean by feminist, then yes, I am a feminist."
His apparent refusal to wear the T-shirt has sparked a mixed reaction on Twitter, with some people saying "at least the prime minister was honest."
'Not a strong look'
Others said that if David Cameron had declared himself a feminist, it would have put them off applying the term to themselves.
Celeb Youth UK tweeted: "Wearing a T-shirt saying you're a feminist while implementing cuts and policies that militate against gender equality = not a strong look."
Other high profile men including Benedict Cumberbatch, Joseph Gordon Levitt and Tom Hiddleston have worn the Fawcett Society's iconic T-shirt for the magazine's feminism issue, out later this week.
It's not the first time party leaders have been criticised for not joining in with a campaign.
Ed Miliband was attacked by The Sun during in September because he didn't wear a Help for Heroes wristband at party conference, while Cameron and Clegg and UKIP leader Nigel Farage did.
Newsbeat has contacted Number 10 for comment on the T-shirt row, but we're still waiting to hear back.
Follow @BBCNewsbeat on Twitter and Radio1Newsbeat on YouTube