Dutch boy turns his dead rat into flying rodent
When grieving the death of a family pet, people have been known to hold a ceremony in the back garden, perhaps putting an 'RIP Fluffy' plaque in the shrubs.
Some take it a step further, and have their beloved animal stuffed when they pass on.
But one Dutch schoolboy has really raised the bar. Following the death of his pet rat, Pepeijn Bruins had the animal turned into a flying rodent.
Yes that's right, he made a rat-copter.
The 13-year-old was heartbroken when his pet Ratjetoe, which is Dutch for ratatouille, was stricken with cancer and he had to have him put down.
Pepeijn said: "I loved him very much. He always liked to be cuddled and he would run up my clothes and hide."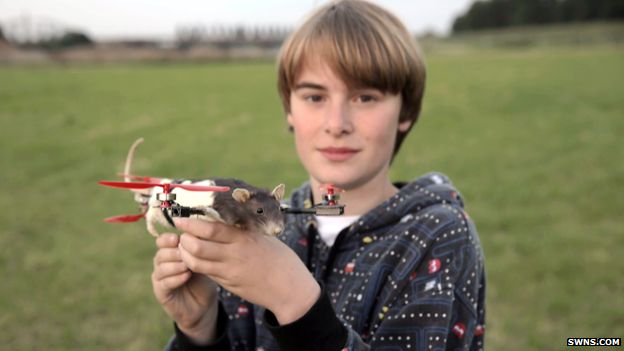 Keen to keep his pet's memory alive Pepeijn looked at ways of holding onto Ratjetoe.
Luckily, if that's how you want to put it, Dutch inventors Arjen Beltman and Bart Jansen were on hand to help him achieve his goal.
The duo were naturally Pepeijn's first port of call after seeing their previous work, which includes producing the world's first stuffed, radio-controlled flying cat.
They've also made a dead ostrich take flight and their next project has the working title of turbo shark - you can guess the rest of that one.
Their work is being showcased in a Channel 4 documentary called All Creatures Great and Stuffed at 10pm on 10 September.
Follow @BBCNewsbeat on Twitter and Radio1Newsbeat on YouTube