Kim Kardashian West is the most "victimised" Kardashian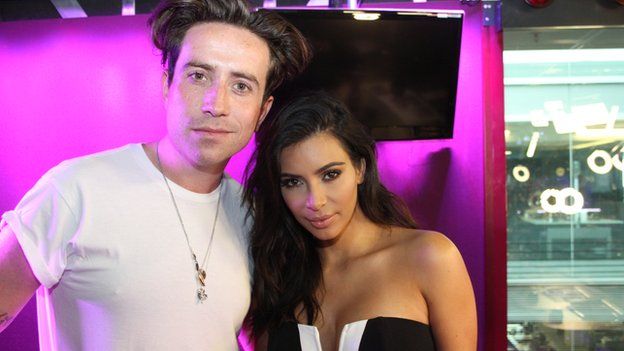 Speaking to BBC Radio 1 breakfast show host Nick Grimshaw, Kim Kardashian West says she is the most "victimised" by the press.
The reality TV star complained that everything she says gets taken out of context and told Grimmy she is treated worse than her family members.
"They take everything you say, these days, and twist it in to something negative."
Last night she won 'Woman of the Year' at the GQ Magazine awards in London.
They take everything you say, these days, and twist it in to something negative
In a wide-ranging interview, Grimmy asked about her feelings towards London.
She was in the capital to collect her award and says she could maybe see herself living in the capital one day.
Her husband, Kanye West, accompanied her to the awards and says she loves it when they travel together.
But at last night's awards she was only announced as Kim Kardashian and told the audience: "It's Kim Kardashian WEST".
When Grimmy asked her about it, she said: "They announced me as Kim Kardashian and I hate that people online say mean things, because when I got up there, I said 'it's Kim Kardashian West'. Like, just being more playful and cute.
"On the internet, it's like, 'she's annoyed that they called her Kim Kardashian', and I'm like, 'no, I'm not. Don't make up ridiculous stories'."
She says when it comes to signing autographs, she realises her name is now very long, so signs "K K West".
Kim also admitted that whenever she comes to the UK she eats lots of "ribs".
Grimmy quizzed her on the infamous 'bum selfie' she took in a white bikini, and she admitted she took ten photos before she got the shot she wanted.
She also judged the selfies of some listeners and gave Sam Smith's selfie ten out of ten before admitting she is a big fan.
Follow @BBCNewsbeat on Twitter and Radio1Newsbeat on YouTube