Gerard Way 'happier' after My Chemical Romance split
It was just over a year between the end of My Chemical Romance and Gerard Way announcing his solo career.
"It is different, the main thing is I am just happier," he tells Newsbeat.
He says it has nothing to do with his band mates, despite rumours of trouble amongst them.
"It had everything to do with what I was a part of," he explains. "I was very unhappy because I was resisting moving on with my life, so I am extremely happy."
This weekend, the former MCR frontman made his global debut at Reading and Leeds festivals.
Dressed in a blue suit, red tie and orange hair, this was where he wanted it all to begin again.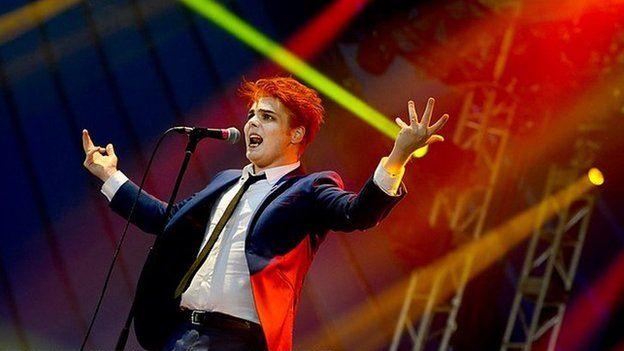 "I have such an amazing history with the festival," he explains in his dressing room, backstage at Leeds.
"I think it was because it was my first real festival experience.
"It was massive, an ocean of people, there was rain and then mud and then tents and stuff, we don't have that (in America)."
Way opened the Radio 1/NME stage at both Reading and Leeds.
You might think it is an unusual slot for someone with such a huge fan following, but this was planned.
"My agent had this idea, he said 'well everything is all booked up for this but how do you feel about opening it?'" Gerard explains.
"And I said 'That sounds awesome.' It seemed like a really cool, ballsy move.
"It's fun in the mornings, it feels like everybody is cutting class, the festival hasn't really started yet so it feels like cheating, it's cool."
But if fans were expecting his solo material to hark back to the glory days of MCR, they weren't going to get it.
Firstly, he says he won't play My Chemical Romance tracks, primarily because he doesn't think they fit in with his set.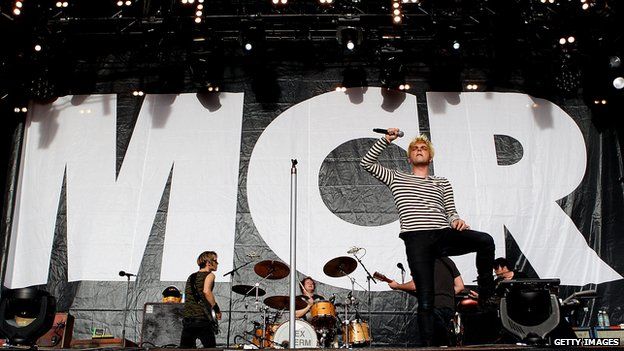 His new material doesn't display a love of punk rock, more his lifetime love affair with Britpop.
"I think it is very apparent now what my record collection has been like since I was a little kid," he says.
"As a kid in America I was looking for an alternative to grunge," he remembers.
I don't see it (MCR) ever happening again
"Right around that time, the response in the UK was Britpop so that was coming over to the States in very small amounts.
"I just immediately fell in love with it, I remember the first pop CD I bought was Suede, then it was Blur and Pulp and Elastica."
While, by his own admission, he is happier now, he says it odd not to have his old band on stage with him.
"At first that was a little strange," he admits.
"But also when I was in MCR, everybody got up there and got into their own world and I am doing that now.
"So a little bit of that feels similar but you look over and there's different people."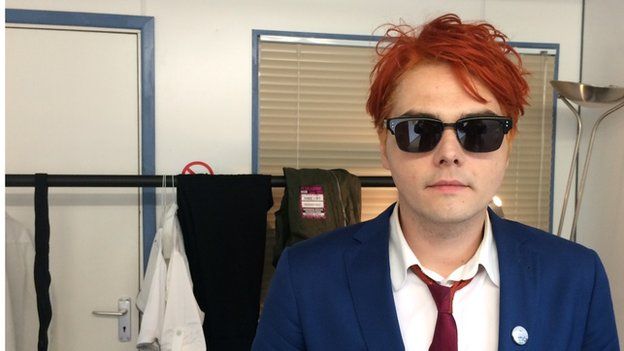 But there is no animosity between the former bandmates.
"I still talk to everybody in the band, so that's nice we all support each other," he says.
"I think they will probably hear it (his new material) and say 'ah that makes sense.'"
While they are supportive of each other, a reunion isn't on the cards just yet.
"To sit there and say that will never happen is pretty silly," he says.
"At the same time I don't see it (MCR) ever happening again."
Follow @BBCNewsbeat on Twitter and Radio1Newsbeat on YouTube