Snoop Dogg closes day two of Boardmasters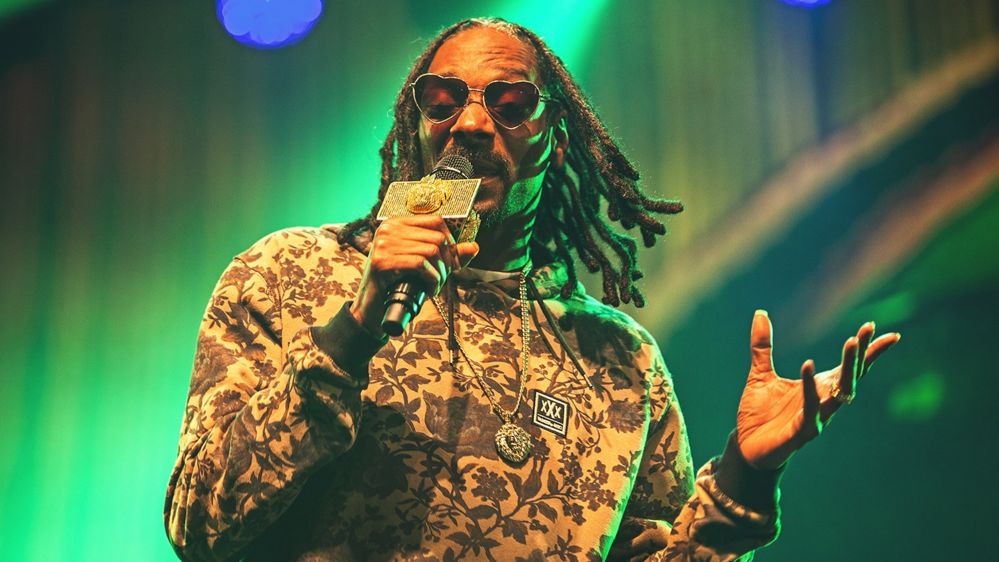 Snoop Dogg brought the second full day of music at Boardmasters to a close in the wind and the rain.
A respectable 20 minutes late, he came on to cheers of "We want Snoop."
In heart shaped sunglasses and a trademark tracksuit, he opened with Here Comes The King.
Apart from getting the crowd going he didn't really speak until later in his hour long set.
"I will come back anytime you want me too," he told the fans.
Before ending his set he said "I love you all, thanks so much for having me."
Add a few expletives in there and you'll have the full effect.
Radio 1's Zane Lowe warmed the crowd up for Snoop Dogg with one of the most high energy sets of the day.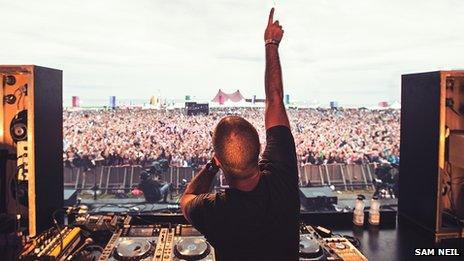 Earlier in the day, relative newcomer Bipolar Sunshine took to the main stage as the clouds started getting darker.
"I'm going to do my best to bring the sunshine but sometimes the shoeshine can not go through a hurricane," he joked.
"So I'm hoping Hurricane Bertha doesn't appear."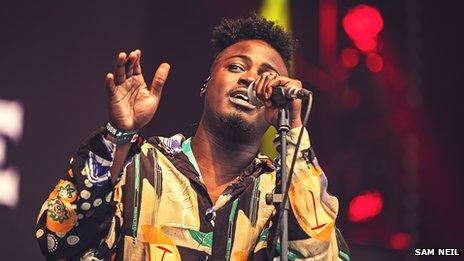 For someone who has now played at a good few festivals he was enjoying the vibe at Boardmasters.
"I like the way this is more orchestrated to people who are into surfing and skating and they can come and really chill out.
"I think the mix that they have got here is perfect.
The crowd were suitably impressed with his performance which included a cover of Lorde's Team.
"We saw Bipolar Sunshine today," 17-year-old Jemima Scott from Brighton told us.
"They were so good but we can not wait to see Snoop Dogg."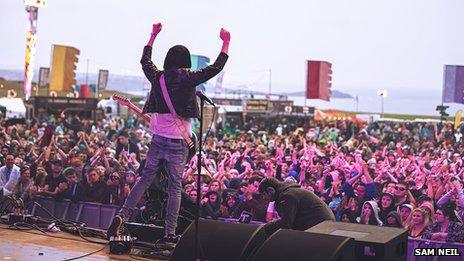 The forecasted rain finally came just before The Cribs took to the main stage.
The band said earlier they wouldn't play any new tracks and instead smashed through Men's Needs and Cheat on Me amongst others.
Addressing the crowd, Ryan Jarman said; "I know it's not rock day and we're all looking forward to Snoop Dogg, but I have one question for you.
"Are you ready to rock?"
Well, by their own admission, they certainly didn't come here to partake in the watersports.
"Charlie don't surf, so we don't surf," laughed Ryan Jarman when he spoke to Newsbeat.
"I went bodyboarding as a kid in the North Sea," explains singer and bassist Gary Jarman.
"It was quite traumatic as I remember, skateboarding a bit as a kid, but we're not really sports guys."
Their performance comes days after announcing they are changing labels.
The band, who have been going for 10 years now, are leaving Witchita Recordings to join Sony RED.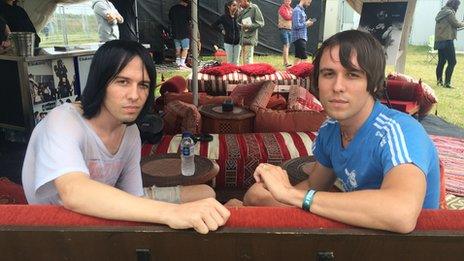 "It was difficult really, we've been with Witchita a long time, so it was really hard, it was like a break up with a girlfriend.
There were plenty of rock fans on site on Saturday including 18-year-old Adam Wash from Weymouth.
"The highights so far have been The Cribs, I love The Cribs, The Enemy as well, I love the rock bands, I'm looking forward to Peace as well," he said.
"Tomorrow - Catfish and The Bottlemen, even though they have only got about six songs, I love them."
There were plenty of plastic macs and umbrella hats on site on Saturday but the weather only added to the experience for some.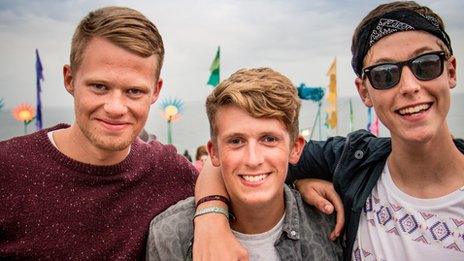 "It is better when it rains, it more festival-y, just a few showers," 18-year-old Sam Fudge also from Weymouth said.
"It hasn't properly rained, even if it did I wouldn't care, it is a better atmosphere."
And for Charlie Clarke from Brighton, the prospect of hurricane weather didn't deter him from a trip to the beach.
"The weather has been alright, we went down the beach both days, it's not hot but you are not freezing," he said.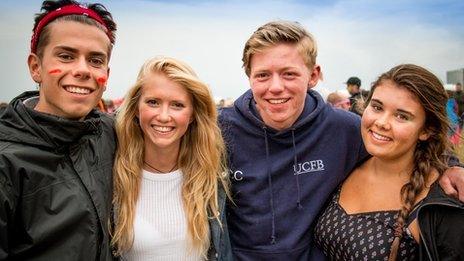 "We got in the sea, went body boarding, you might as well make the most of it while you are here."
Bastille will close the festival for another year with one of their last UK performances before they head off to write their second album.
Peace, Catfish and The Bottlemen, George Ezra and Blitz Kids are also on the line up.
Follow @BBCNewsbeat on Twitter and Radio1Newsbeat on YouTube