Spanish police want UK's help in Ibiza tackling drugs
Spanish police say they want British officers to work alongside them in Ibiza to tackle drugs in future.
The Guardia Civil claims there isn't a drugs problem on the island but assistance is needed across borders.
It comes a year after two women were arrested for trying to smuggle £1.5m worth of cocaine out of Peru.
Michaella McCollum and Melissa Reid had been working in Ibiza and initially claimed they were recruited as mules by a gang there against their will.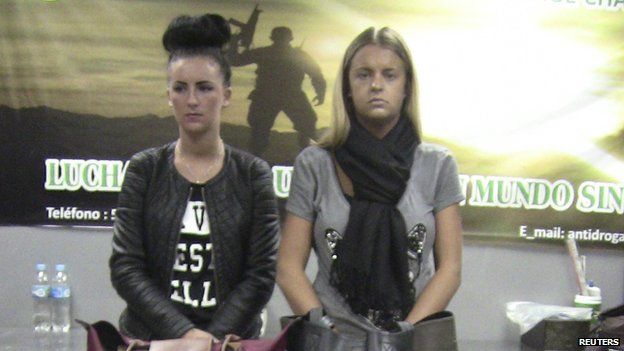 The women from Dungannon, County Tyrone, and Lenzie, near Glasgow, changed their story a month later and admitted the crime.
They were jailed for eight years each, but the sentences were reduced because of their guilty pleas.
McCollum, 21, is now set to be transferred from Peru to a jail in Northern Ireland after authorities accepted a prison transfer request.
It is thought an agreement in principle has been made to transfer 20-year-old Reid home too.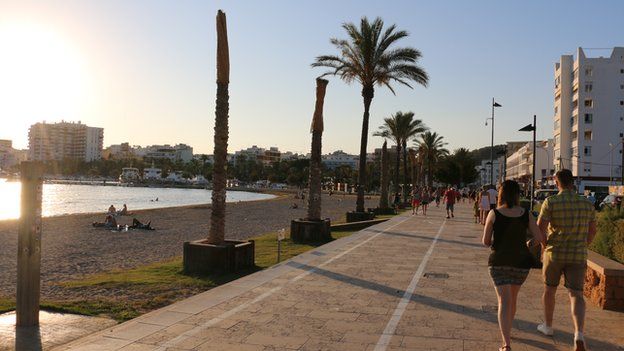 While police in Ibiza accept drug smuggling happens, they say they are keen to build on international policing.
"Nowadays there are no borders and each day it becomes easier for people to transport goods around the world," says Colonel Chief Jaime Barcelo from the Guardia Civil.
"We still have a very long way to go in this international co-operation but we are trying to get deeper in this co-operation.
This measure involves that every Guardia Civil officer will have a British policeman at his side
Colonel Chief Jaime Barcelo
Guardia Civil
"Drugs are coming from abroad, drugs are coming from organisations which are based in other countries, such as your country."
He says lots of work is going on at ports and airports and that people seen to be involved in drugs will face investigation and prosecution.
Colonel Barcelo says that although an approach to get British police to work alongside Guardia Civil officers this year didn't happen in time, he says he hopes they will be involved next year along with German and French officers.
"This measure would involve every Guardia Civil officer having a British policeman at his side so they could work together on particular places on the island, very localised spots that are more sensitive in these issues."
The Home Office says it has not received a request for help so far, while the National Crime Agency says it collaborates closely with Spanish authorities already.
One year on, some Brits are continuing to take risks to take drugs on and off the island.
"I took stuff over here. When I was at the airport they didn't see anything," explains a 25-year-old man who didn't want to be named.
"When I got to Ibiza it went in one day."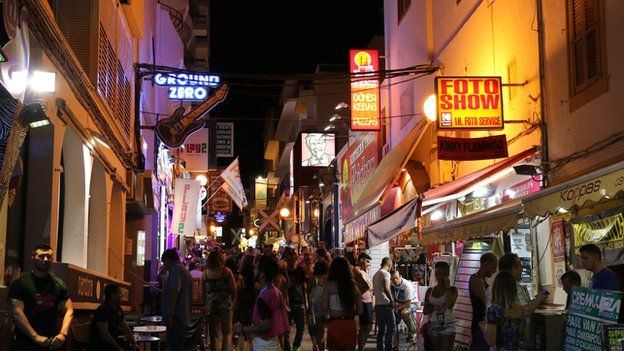 We met the man in a part of the island notorious with young Brits, with a soundtrack of heavy bass music pounding through the night air.
He invited us to his apartment the following day where he had been keeping a variety of pills.
"Everyone comes here for drugs, party and girls," he explains in his bedroom.
"Let's drop back two days ago; some guys were leaving and they had 15 pills on them, so I bought them for 40 euros (£32).
"I've been selling them on.
"You can flick your fingers and walk down the street and get them. You can buy 20 to 30 but then you're getting twisted and you could get involved with the drug barons."
He says he has no intention of getting involved with them, but accepts what he is doing is illegal.
"I don't sell drugs when I'm at home, [I do it here] because it's easy money.
"Of course I don't think it's right that you do it. My mum would disgrace me if she knew about it and I wouldn't like to think about getting arrested at the airport."
Recent Foreign Office figures show a rise in the number of British people arrested in Spain for drug offences.
There were 173 cases in 2013/14, a 68% rise on the 2012/13 figure.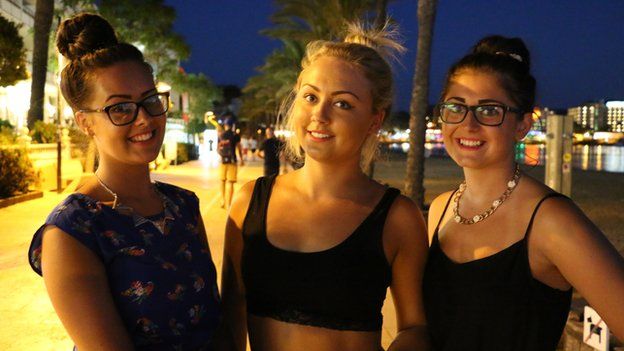 Many of the clubbers we spoke to admitted drugs were an integral part of Ibiza, but others argued the island offered a great clubbing experience without them.
"We haven't come here for them, we just like the buzz and the nightlife in general," says Bryony Russell, 20, from Wolverhampton.
"You can go to any other strip in the world but they haven't got the clubs and basically you come to Ibiza for the clubs."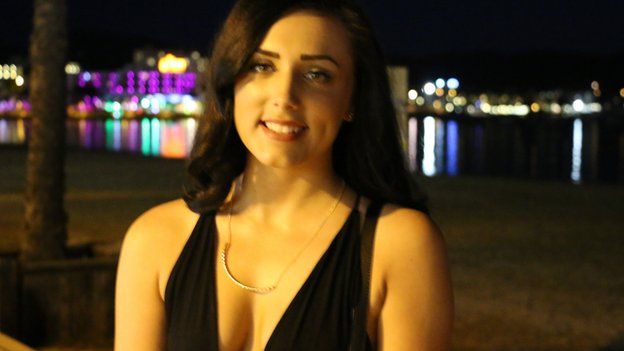 Jennifer Nelson from Glasgow agrees.
"We're totally against drugs," explains the 20-year-old.
"We are not into them and we are just here to have a good time with the music and clubs."
Follow @BBCNewsbeat on Twitter and Radio1Newsbeat on YouTube