Este's Glasto shock has put her health first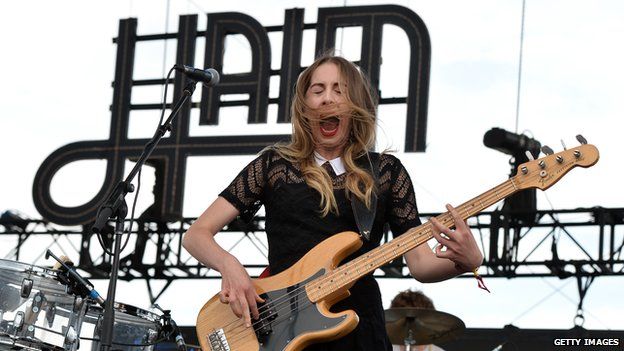 It is a matter of hours before Haim take to the stage for their last European gig on their debut album tour cycle.
Bassist and oldest Haim sister Este bounds into the room with all the energy of a small child.
She starts reminiscing about the rock band's career so far, from the highs to the almost fatal lows.
Haim have a number one album and toured the world as the most exciting female trio since Destiny's Child.
When you see them perform, it's hard to believe that Este suffers from the chronic illness, type 1 diabetes.
"It's been the craziest two years of my life," smiles the bassist in her dressing room at Latitude Festival.
"It's been so much fun and we've met so many amazing people.
"I think we've had a lot of trials and tribulations on the road, there have been a couple of little mishaps.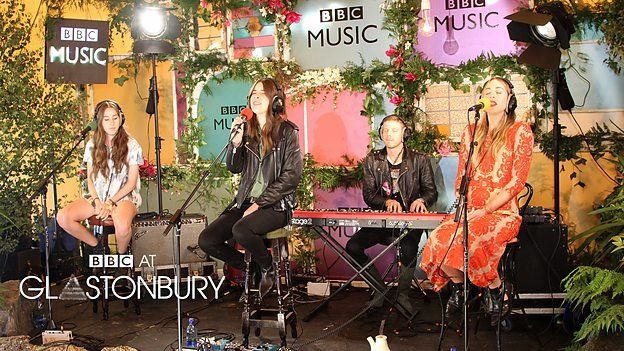 "Glastonbury being one of them when I almost died."
They were playing at lunchtime on the Pyramid stage when Este felt things weren't right.
"I was so out of it that I just didn't remember that I hadn't eaten," she explains.
"By the sixth song, I could feel my blood sugar levels plummeting really really fast."
It definitely is not easy but it is manageable, you just have to make it a priority and make sure you stay healthy
Diabetes is an incurable condition in which the body cannot control blood sugar levels, because of problems with the hormone insulin.
Este says you feel lots of symptoms when your blood sugar is really low.
"My eyes were kind of fluttering in the back of my head," she says.
She came off stage and was nodding off when her manager tested her blood sugar and discovered she was five points away from having a seizure.
"My manager, he's the best manager in the world, he had to put chocolate on his finger and stick it in my mouth," she explains.
"[He had to] put it on the side of my cheek and rub it for a good two minutes before I could get back on stage.
"I did the rest of the set sitting down like BB King."
Este says while it was a scary experience, it means now everyone around her is a lot more careful to make sure she had "her fuel for the day."
But being a musician and touring the world, doesn't make it easy to manage her illness.
"It's due to the fact that your hours are always so different and food is never really constant," she says.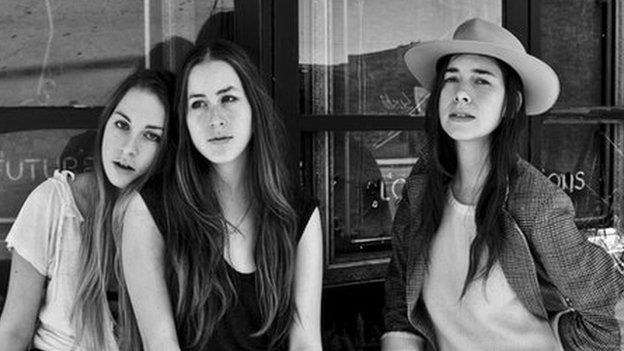 "When you are trying to figure out, 'OK, if I am eating this food, how much insulin do I have to take?'
"There is a lot of different factors that go along to treating diabetes, it's exercise, it's diet and insulin.
"Sometimes I can't exercise because I've spent the last 12 hours on flights or I'm exhausted or I don't want to exercise."
Este says she is of the mindset that the disease won't keep her down and wants other sufferers to talk about it and doesn't know why they don't.
"I think it's something that I have and I have to be responsible for it and own up to it and talk about it," she says.
Other musicians like Nick Jonas and Klara Söderberg from First Aid Kit suffer from diabetes.
"It definitely is not easy but it is manageable, you just have to make it a priority and make sure you stay healthy," Este says resolutely.
As the girls prepare to fly home at the end of this gig, Este admits she is sad this album cycle has come to an end.
They are heading back to LA to start work on the follow-up to Days Are Gone.
"It will be nice to go home and I'll have a constant foundation, I know my go to foods and how much insulin to take," she says before preparing to take to the stage.
Follow @BBCNewsbeat on Twitter and Radio1Newsbeat on YouTube