Beauty queen: How I survived teen domestic abuse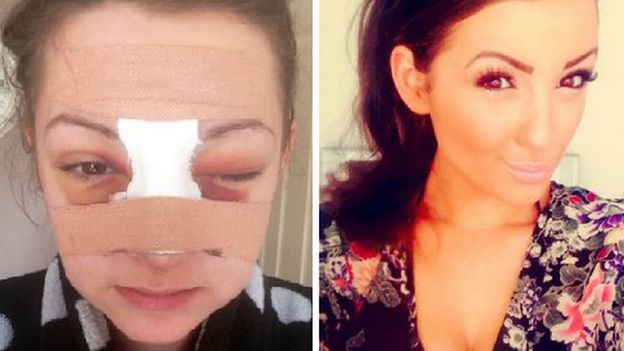 Not enough attention is given to teenagers at risk of domestic violence, a beauty queen who suffered abuse has told Newsbeat.
Lacy Lund was 16 when she needed hospital treatment after her ex-boyfriend Dean punched her repeatedly in the face and strangled her.
She had reconstructive surgery including having her nose rebuilt.
She says despite domestic violence among young people being discussed less often, it "affects us all the same".
Lacy, who's now 19, told Newsbeat she was "speaking out on behalf of the thousands of men and women who suffer abuse" at the hands of their partners.
When Lacy and Dean met three years ago in Grimsby, she says their relationship was good.
"He had a car and a good job and I thought he was a good prospect," she said.
But she says that was short-lived and he soon started trying to control her.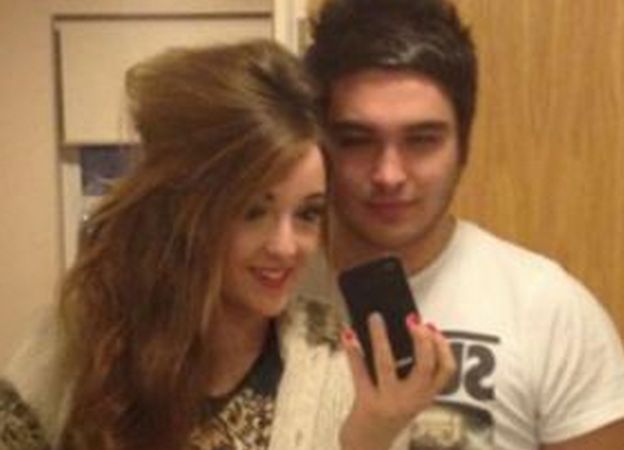 "The longer it went on, I realised we'd never go out in public together," she revealed. "He didn't like me going out."
Lacy says Dean tried turning her against her mum and that everything "spiralled out of control" after that.
"It all really started with the mental side of things and that's the hardest," she said. "It plays on your mind and you lose who you are."
Lacy says her abusive ex made her start to hate herself and she began believing him when he said nobody else would love her.
She described the control as "overwhelming" particularly because she was so young.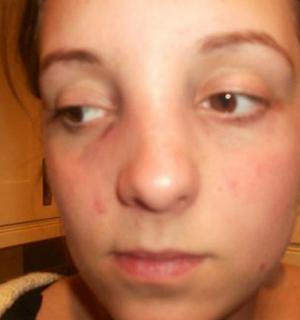 "They can say anything to you and you'd stay," she said. "Dean often threatened to commit suicide, so every time I tried to leave I got guilt tripped."
Eventually Lacy says she began feeling "ugly" and said that's when the violence began.
She said it escalated one night when she asked him to go home after a football match.
"He strangled me, broke my nose in five places and I had bruising all over my body, even by my ear."
She says the attack lasted almost two hours and once it was over she was barely recognisable.
"I was quite damaged, I even struggled to trust my family," she told Newsbeat.
Once she'd had rhinoplasty surgery she said her outlook completely changed, her confidence "came flooding back" and she won the Miss Hull beauty pageant.
She's says speaking out now to raise awareness of domestic violence in young relationships.
"It's one of those things people know is going on, but everyone keeps quiet about it," she said.
"Even though it's a teenage relationship these things still happen. These things don't just ruin one life, they ruin whole families.
"The person you're abusing is a better person than you and one day they'll find their strength."
If you are in a violent relationship domestic violence charities suggest you contact an organisation and speak to them about what's happening.
Women's Aid have a special site called The Hideout where you can get advice about staying safe, and share your feelings and fears.
You can also speak to someone outside of the violence, like a trusted friend, adult or a teacher.
Dean Campbell appeared at Grimsby Magistrates' Court last August and admitted assault and occasioning actual bodily harm. He was given a community order and a £250 fine.
Follow @BBCNewsbeat on Twitter and Radio1Newsbeat on YouTube