'My son's holiday death in Malia senseless and brutal'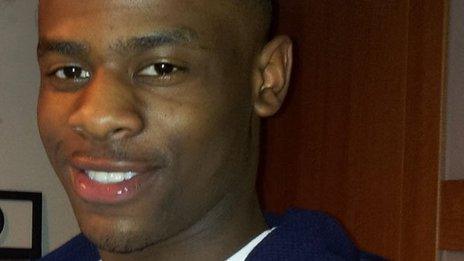 The mother of a British teenager, who was stabbed to death while on a Greek holiday, has told the BBC that his killing was "senseless" and "brutal".
A year ago this week, Tyrell Matthews-Burton died on his 19th birthday while with friends in Malia, Crete.
Tyrell from Leyton in London was stabbed outside a bar.
Following reports of a mass brawl, police made several arrests and charged Myles Litchmore-Dunbar, also 19 and from London, with murder.
He denies being responsible and is awaiting trial in Greece.
I had the normal concerns parents have. That sort of setting, being around lots of alcohol and drunkenness, wasn't really Tyrell's thing
Sharon Matthews
Tyrell Matthews-Burton's mother
Now Tyrell's mother, Sharon Matthews, is planning to mark the anniversary of his death and his birthday by organising a gathering outside the Greek embassy in London on Wednesday.
Speaking publicly for the first time, she told BBC Radio 5 Live she is desperate to find out what happened to her son and why.
"I want people to know Tyrell's life was important and that his death was senseless, unnecessary and brutal," she said.
"I want those in Greece that are going to be responsible for making the decisions, to know this kind of thing should not have happened and they need to send the right message to anyone that is coming into their island.
"Whilst you come here to have a good time, people need to be safe. And that if you come here and commit a crime of any sort, you're going to be dealt with in the harshest, fairest way possible."
Sharon Matthews said her son's holiday with a small group of friends was his first as an adult and that, initially, she hadn't wanted him to go.
"I had the normal concerns parents have. That sort of setting, being around lots of alcohol and drunkenness, wasn't really Tyrell's thing.
"Knowing he had been a good boy, he's never really given me any problems, I thought, 'You know what, he deserves it'."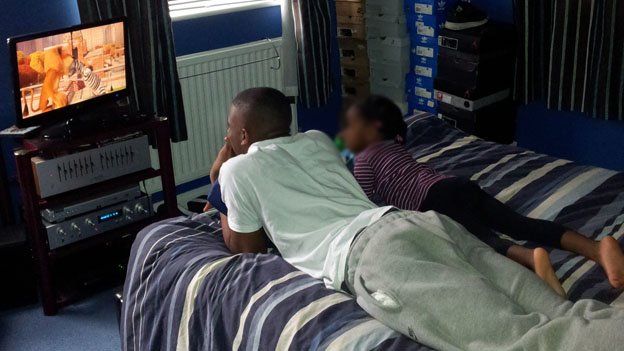 She revealed that the teenager had spoken to her the night before the attack and that while he had been having a good time, his last words to her were, "I just want to come home now, mum." He had been due to fly back the day after his birthday.
Ms Matthews added: "I miss him dearly. I have to draw strength to get justice for him."
A single working mother, she said in the future she would consider a campaign to tackle the causes of knife crime.
She said her son had always stayed away from any trouble and she had been keen that as a young, black British man, he should never be stereotyped.
The hardest thing of all, she said, was telling her daughter Savanna, then aged five, what had happened.
She explained: "I had to explain to her that her brother 'Ty-ty' wasn't going to come back. She misses him reading her a story and we continue to let her know who he was."
Follow @BBCNewsbeat on Twitter and Radio1Newsbeat on YouTube