'No-one should go through what Hollie went through'
The sister of a woman who was killed by her ex-boyfriend has told Newsbeat that victims of domestic violence shouldn't be afraid to speak to someone.
Asher Maslin, 22, has been jailed for life at Gloucester Crown court for killing Hollie Gazzard.
He pleaded guilty to killing the 20-year-old outside the hairdressers where she worked earlier this year.
"Anyone going through what Hollie went through, I'd urge them to speak to someone," said her sister Chloe.
"No-one should go through what she went through."
Maslin has been ordered to serve a minimum of 24 years in prison.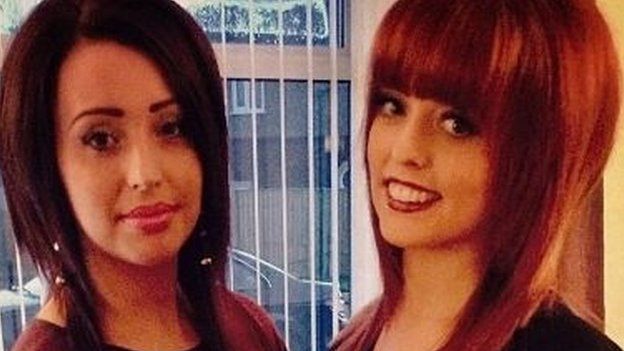 Hollie was stabbed by him 14 times in front of her colleagues.
In the run-up to her death, Hollie used her Twitter account to hint at her on/off relationship with an ex-boyfriend.
One tweet, written last December, said: "Why are people so selfish?! If a person isn't happy within the relationship why try and make them stay?!"
Chloe said: "I have a big part of my life missing now that no-one can ever fulfil. Don't be afraid to speak to someone."
Hollie's family have set up a domestic violence and abuse charity and anti-knife crime organisation in her memory called GDASS (Gloucestershire Domestic Abuse Support Service).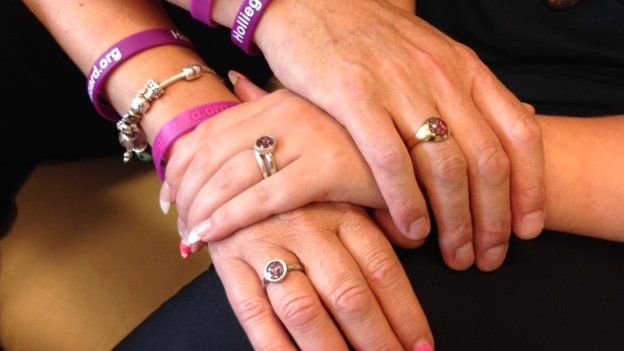 Chloe told Newsbeat: "She [Hollie] was a fantastic sister - she wanted to be the big sister, so outgoing, so funny.
"You wouldn't miss her anywhere. Hollie was my best friend - I miss talking to her on the phone.
"I think the biggest thing I'll miss is she won't be able to watch my daughter grow up.
"For my daughter Ruby, she's two and a half and she'll miss out.
"She was a very playful aunty. She'd jump around on the floor, dance with her.
"Ruby now has a phrase - she says "I'll shake my booty" and that's what auntie Hollie taught her...she'll always remember that. Ruby misses her.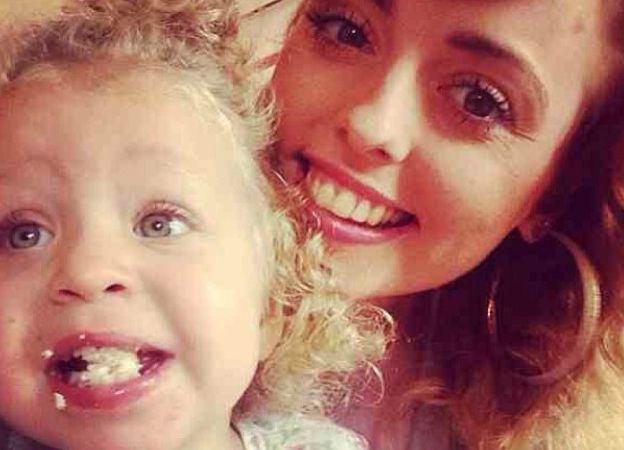 Chloe explained: "We've told her what happened, not in detail, but told her auntie Hollie has died and that she's in heaven and we can wave at her at any time.
"We have lots of pics, videos and stories, she'll always be involved, she'll never be a distant memory.
"She'll always be right there in the centre of everything."
She dealt with everything in her own way so she wouldn't necessarily tell you exactly what was going on
Chole Gazzard
Hollie's sister
Chloe said that because the family knew Hollie's killer her death "hurts that one bit more".
She added: "You let them into your house, you even socialise with them for a bit and to turn round and do something like that is unimaginable.
"I had concerns but not to the extent of what's happened. If I'd thought of anything I'd have intervened straight away.
"I think nothing more could have been done for him, to do what he was going to do - nothing would have changed that."
She said that she had raised concerns with her her sister but "with Hollie it was hard to approach sometimes".
"I knew they argued, most couples do - but she was unhappy," said Chloe.
"She dealt with everything in her own way so she wouldn't necessarily tell you exactly what was going on."
Follow @BBCNewsbeat on Twitter and Radio1Newsbeat on YouTube