Lily Allen Live Lounge: All internet is banned at home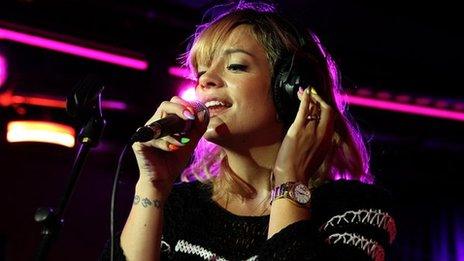 Lily Allen has said she's not too comfortable with her children growing up surrounded by social media.
Talking to Fearne Cotton before her Live Lounge performance Allen, who has two daughters under three, said: "All internet is banned in our house.
"I'm just trying to say as much stuff as possibly I can.
"So when my kids are old enough to Google, all the bad things have got so far back in the internet they're on page 7,465,000."
During her session she performed URL Badman and a cover of Raleigh Ritchie's Stronger than Ever.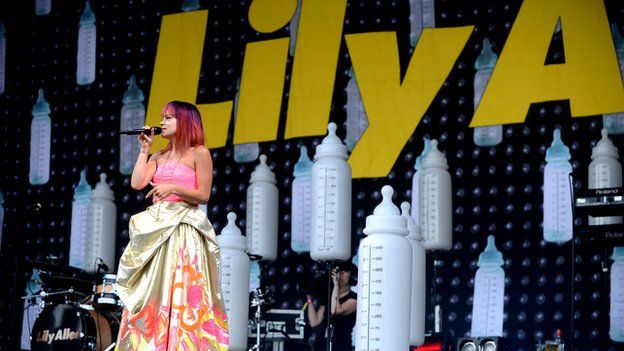 The singer's recent shows include sets at Radio 1's Big Weekend in Glasgow and on the Pyramid stage at Glastonbury festival.
Describing the show she said: "That was good. It was a bit stressful though because they cut my set. They said, 'There's lightning on stage'.
"I think we were taken from 55 minutes to 45 minutes so it was about two or three songs.
"But it was great, I had such a good time, I beyond enjoyed myself. I felt like I haven't felt for a long time on that stage."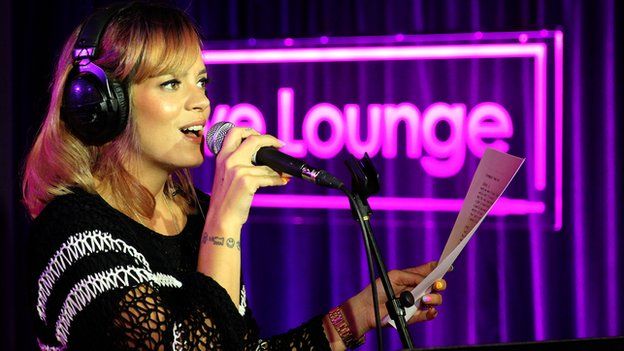 The singer is travelling to Spain to perform at Benicassim later this week before shows in Australia.
She then goes to America to join Miley Cyrus for seven shows of her Bangerz US tour.
When asked about how she'll balance family life with the upcoming shows Allen said: "I'm not going to take them to Australia.
"I'm only there for seven days and they're both under three so that would be a bit mean.
"But they are going to meet me in New York and then come on the bus with me and Miley, well I don't think Miley will be on my bus, she's probably got other plans."
Allen added that she balances being a working mum "probably in the same way all other working mums manage it".
She said: "It's probably a lot easier for me because I've got a bit of money and nannies and my job's really fun. I'm very happy, very lucky."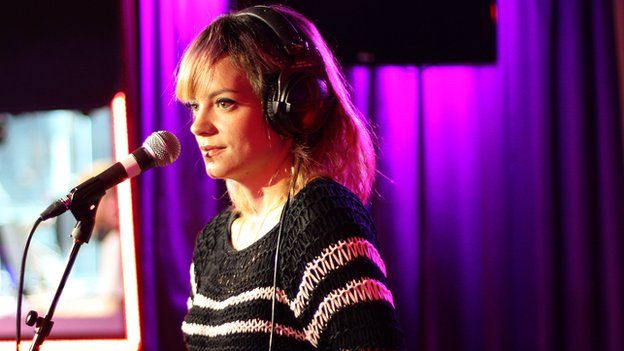 Lily Allen's third album, Sheezus, went to number one in the Official Album Chart when it was released in May.
The album is the follow-up to 2009's It's Not Me It's You.
Despite a five-year gap, the singer she didn't put herself under too much pressure about her comeback.
"You just deal with it," she said.
"You just get up every morning and count your blessings that you're here and are able to do what you love doing."
The 29-year-old has two other top three UK albums including her 2006 debut Alright, Still.
Follow @BBCNewsbeat on Twitter and Radio1Newsbeat on YouTube