Council worker: We deserve more than a 1% pay rise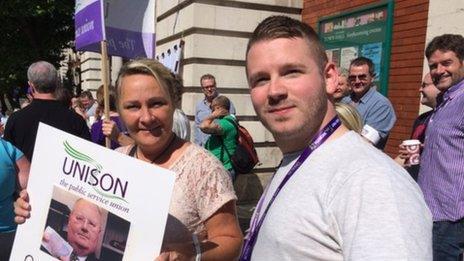 Strikes have been taking place across the UK in a series of disputes with the government over pay, pensions and cuts.
Firefighters, librarians and council staff were among those taking part from a number of trade unions, who believe more than a million public sector workers are joining the action.
Thousands of pupils missed lessons as many schools in England and Wales were closed.
The Government blamed union leaders for "irresponsible" strikes.
Newsbeat got two listeners with opposite opinions together; Council worker Dan Goodwin, 24, and insurance worker, 21-year-old Sam Herbert.
Dan is in charge of highway repairs, including fixing potholes, while Sam works in the private sector in London.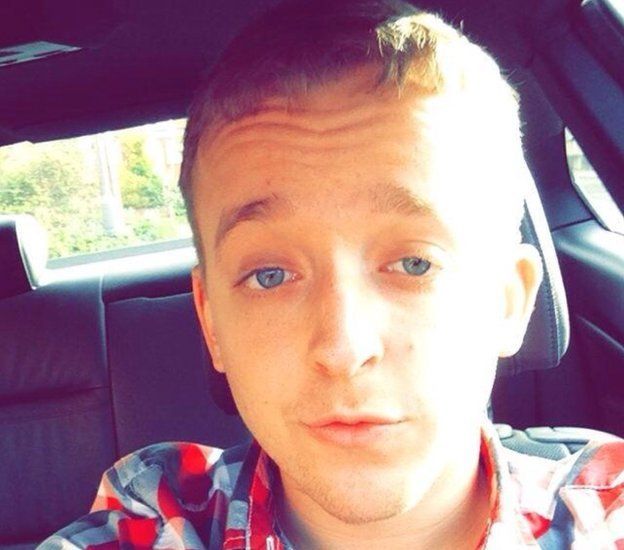 Sam: I don't see what some of the fuss is about over working times. You're not happy working the 50, 60, 70-hour weeks. Why is that? Everyone else does.
Dan: That's not what this action is about. This action is over pay and the fact employers have offered us just 1% rise this year. Our pay has been frozen since 2010, our bills year on year are going up.
Sam: Don't you think that happens in every industry? I'd like to think that people don't do it purely for the money.
Dan: I agree but there is only so long people can suffer. How can you expect firefighters to work until they are 65?
Sam: I agree they deserve money. They are risking their lives at the end of the day. No offence to you but the chance of falling down a pothole and dying is pretty slim.
Dan: I lost my mother last November and we had a number of care workers who used to come daily as she was suffering with cancer. They made a big difference and they get very little in return. Surely that is insulting?
Sam: But people still choose to work for the NHS as they enjoy it and they choose it as there are certain benefits to it, like pensions. Obviously they might not be earning a lot now but I imagine that your pension fund is much bigger than mine.
Dan: It may be so but it's not to say that my pension hasn't been reformed. My pension scheme was attacked only last year.
Sam: Do you not realise that everybody is having cuts? This isn't a vendetta laid out by the government against public working. This is affecting everyone, it's not aimed at you.
Dan: You can say that we are all in this together but we are not, MPs are getting an 11% rise. Do you think that these bankers [deserve to] pay themselves millions of pounds worth of bonuses?
Sam: If you have to work 18-hour days and not see friends and relatives, you need an element of compensation for that.
Dan: But that's what these care workers do and surely that's not right.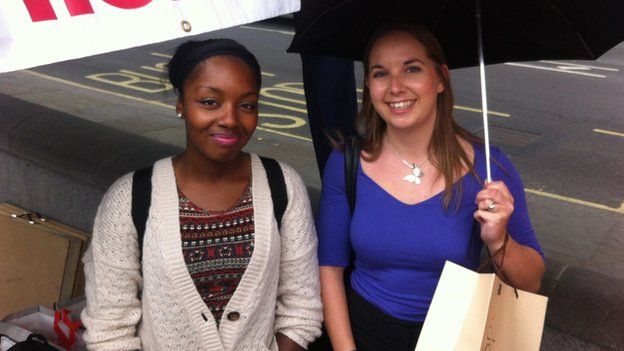 Newsbeat talked to one striker and one private sector worker at Trafalgar Square in central London, which was a focus for marchers.
Rhianne, 22, wants changes to her salary.
"[I want changes to] pay and also work codes as well, because a lot of teaching assistants have to do a lot of hours before and after work that we don't get paid for."
Kay, who's 30, is an accountant and disagrees with the strike.
"Pay and long hours affects everyone as does the retirement age. I don't see why these people are any different."
Follow @BBCNewsbeat on Twitter and Radio1Newsbeat on YouTube