Petition starts against teenage hunter on Facebook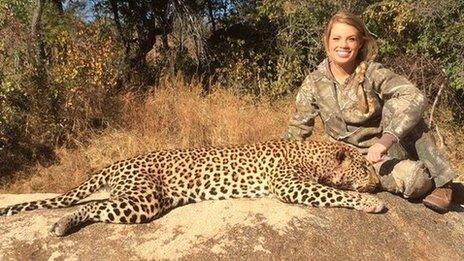 A petition has started to get Facebook to remove photos of a teenager who is seen posing with rare animals she has killed or tranquilised in African countries including Zimbabwe.
Kendall Jones from Cleburne, Texas, is thought to be the youngest person to have shot the so-called "five African beasts".
Thousands of people want Facebook to take down the cheerleader's pictures.
The 19-year-old describes herself as "pursuing her adventures in hunting".
She also said on Facebook that she is "looking to host a TV show in 2015".
The teenager is seen smiling and posing next to various animals which she has claimed to have killed.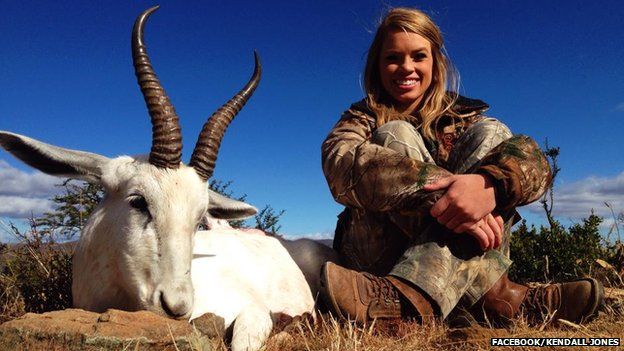 The photos have prompted reaction on social media calling for them to be taken down.
One tweet said: "Take your gun away and you'd lose. Coward."
Another message on Facebook added: "No matter how you look at it, seeing people smiling over the dead body of such a majestic animal is just sad."
In one photo, Jones thanks her camera crew for doing such a "wonderful job and catching all the action on film".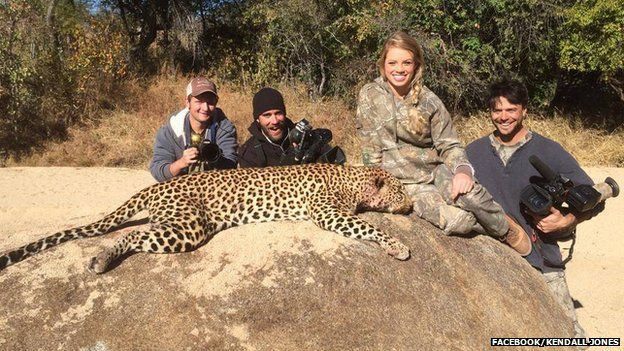 She is also seen posing next to a dead white springbok where she claimed "another harvest for today" and added "let me tell you it's one of my favourite kinds of meat".
In one posting Jones defends her actions by saying she is helping local villagers in Zimbabwe, where there is an "abundant population of Leopard that wreak havoc on the livestock".
She added: "Instead of the villagers killing the leopard to prevent livestock damage, permits are sold to hunters to do this for them.
"By selling the permits, not only is a problem animal taken care of, but the money for the permit goes back into the community for water wells, schools and community improvements.
Posing with a tranquilised rhino, she said: "While all of the ANTI Hunters were hiding behind a computer writing repulsive comments and issuing death threats to me, well I was out doing a White Rhino Green Hunt.
"I darted a white rhino and the Vet drew blood samples, DNA profile, cleaned out and medicated a leg wound and gave several shots of antibiotics.
"The Rhino woke up great and will now be a part of a DNA databank fighting against anti-poaching. Again doing my part in conservation to make a difference."
Follow @BBCNewsbeat on Twitter and Radio1Newsbeat on YouTube