Premier League fan wins bet after Luis Suarez bite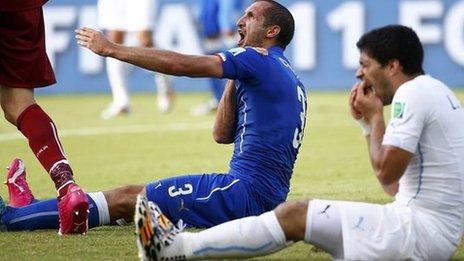 A teacher from Sweden has won more than £1,200 after betting Luis Suarez would bite someone during the World Cup.
Jonathan Brack, 23, from Stenungsund, placed a bet at odds of 175 to 1 that the Uruguayan would nibble an opponent.
The striker could face a possible two-year or 24-match ban from Fifa if found guilty of biting Italy's Giorgio Chiellini in their Group D game.
The Liverpool star has been banned for biting twice before.
"I was looking through some odds before the tournament started and I saw this bet and thought I had to take a chance," Jonathan told Newsbeat.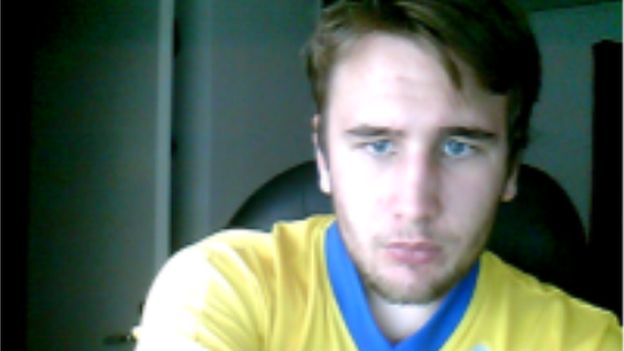 "I wanted to place hundreds but my friend told me not to waste my money on such a stupid thing.
"After he left I placed 80 Kronas (£7) on the bet."
More than 150 people across Europe are reported to have won money after placing similar bets.
Manchester United supporter Jonathan was watching Uruguay's game with Italy at home.
"I was quite excited when I saw it happen and was shouting, 'Didn't he bite him?'
"The bookies paid out before midnight so they were very quick and didn't try to get away with it."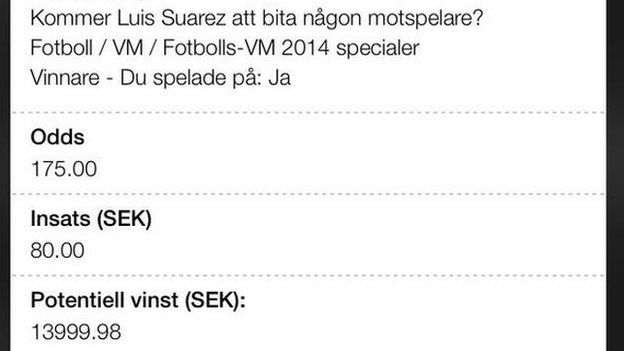 Fifa has now opened disciplinary proceedings following Tuesday night's incident.
World football's governing body has given the player and the Uruguayan Football Association until 21:00 BST on Wednesday to respond.
"Such a player should not be doing things like that," said Jonathan.
"I'm going to be disappointed if he's in the Premier League next season."
Jonathan says he now intends to spend some of his winnings travelling to a Premier League game in England.
"I hope I can get someone to travel with me.
"I've never been to Old Trafford before so that could be nice."
Follow @BBCNewsbeat on Twitter and Radio1Newsbeat on YouTube