Bindi Irwin criticised after urging girls to cover up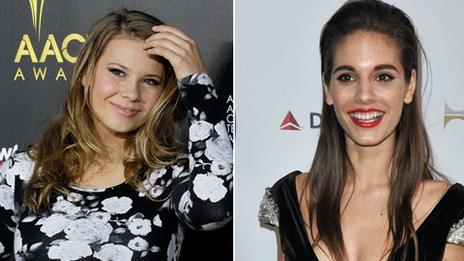 Bindi Irwin has been criticised by former Neighbours star Caitlin Stasey on Twitter after she asked young girls to stop flashing their flesh.
The 15-year-old is the daughter of the late Crocodile Hunter Steve Irwin.
She said: "A lot of times I want to grab these girls and say, 'Look, in 10 years you'll regret this.
"Just dress like who you are. Don't try so hard. A pair of jeans and a T-shirt is just as gorgeous and even makes you look classier.'"
In response 24-year-old Stasey, who played Rachel Kinski in the Australian soap, posted a series of tweets.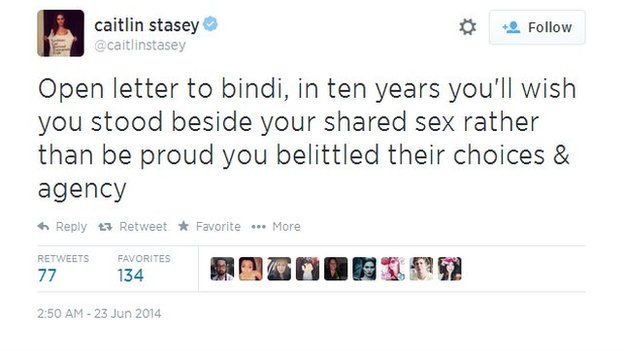 In one, Stasey tweeted: "An opinion is an opinion is an opinion, and one aired publicly encourages discourse. People listen to her, the media is championing her."
She also said Irwin would regret getting involved with SeaWorld in Orlando, Florida.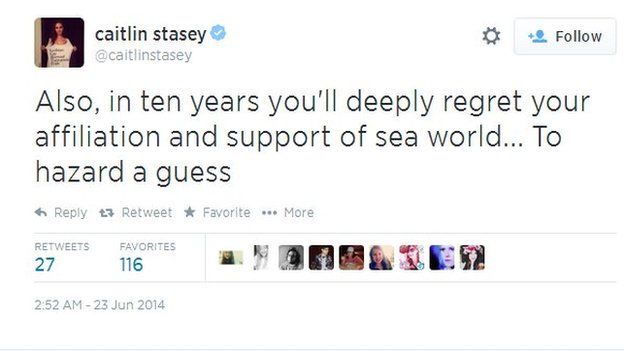 There was controversy earlier this year when the Wildlife Warrior signed up to be the maritime theme park's youth ambassador.
At the time SeaWorld was facing a backlash against the Blackfish documentary which focused on its treatment of orca whales.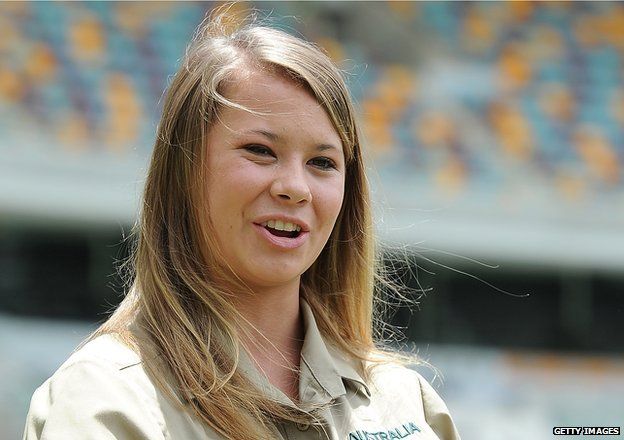 In the interview with News Corp Limited, Irwin talks about her own style and experimenting with make-up and wardrobe.
"I'm a big advocate for young girls dressing their age," she said.
"I mean, for me, I look around at a lot of young girls that are my age and they're always trying to dress older. Whether it's wearing revealing clothes or hardly wearing any clothes at all, I feel really bad for them.
"It kind of has the opposite effect in some ways... it kind of does the opposite where it makes you look younger and like you're trying too hard."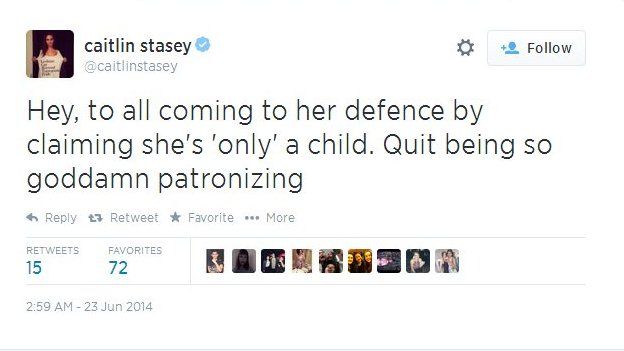 After former Neighbours actress Caitlin Stasey started commenting on Twitter, Irwin's fans hit back.
However, Irwin herself hasn't responded to any of the tweets.
Last week Stasey, who is now based in America, used Twitter to rant about everything from Hollywood and its sexualisation of women, to controversial photographer Terry Richardson.
Follow @BBCNewsbeat on Twitter and Radio1Newsbeat on YouTube