Spotify founder Daniel Ek: Don't fight against streaming
The founder and CEO of Spotify has exclusively told Newsbeat it "doesn't make sense" for artists to withhold their work from streaming sites.
Daniel Ek believes streaming is now a major part of the music industry.
He thinks that if all music is on streaming sites, fans are more likely to go to a gig and buy merchandise.
The Official Charts Company has announced that music streams will be combined with physical sales and downloads from 6 July.
Both Coldplay and the Black Keys recently refused to allow their albums, Ghost Stories and Turn Blue, on to legal streaming sites like Spotify.
Spotify explained to their subscribers that, "the artist or their representatives have decided not to release this album on Spotify. We are working on it and hope they will change their mind soon".
One hundred streams will count as equivalent to one single (download or physical single) in the new look chart.
The Official Charts Company says it has agreements with streaming services including Spotify, Deezer and Napster.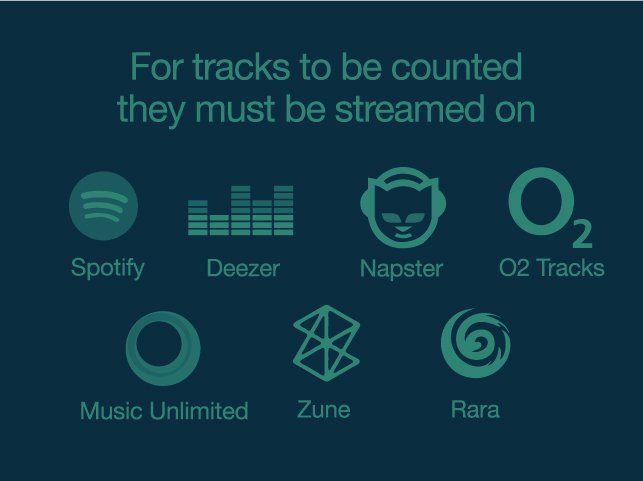 Data collected by the Official Charts Company has found an increase in the number of people using streaming services and listening to streamed music.
The company found that in the UK, the total number of weekly audio streams selected by music fans had grown from 100m a week in January 2013 to 200m a week in January 2014. It is now up to 260m.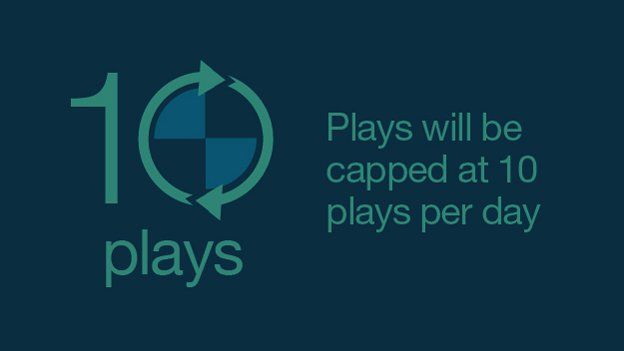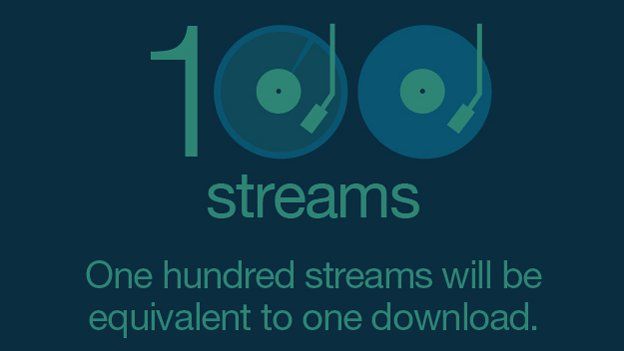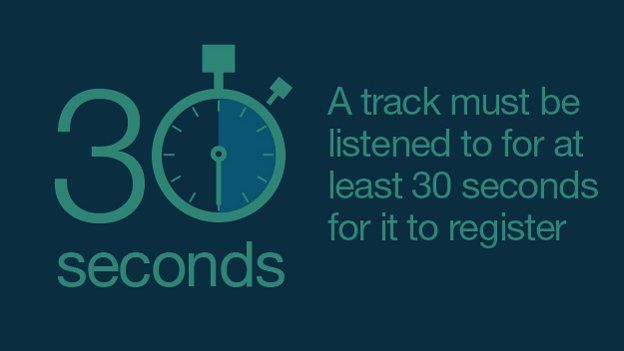 Daft Punk's Get Lucky became the first track to be streamed one million times in a week last year.
So far this year, nine tracks have generated more than one million streams in a single week, including two tracks passing the 1.5m barrier - Rather Be by Clean Bandit and Waves by Mr Probz.
In a parallel move, The Official Breakers Chart will be launched to reflect the fastest-growing new tracks.
The rundown will showcase the 10 biggest new tracks of each week which have seen an increase in sales and streams.
The Official Charts Company provide the UK's only official music and video charts, as seen at OfficialCharts.com, on BBC Radio 1, MTV, Music Week, The Sun, Daily Mirror, Daily Star and many more.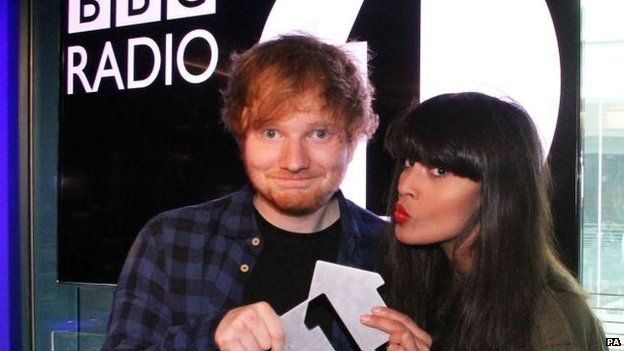 The Official Chart Update with Scott Mills and Jameela Jamil is every Wednesday at 15:30-16:00 on BBC Radio 1 and The Official Chart Show with Jameela Jamil, is broadcast every Sunday between 16:00-19:00 on BBC Radio 1.
At the moment, the charts are compiled purely from sales information gathered across all key distribution, or entertainment, channels including all major high street retail chains, independent stores, supermarkets, mail order internet retailers and digital music service providers.
In countries like Sweden, data is part of a mobile phone package with customers not paying extra to use it.
The country also has an established high speed 3G and 4G network which enables the use of streaming continuously, even on their underground system.
According to the Department of Culture, Media and Sport, the government is on track to provide the UK with superfast broadband in Europe by the end of the current parliament in 2015.
Follow us @BBCNewsbeat on Twitter and on Radio1Newsbeat on YouTube