Angelina Jolie: We can eradicate warzone sex crime
Angelina Jolie has told Newsbeat warzone sex crime is something "we can eradicate".
Talking at The Global Summit to End Sexual Violence in Conflict the actress said: "This is a very, very common circumstance, this is a sickness."
Jolie, who is also a UN Special Envoy, added: "Everywhere we go, it's one of those things you can't quite get your head around. Everybody has come together that is why this is such an unusual summit."
The actress added: "It's a rare thing. You go around the world and you see different people working on issues but you rarely see them in the same room working together."
She described warzone sex crime as part of "a tide of injustice around the world".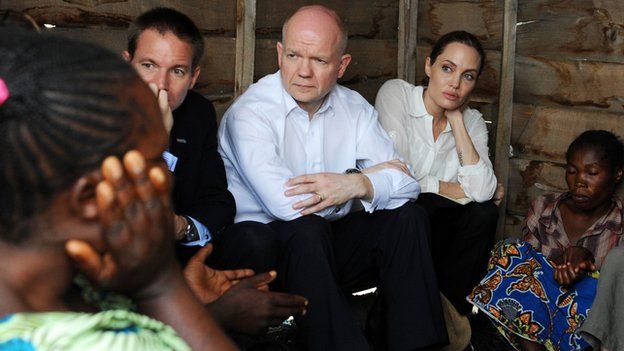 The four-day summit on sexual violence in war is being held in London and is being hosted by Jolie and UK Foreign Secretary William Hague.
The event - the largest-ever of its kind - is the result of an intense two-year campaign to raise awareness.
Ahead of the summit, Mr Hague said rape was one of the "great mass crimes" of modern times.
He added: "We have a remarkable opportunity over the next four days to build the momentum needed to tip the world past point of no return."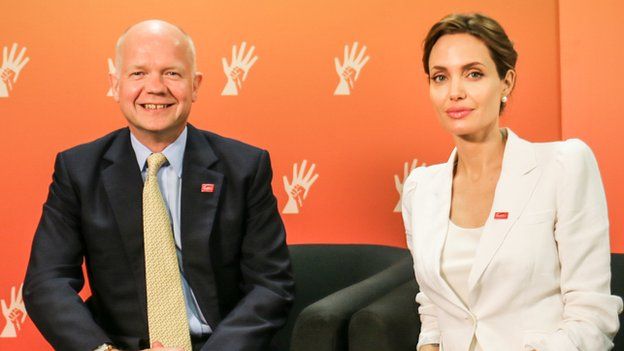 Jolie, 39, became interested in the issue after making her film The Land Of Blood And Honey, which focuses on conflict in Bosnia during the 1990s.
According to the actress, there have been less than 50 convictions in the country out of a suspected 50,000 cases of sexual violence in conflict.
She agreed that it is disheartening to know that the problem is still on such a large scale.
She added: "Somehow we haven't had the political will strong enough to make sure that people who commit such crimes are punished.
"Rape is something that happens to every single country, every people. To me I don't look at it as a humanitarian situation. It's something that is a horror.
"As a woman I'm quite emotional about it. I think of my daughters I think of my sons. Many young boys are raped, and men."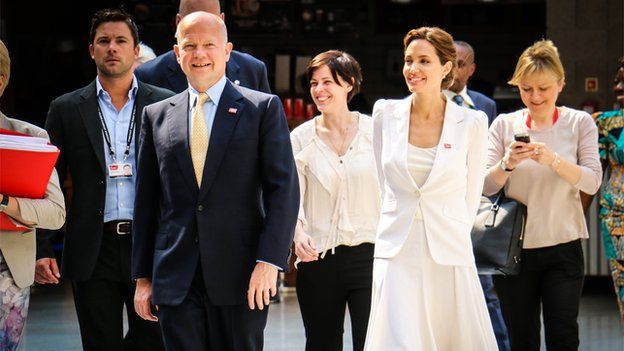 The UK Foreign Secretary has called on the 140 nations attending the summit to write action against sexual violence into their army training.
Nations taking part in the summit include Bosnia, the Democratic Republic of Congo and Somalia - countries where sexual violence has happened "on a vast scale", Mr Hague told the BBC.
He said: "I hope we will be able to agree on new international standards of how to investigate and document crimes of sexual violence."
A new generation has the opportunity to change this with different standards, with a different morality
UK Foreign Secretary William Hague
Mr Hague has said he would like to remove warzone rape from the world's arsenal of cruelty.
He added: "It's a very big ask but I think we have to be ambitious. Young people all over the world will want us to be ambitious.
"A new generation has the opportunity to change this with different standards, with a different morality."
When asked if the UK's standards of dealing with rape were anything to be proud of, Mr Hague said: "A lot of work is going on on this.
"The director of public prosecutions made announcements about this last week. The length of sentences is going up."
He's referring to a major new action plan to tackle rape announced last week.
In the last year the total number of completed prosecutions and convictions increased, but the conviction rate has dropped from 63.2% in 2012-13 to 60.3% in 2013-14. The action plan announced also aims to address this fall in conviction rate, while maintaining the rise in volumes.
Newsbeat will be broadcasting live from the summit at 1245 and 1745 on 10 June.
Follow @BBCNewsbeat on Twitter and Radio1Newsbeat on YouTube