World's oldest man dies aged 111 at his home in New York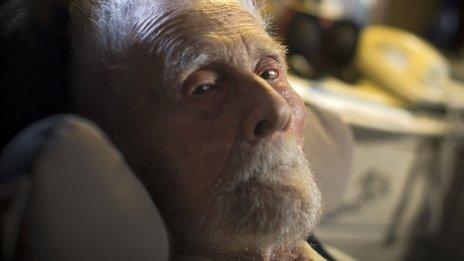 The world's oldest man, a retired chemist and parapsychologist, has died in New York at the age of 111.
Alexander Imich's niece, Karen Bogen from Providence in Rhode Island, says he died on Sunday at his home in Manhattan.
Bogen says she had visited him a day earlier but says his health started declining two weeks ago and that he didn't recognize her any more.
Imich was born in 1903 in a town in Poland that was then part of Russia.
He and his wife left after the Nazis invaded in 1939 and eventually moved to the US in 1951. His wife died in 1986.
Imich has said in the past that his good genes and a general healthy lifestyle contributed to him living so long.
Guinness is investigating claims that 111-year-old Sakari Momoi of Japan is now the world's oldest man.
The world's oldest person is a woman, 116-year-old Misao Okawa of Japan.
Follow @BBCNewsbeat on Twitter and Radio1Newsbeat on YouTube