Undecided Scottish teens visit Westminster to grill MPs
There are exactly 100 days of campaigning left on Scotland's future. The referendum on independence takes place on 18 September.
A reminder of the question for you if you missed it: Should Scotland be an independent country?
Ellie Kean, Scott Faulds and Ellena Leslie from BBC Scotland's Generation 2014 project will be among the youngest voters.
In fact, Ellie only turns 16 a few weeks before the referendum.
They visited Westminster to see where many of the decisions affecting their lives are currently made, and to interview MPs on both sides.
The Yes Camp
First up - SNP MP Pete Wishart who's campaigning in favour of independence.
They gave Pete 20 seconds to pitch why teenagers should vote yes.
"You've probably got the biggest stake in the future of our country," he said.
"With independence you will always get the government that you vote for, pursuing the agenda that you want.
"It's not what we've got with Westminster: you get governments that are imposed on us, that do things we don't like.
"With independence you will always get the government who all of us who live and work in Scotland vote for."
Pete also said:
Looking way into the future, there are no "cast iron guarantees" on tuition fees in an independent Scotland, but that the SNP was committed to keeping university free for Scottish students
He's confident that an independent Scotland could negotiate its future position in the EU by 2016
The No Camp
Next up, Lib Dem MP and chief secretary to the treasury Danny Alexander, who wants Scotland to stay with the UK.
His 20-second pitch on why teenagers should vote no.
"I think we have the best of both worlds as part of the UK," he said.
"We have the ability to have our own Scottish parliament and take decisions on issues like health and education, but we get the strength and stability of being part of the UK.
"For teenagers that means more job opportunities, it means a stronger economy, it means the ability to fund the public services..." (and then he ran out of time)
Danny also said:
He didn't agree that the Better Together campaign has been negative and too focused on what Scotland couldn't do
The best way to keep Scotland in the EU is to vote no, despite the recent success of UKIP and a feeling that Westminster was becoming more anti-Europe
The tour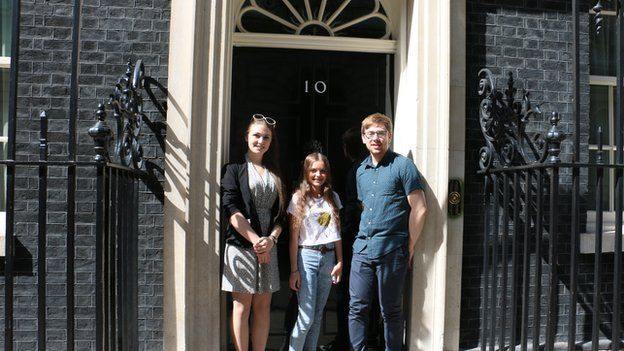 The group had a look around Westminster, watching the debates in the Lords and the Commons, as well as checking out grand rooms like Westminster Hall and the central lobby - where one of the mosaics shows St Andrew, the patron saint of Scotland.
Does seeing any of this have an impact on how they might vote?
Scott says yes: "It was absolutely incredible and majestic.
"It made you feel proud to be British rather than Scottish because it was a lot of stuff we've achieved together."
Ellie's not so sure: "It's just scenery and it's all in the past, it's just history. We've got more to think about than what's happened before. We've got to think about the future."
These three undecided voters are still undecided at the end of the day.
Time is ticking for them to make up their minds.
Follow @BBCNewsbeat on Twitter and Radio1Newsbeat on YouTube