Office urges password change after security breach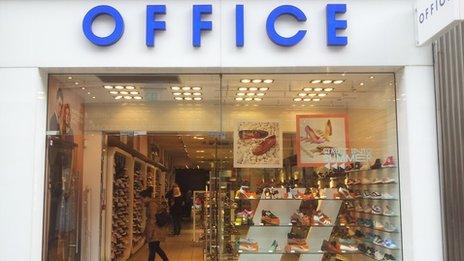 Office customers have been urged to change their password after its website was the victim of a security breach.
In an email to customers, the shoe retailer apologised and suggested customers change similar passwords elsewhere.
Its chief executive said no bank or card details were compromised "in any way" and the matter had been reported to the relevant authorities.
Angry shoppers have taken to Twitter to voice their displeasure.
@MissionD3 wrote: "Just got a message from office shoes asking to change me password! These hackers are ruining the whole world."
Customer Nathaniel Parker, 34, from Northampton, said: "I am really disappointed with their response to this, there is no information on either the main website, Twitter or Facebook.
"It seems that too many companies are happy to take people's custom but loathe to spend the money and resources to keep their details properly secure."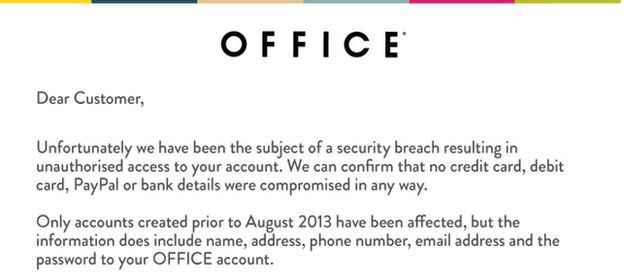 Brian McCluskey, chief executive officer at Office Holdings Ltd, said: "We take such a threat very seriously and have been in communication with our customers to advise them of the matter.
"We can confirm that no credit card, debit card, PayPal or bank details were compromised in any way.
"The protection of customer data is of the utmost importance to us and we are treating this extremely seriously."
In an earlier email to customers, the company wrote: "Our customers remain our number one priority and we have taken the necessary measures to secure your information.
"We will update you if we get any more information. We are sorry this has happened and would like to thank you for your continued support and understanding."
Office was started in 1981 in London with a concession in Kensington shopping market Hyper Hyper.
It now has 153 sites around the world with concessions in Selfridges, Topshop, House of Fraser and Harvey Nichols.
Follow @BBCNewsbeat on Twitter and Radio1Newsbeat on YouTube