Ask.fm: We know anonymity can cause 'issues' for users
Ask.fm has told Newsbeat it understands anonymity can cause "problems and issues" for users.
It also defended allowing people to hide their identity.
In an exclusive interview, the site's director of external affairs, Liva Biseniece, said the social network lets users "explore important issues".
She says people can "be safe" when they use the site but that ask.fm did not communicate effectively after the death of British schoolgirl Hannah Smith.
We plan for a platform where young people can ask questions anonymously, explore important issues and be safe at the same time
Liva Biseniece
Director of external affairs, ask.fm
The 14-year-old killed herself after receiving abuse online, although it's now believed she probably sent the messages herself.
"Possibly the message didn't come through at that time, but at this point I think it's clear that we are proactively working on those issues," said Ms Biseniece.
The site, which has around 117 million users worldwide, has since made changes.
The social networking website allows users to ask other people questions, either by recorded video or text.
Users can now disable anonymous questions.
The company has also hired a safety officer and created a bullying category for reported content.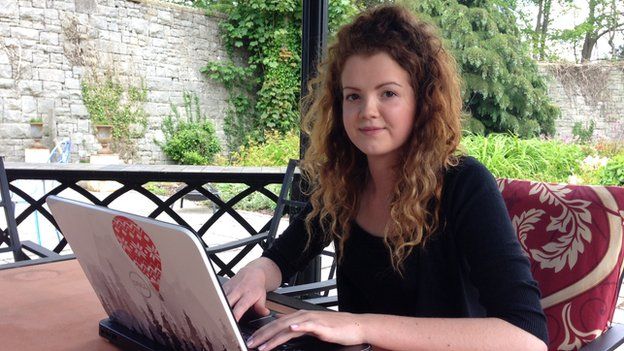 Liva Biseniece said: "If someone is getting unpleasant content this person can block the sender and the sender will not be able to send questions and the sender can be reported to us."
Although millions of people use the site without problems, ask.fm has faced criticism for allowing some users to bully others too easily.
Sophie, 17 and a student from Flintshire, said she had to deal with anonymous abuse.
She's been called "ugly" and told she was "nothing special".
"It came out of nowhere," she said.
"If people are taking their life over this, nothing is worth that. If that's what an anonymous option is going to lead to then it shouldn't be there."
Ask.fm says that the anonymity feature does not mean "unaccountability" and argue that it is important to the half of its users who it says are under the age of 18.
"We believe that anonymity is appealing to young people at that age because it gives them a lot of benefits for [asking] sensitive questions, explore important questions without fear of being judged," said Ms Biseniece.
Take a look at some of the key moments in the history of the site since it launched in 2010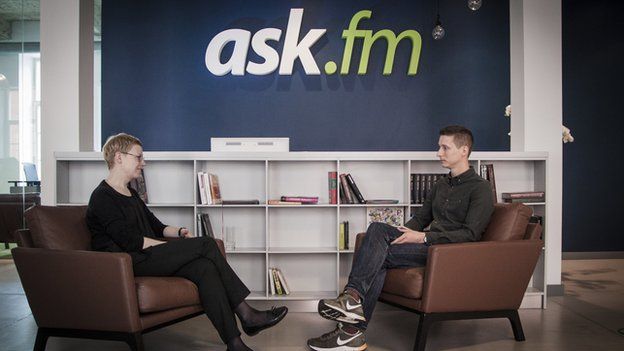 Ask.fm has been linked to other teen suicides in the UK and around the world and campaigners say the site could do more to stop abuse.
"We don't think that ask.fm is doing enough," said Scott Freeman, founder of the Cybersmile Foundation.
"They just don't realise how important it really is to offer teens, at every turn, as much help as they can."
But ask.fm insists it is tackling the issue.
"We've done it, we're constantly working on it, we are improving how we are dealing with this," said Ms Biseniece.
With thousands of new users signing up each day, ask.fm seems confident that the future of the site is safe.
"We plan for having a platform where young people can ask questions anonymously, explore important issues and be safe at the same time."
Newsbeat will be broadcasting two live programmes from ask.fm's headquarters in Latvia at 1245 and 1745 on Thursday.
Follow @BBCNewsbeat on Twitter and Radio1Newsbeat on YouTube