UK Army medic helps to save young knife crime victims
A British army doctor who's spent years treating injured soldiers and civilians in Afghanistan is now using his skills to help victims of knife and gun crime on the streets of London.
Lieutenant Colonel Chris Wright from the Royal Army Medical Corps has served 12 tours in both Iraq and Afghanistan since 2001.
He is posted to the major trauma centre at St Mary's Hospital in Paddington.
The London hospital deals with a high volume of young victims of knife crime.
He claims many of the lessons he's learnt from treating soldiers on the battlefield can be applied in a civilian setting.
"One of the awful realities of Afghanistan is that we've improved our medical care on the back of huge cost to the soldiers and the civilians who've been injured.
"We now keep injured patients alive who would never have survived in any other conflict," he adds.
In most cases, the injuries Chris encounters at St Mary's aren't as severe as those in Afghanistan but he says many of the medical techniques he has learnt can be used to treat patients.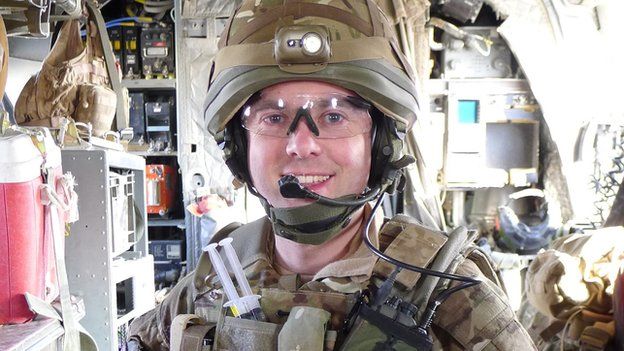 "The principles are very similar," he says. "Stopping external bleeding, resuscitating the patient with blood transfusion and getting them to the operating table as rapidly as possible.
"Those core principles are the same whether you're in a war zone or an NHS hospital."
'Getting younger'
Despite being exposed to the violence of a war zone for several years, Chris admits he's been taken aback at the scale of knife crime injuries that he's been treating at St Mary's.
The hospital says in 2012/13 more than a third of trauma patients aged 11-25 had injuries related to violence and assault.
More than 130 people in that age group had injuries related to stabbings.
"I have been surprised by the number of stabbings we see and the fact that there are shootings on the streets of London," says Chris.
In the past victims may have died because they've not had treatment instigated very quickly
Asif Rahman
Consultant, St Mary's Hospital
"What has surprised me particularly is the age of the stab victims. I think it's getting younger,.
"I think there are more patients under the age of 16 who are involved with gangs and knife crime.
"When you see 13, 14-year-olds coming in as victims of stabbings, of course that's going to affect somebody experienced from a war zone."
Over the years, medical staff in the military have been forced to develop new techniques to try to prevent blast victims from bleeding to death.
Chris claims the success they had makes the major trauma centre at Camp Bastion "one of the most successful in history".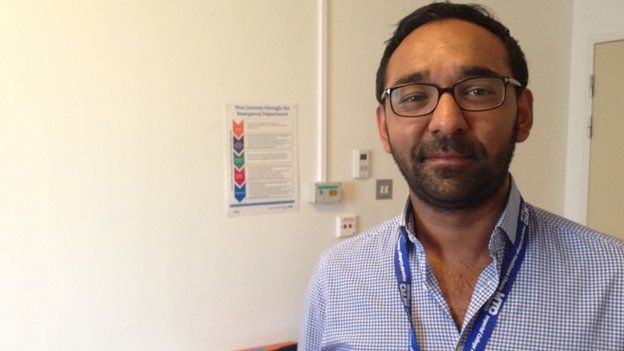 Although he's keen to play down his role, Chris' colleagues at St Mary's say the same techniques are helping to save lives in London.
Asif Rahman, a consultant in adult and paediatric medicine, says: "A lot our of stabbing victims lose a lot of blood.
"They come in really sick and being able to get control of major haemorrhage, getting to the theatre in a quick and rapid time has really helped the survival rate of these young people.
"In the past they may have died because they've not had this treatment instigated very quickly."
Follow @BBCNewsbeat on Twitter and Radio1Newsbeat on YouTube