Harry Styles wins court order extension against paparazzi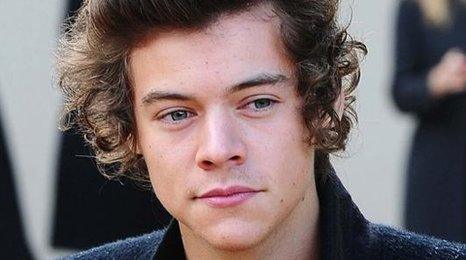 Harry Styles has won an extension on his court order against four photographers for harassment in the UK.
The singer had gone to the High Court to prevent paparazzi following him in the street and taking pictures near his home.
But the four photographers, who weren't named in court, have agreed to stop harassing the 20-year-old, the court heard.
The One Direction star brought the case against them originally last December.
The singer's lawyer, David Sherborne, told the High Court Mr Styles was keen to emphasise that he was not bringing a privacy injunction.
"He is not attempting to stop fans approaching him in the street," said Mr Sherborne.
"I hope we have seen an end to the crazy pursuit of the claimant when he's not on official duties."
The court was told that four unnamed photographers had been identified using vehicle records from the DVLA.
They had all also agreed to a permanent order under the Protection from Harassment Act 1997 to stop pursuing him through streets in the UK, putting him under surveillance at and near his home and general harassment.
A fifth photographer is yet to be identified.
The judge, Mr Justice Dingemans, adjourned the case for four weeks while efforts continue to trace him.
Follow @BBCNewsbeat on Twitter