Newsbeat holds live debate on the future of BBC Three
Newsbeat has held a live debate on the future of BBC Three after director general Tony Hall confirmed plans to close the TV channel from autumn 2015 and move its content online.
As part of plans to save money, its budget will be slashed from £85m to £25m.
BBC One drama is to receive a £30m boost from the closure and the proposal will create space for a BBC One +1 service and a one-hour evening extension of CBBC to 2000 GMT.
Following the announcement, listeners were invited in to Radio 1's Live Lounge to debate the decision with director of BBC TV Danny Cohen.
What the listeners thought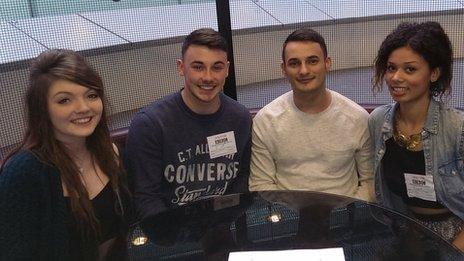 Alice thinks BBC Three has been cut because young people are less likely to cause an uproar than "middle-aged posh people".
She also thinks that young people get looked down on in society in general.
However, Sherelle says she already watches the channel online so would be fine to carry on doing so.
But Billy said he isn't fussed about the move while Sam loves the channel but understands why the cuts have been made.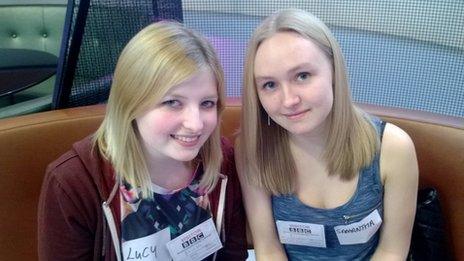 Lucy agrees with Sam. She doesn't think the move is "a great idea" but says she gets the thought behind it.
Samantha also said she can see where the BBC is coming from added BBC Three is the "go to channel" for young people.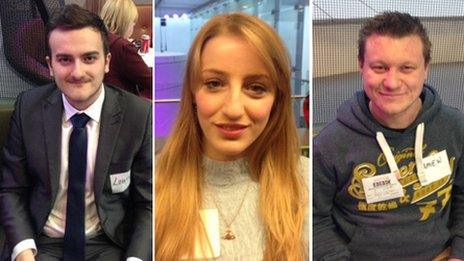 Louis agrees but thinks putting BBC Three online is a positive move which "reflects the demographic".
But others in the group like Joss and Jamie couldn't see the benefits.
Jamie doesn't watch TV online while Joss says her broadband doesn't let her download very much and is worried about being able to watch the same amount of content online as she does at the moment of television.
'Sooner than I would have liked'
Earlier in the day the man in charge of the BBC, Director General Tony Hall, says he has had to make a decision about putting BBC Three exclusively online sooner than he would have liked.
He said: "We don't have enough money to keep doing all the things that we are currently doing.
"I would like not to be doing this. I would like to be doing this over five years."
Follow @BBCNewsbeat on Twitter