Former WWE star: Better head trauma care needed in UK
Chris Nowinski, a former WWE wrestler and American footballer, says young people in the UK aren't taught enough about head injuries.
He was one of the WWE's rising stars but was forced to retire in 2007 after suffering post-concussion syndrome.
Nowinski was kicked in the head during a match and says he "never really recovered".
He says teenagers, parents and their coaches should be more aware of the risks of contact sports.
The Harvard graduate, who is also the co-founder of a special brain injury institute, has helped make a documentary called Head Games: The Global Concussion Crisis, which aims to widen the discussion about other sports like women's football, rugby and wrestling.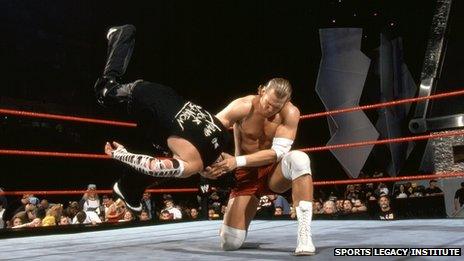 Nowinski says the risk of suffering concussion is not only an issue for professional athletes like him but also for men and women who play amateur sport in school or at the weekend.
Chris also says young people are especially at risk.
"The young brain is far more sensitive to brain trauma so when you're young your brain is changing very quickly," he said.
I don't think it's fair to put a kid out there in harm's way without telling them
"You're picking up new skills and to not take care of it [your head] means you'll change your potential.
"You can limit how smart you become and you shouldn't give that away for sports."
Traditionally, head injuries have mainly been linked with American football players but Nowinski says his institute has seen football and rugby players with the signs of brain disease caused by suffering lots of concussions.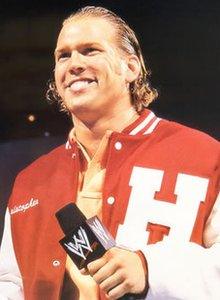 In severe cases, concussion can be fatal for teenagers and young people but these cases are rare.
Nowinski says parents, doctors and coaches should be properly educated about head injuries as well as athletes.
He adds that, despite the relatively low number of deaths and other serious cases, he doesn't think he's causing people to worry unnecessarily.
"Everybody has to understand concussions or else we should really think twice about the fact that we're exposing these kids to so much brain damage," he added.
"This isn't just an American football problem, this isn't just a boxing problem. All of these sports that involve a lot of brain trauma are putting athletes at risk."
In the US there are laws in place that make sure young people and their parents are aware of the risks of suffering concussions before they start playing sports.
Nowinski thinks that more education is needed in the UK.
He said: "I don't think it's fair to put a kid out there in harm's way without telling them.
"I didn't realise I had a brain injury because no-one ever told me. It's only right to tell them what's going on."
Head Games: The Global Concussion Crisis premieres in London on Tuesday night and will be available to watch online and on DVD.
Follow @BBCNewsbeat on Twitter