Introducing... George Ezra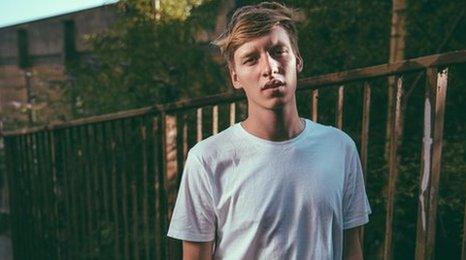 Looking into the future's always a tricky business - but it's pretty clear the future will be full of praise and packed out venues for George Ezra.
The Bristol-based 20-year-old has found himself at number five on the BBC's Sound of 2014 list and is one of MTV's One To Watch.
"There were a few things that are amazing about it, knowing that I am going to have support for a year," he tells Newsbeat.
"Hopefully further than that, knowing that people are appreciating what you are doing is amazing."
I went up on the Thursday and got any silly behaviour out of the way
George Ezra on his first Glastonbury experience
It was family car journeys with his parents playing Billy Bragg, Bob Dylan and Cat Stevens that form Ezra's earliest musical memories.
As he got older he says he became more intrigued by the musicians.
"I got to certain age when I realised those people must have been inspired by someone to do what it was they were doing," he explains.
"I went and found out the people that inspired them, which, a lot of it, was other male singer-songwriters, which of course is evident in what I am doing."
At 13, he started writing his first songs. Ezra admits his skills needed a lot of work but says he was initially inspired by the world around him.
"When I got a job in a pub when I was younger, I was just being nosy, listening to what people were saying," he explains.
"I'm fascinated by how people act and react around each other."
He began a course in music at Bristol University but decided to leave and pursue a career in music, making the most of the vibrant scene in the city.
"It's been brilliant because I've just been on the move, gigging and that's an ideal life for me," he says.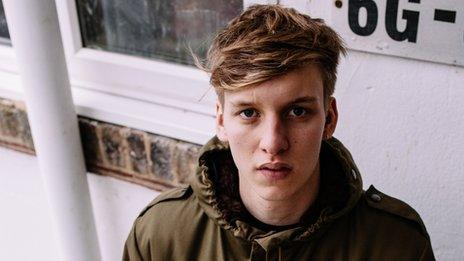 One stand out moment, was perhaps unsurprisingly, playing at Glastonbury.
"The tent was rammed and it was such a good atmosphere," he recalls.
"I hadn't played a festival before that. I'd never been to Glastonbury and then I found myself on the BBC introducing stage."
For a first time at Worthy Farm, you would forgive young George for getting a little overexcited.
"I went up on the Thursday and got any silly behaviour out of the way," he laughs.
"Then Friday and Saturday mentally [I was] preparing myself for it, it was brilliant."
Life on the road will be a little different for him now as he will have a tour manager.
"I do all my touring at the moment on trains. I've got my 16-25 railcard and I just jump on trains with my guitar because it is cheaper you know, all I have is my guitar," he laughs.
"I am looking forward to having a tour manager and being able to jump in a van after a set and relax instead of wait for a train back to Bristol."
Follow @BBCNewsbeat on Twitter