The 1975 get number one UK album with self titled debut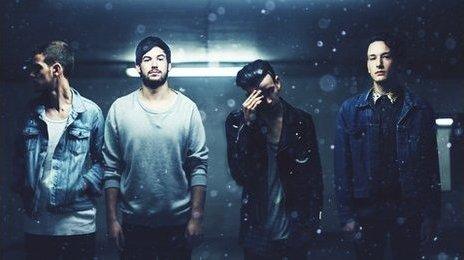 The 1975's self titled debut album has gone straight in at number 1 on the UK's official album chart.
They found out the news just before they went on stage at the iTunes Festival at the Roundhouse in London.
Frontman Matthew Healy admitted last week he was gobsmacked by their success.
"I never thought that would ever happen, let alone on the first record," he told Newsbeat.
"We've been in our band for ten years," he continued.
"We were very happy just being an experimental R'n'B band and playing shows to no-one and not selling records.
"In eight months it has totally changed, we've got a number 1 album right now."
They have picked up some famous fans along the way, Harry Styles tweeted "Just downloaded the new @the1975 album... It's all very exciting."
Ed Sheeran appears to be impressed too.
"I think he was on a night out, he was constantly sending me messages, I love this, I love that," Healy explained.
"He's living in Nashville at the moment, so we're going to hang out in a couple of weeks, there seems to be a lot of people [appreciating our music], it's very humbling, it's very cool."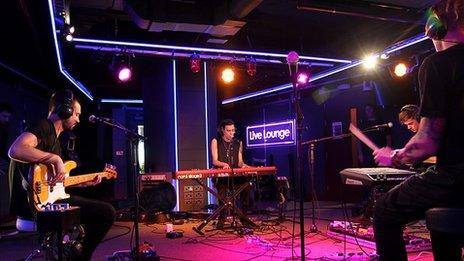 Although The 1975 are relatively new to the music scene, they have been making music for ten years now.
"We were 13 when we got together, same line-up, me on the guitar, George on the drums, Adam on the guitar and Russ on the bass," he says.
So what has changed in the past decade?
"Haircuts and music styles, we were very experimental and then we went really poppy,"
"We've been like ten different bands before this but the same line-up.
"We couldn't decide whether we wanted to be Sigur Ros or Velvet Underground or Boyz to Men."
While the line-up has stayed the same throughout, there have been a number of different names.
"We've had about ten, we went on tour with Little Comets once, we changed our name every night," says Matthew.
"There were loads when we were a kind of an ambient metal band like 'Me and You Versus Them' and 'Drive Like I Do' stuck for a long time.
"The 1975 came about at the end of 2011 and we decided it was the perfect moniker I suppose."
Following the release of their debut album, they are now touring the UK before heading to America in October.
Follow @BBCNewsbeat on Twitter