Introducing... Chloe Howl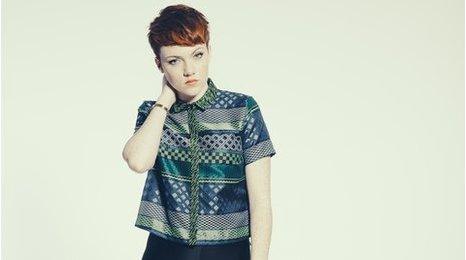 "I'm never going to pretend it's pure and poetic being a teenager because it's gross," declares Chloe Howl.
"So I'm going to sing about it being gross."
Upfront, honest and sparky, this 18-year-old is exactly how you would expect her to be from hearing her tracks.
It can't be that gross for her at the moment though, having signed to Columbia Records within weeks of leaving school. She is about to embark on a tour supporting John Newman.
Chloe seems confident but says there is one thing about performing she struggles with.
I'm never going to pretend it's pure and poetic being a teenager because it's gross
"I'm absolutely awful at onstage banter, so I'm singing a song, dancing around and it comes to the end of the song and I'm like, 'Hi guys thanks for coming'," she says.
Howl's love of music began when she was very young, with her dad a big influence on her.
"My dad really loves music, he's a bit obsessed with it," she explains.
"He used to always play loads of different stuff in the car. I used to listen to what he listened to. It was everything from Michael Jackson to The Smiths."
Then she had her first audience when she was about four years old, in the form of her school caretaker.
"I used to sing Annie songs and he used to call me Annie," she laughs.
From there, she would mimic her favourite artists like Alicia Keys and then started writing her own songs. By her own admission, they weren't that good to start with.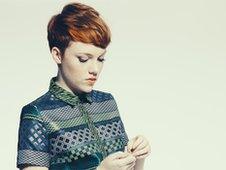 Now she is being compared to Lily Allen and Kate Nash.
"It's obviously pop but I think it's got more edge and more meat to it than bubblegum pop," she says of her sound.
"I've started calling it steak and kidney pop, it fills you up, it's like a good meal."
The teenager has been gathering some famous fans along the way too.
"Lucy Rose came to one of my shows, that was nice, I know Tom Odell is a fan, he's mentioned me a couple of times," she says.
"I went to Glastonbury, I'm telling everyone this story," she laughs.
"I am such a fangirl and I somehow on the last night managed to blag my way into his (Tom Odell) teepee. He wasn't there but me and some friends just ended up sleeping in his teepee."
Follow @BBCNewsbeat on Twitter