Noah and The Whale 'excited' to headline Wilderness
Noah And The Whale have told Newsbeat they think it is exciting younger bands are getting to headline festivals.
It comes as the group prepare to close Wilderness Festival in Oxford this weekend, their first UK headline set.
"It feels very exciting, very cool," singer Charlie Fink told Newsbeat.
"I think this is a really good one to do because it's not quite as high pressured as some of the other ones, so it's a great honour."
He is not giving too much away about their slot on Sunday night (11 August), except to say they have a "few tricks up their sleeves."
"We are planning our fireworks display as we speak," laughed Charlie.
"If you imagine if The Rolling Stones had a slightly bigger budget when they headlined Glastonbury, that's basically what we are doing."
He admitted it's a real honour but said they are not feeling nervous.
"There's a difference between just the last band on at the festival and being the headliner," he said.
"We want to use it as a opportunity to show we can headline festivals. Also, you get more freedom when you're the headliner to do what you want with the show."
There has been a lot of talk about too many heritage artists headlining the UK's big festivals.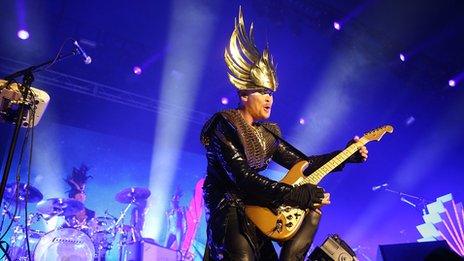 The Rolling Stones took the main slot at Glastonbury, The Killers at T in The Park and Green Day and Eminem will headline Reading and Leeds.
"If you want to break down the science of a band it pretty much comes down making enough records," explained Charlie.
"Having enough great songs that people really want to hear and obviously the heritage acts have the advantage that they've got back catalogues spanning forty years.
"Two out of three Glastonbury headliners, Mumford (and Sons) and Arctic (Monkeys), they're not heritage," he argued.
"It's hard to break through but I think it's exciting that it is happening, Foals headlined Latitude, the opportunity is there."
Empire Of The Sun, John Newman, Tom Odell and London Grammar are also on the line up at Cornbury Park.
Charlie says it is the first time they have played Wilderness and he thinks it is probably one of the more luxurious festivals.
"Some friends of mine are going down, they've just told me they've arranged an archery course for themselves," he laughed.
"I think it's one of the few festivals in the UK that is offering an archery course."
Follow @BBCNewsbeat on Twitter