Introducing... Drenge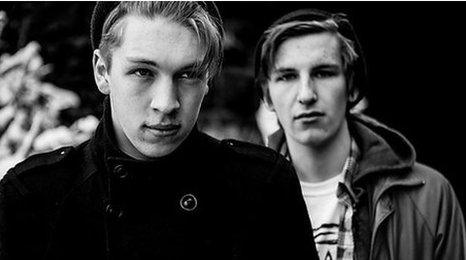 It's been a slightly unusual introduction to the music industry for Drenge.
Some will have only heard of the duo because the former MP Tom Watson name checked them in his resignation letter to Labour leader Ed Milliband.
At the time, the brothers told Newsbeat they weren't "too overjoyed" about it, but recognised it was quite good people were at least hearing about them.
Eoin and Rory Loveless have been playing music together for as long as they can remember, taking joint piano lessons at a young age.
Their dad plays the saxophone and took them to his gigs when they were younger, exposing them to a world they would one day enter professionally.
"Eoin started learning guitar and I started learning the drums and it kind of evolved into this," explains Rory.
"We used to play a load of covers and then Eoin started writing songs and we started playing them in Sheffield and it's kind of been going on since then really."
Then there was the decision about what to call themselves. A Scandinavian country inspired them.
"We went over to Denmark on a school exchange and they've just got such a weird sounding language," explains Eoin.
"It just sort of sounded like the kind of sound we were making, I didn't want to go for a name that was forgettable."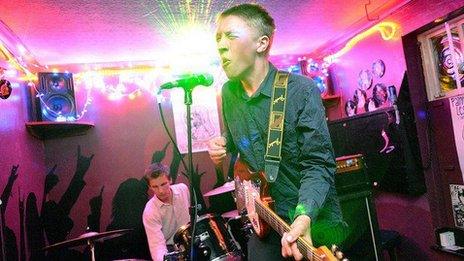 Growing up in Castleton in Derbyshire, they admit to being bored teenagers with little to do.
But the frustration they felt then has resulted in a dirty garage rock sound that's exciting others as well as politicians.
Despite the current interest in them though, they say what they're doing is nothing new.
"It's just guitars and it's rock 'n' roll," says Rory.
"There's the Rolling Stones who are in their 60s and 70s and then there's our music which is perceived as new," he continues.
"It's nothing new because it's been going on for fifty or sixty years.
"It's weird, rock music is almost classical in how old it is and how many generations can get into it in the same way rather than something that is new and old people really don't like."
As for their parents, they say while they are proud and come to support them at their live gigs, it's not their kind of music.
"Those shows are always weird when your parents are in the crowd," Eoin says. "About ten minutes in I just see my mum staring at me, it puts me off really bad."
Drenge are playing Reading and Leeds Festival and Bestival this summer.
Follow @BBCNewsbeat on Twitter