Introducing... The Family Rain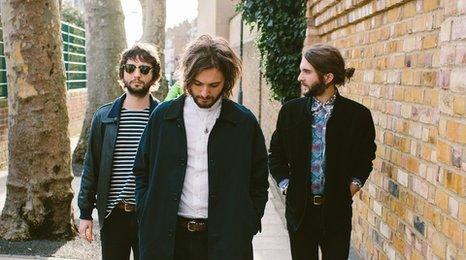 Three bearded brothers playing blues-infused rock, it's no wonder the comparisons with the Kings of Leon are coming thick and fast.
"Music has always been in our family," explains the founder of the group and eldest brother Ollie.
"We can all remember being three and our dad playing vinyls, but I didn't pick up a guitar until I was 14.
The Family Rain: The facts
Blues infused rock with a heavy guitar sound
Download: Pushing It
For Fans of: Kings of Leon, The Black Keys, Kasabian
Live: British Summer Time supporting The Rolling Stones, Secret Garden Party, Reading and Leeds festival
"They were just skateboarding and stuff," he says referring to his twin brothers Tim (drums) and William (singer/bass).
"I basically persuaded them to start a band with us and a mate."
The mate went off to get a "proper job in the city" and left three very determined members of the same family to carry on.
"We just put in the hours, put in the blood and sweat, became extremely anti-social, no-one saw us for about four years," says Ollie.
"We just thought, 'There is no point us going to the pub when we could be at home writing songs.'"
Hairy Bikers
While rock star siblings like the Gallaghers and the Kings of Leon have famously fallen out, these three feel it's a huge advantage.
"We've been able to spend an obscene amount of time with each other, we used to come home from school to practice every single night.
"I don't think many bands can do that, that side of it is unbelievably beneficial."
We just thought there is no point us going to the pub when we could be at home writing songs
They've also grown up with the same influences thanks to their father.
"It's pretty much based in the Beatles and The [Rolling] Stones, our dad just had the biggest collection of those two band's vinyls," says lead singer Ollie.
It's quite fitting then that in a matter of weeks they will be supporting The Rolling Stones at Hyde Park (13 July).
"When my dad was working in the 60s as an engineer in a factory all of his friends went up to see The Rolling Stones in Hyde Park," says Tim.
"He couldn't get the time off work and they all came back saying it was the craziest thing ever.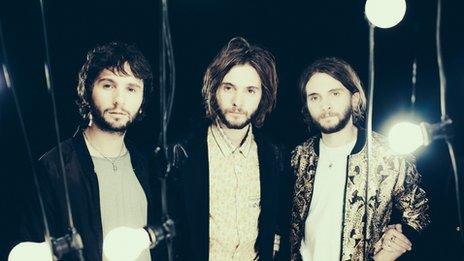 "So now we're playing with the Rolling Stones at Hyde Park and we get to take our dad along and he can get in for free."
The band have an EP out now and a full album recorded and being mixed. Already though, their tracks are being featured in some prominent places.
"Hairy bikers, it was on Hairy Bikers," laughs Tim.
"It's been on Match of The Day and other cool stuff like that but we're really proud it was on Hairy Bikers. That made us very happy."
Follow @BBCNewsbeat on Twitter