Introducing... London Grammar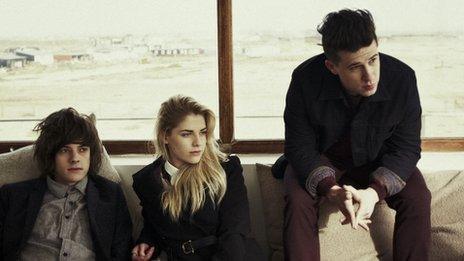 Threesome London Grammar describe their sound as a clash of modern and classic music.
They once received an email from a fan in Australia who said they sounded like a mix of Fleetwood Mac and Drake and have been compared to Florence + the Machine and The xx, which they say was flattering.
"It doesn't annoy us because they are amazing," says singer Hannah Reid.
"We do have a slightly different side to us that is going to be on the album, a slightly more classic song vibe.
London Grammar: The facts
Indie dance music with a nod to trip-hop
Download: Hey Now, Wasting My Young Years
Live: Glastonbury, Rockness
"They are definitely an influence and have influenced loads of emerging bands."
Hannah, who is lead vocals, and Dan Rothman, who plays bass, met through Facebook four years ago while studying at Nottingham University.
Dan credits his girlfriend for introducing Dot Major to the band, who plays keyboard and drums.
The band are based in London, hence the name.
All are influenced by different musical tastes, which they credit for their sound.
"We have all had very different influences, I was more of jazz classical blues based," explains Dot.
"Hannah is more influenced by by classic singer/songwriters like Michael Jackson and Whitney Houston and Dan is probably more of an Indie kid at heart.
"I wouldn't want to be in a band where anyone felt less than completely integral to the band.
"Hannah writes her lyrics and we jam stuff out."
Their debut album, which is due to be released later in the year, was initially created in Dan's garage but they admit it was tough accepting changes to their material at first.
"It has been stressful at times making the album but any process that is creative can be stressful," he says.
Our music is quite dark but this was the only happy song we've ever written with anyone basically
Hannah Reid from London Grammar
"When you are working with producers and managers and mixers, every opinion is important."
Hannah admits creating and finishing the album was a learning curve because it had never occurred to her that songwriters could be wrong.
They says singles Hey Now and Wasting My Young Years give a good flavour of what to expect from the album but that fans should also expect to hear more piano and vocals.
They have worked with Disclosure and say they were surprised with the speed the band worked at but were really happy with the final sound.
"Our music is quite dark but this was the only happy song we've ever written with anyone basically," says Hannah.
With potential plans to travel to America, they have a busy summer lined up.
They've just played The Great Escape and have Secret Garden Party, Bestival, Glastonbury, Rockness and Festival Number 6 coming up along with a tour in October.
Follow @BBCNewsbeat on Twitter